The Grays Cardiology Centre to give Free BP Checkups, X-rays, Glaucoma Screening & Consultations to celebrate World Heart Day | Today, September 29th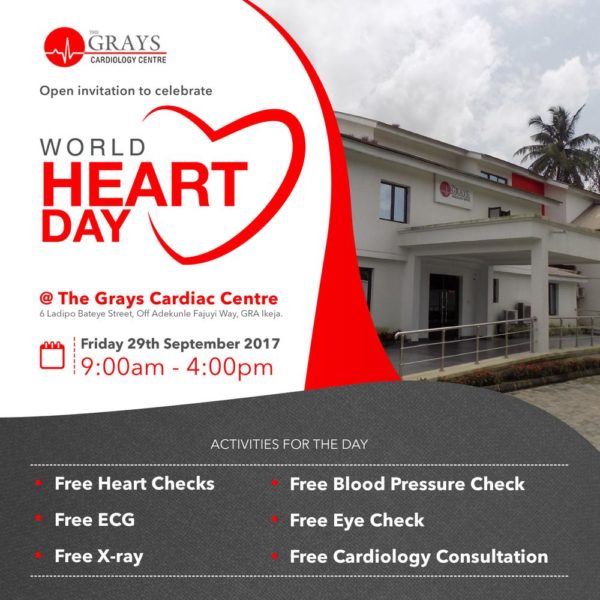 The Grays Cardiology Centre, Nigeria's only independent cardiac centre, is set to provide free BP checkups, X-rays, glaucoma screening, consultations and more for guests and participants at this year's celebration of the World Heart Day.
Date: Friday, September 29th, 2017.
Time: 9 am- 4 pm
Venue: The Grays Cardiac Centre, Ladipo Bateye, off Adekunle Fajuyi Way, GRA, Ikeja, Lagos.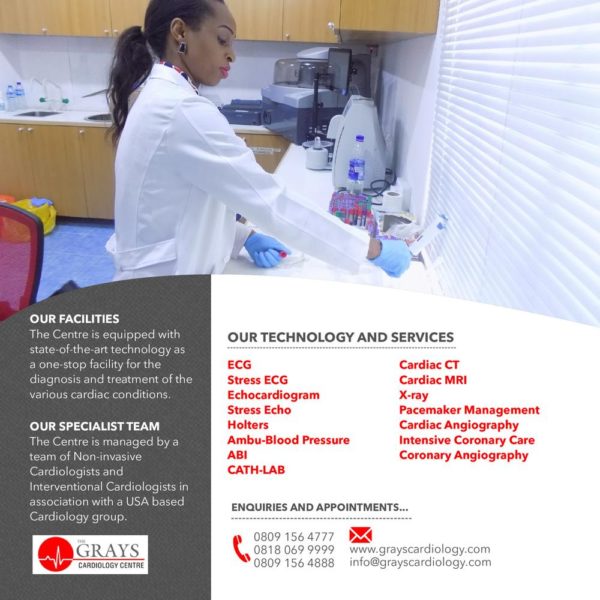 In sensitizing the public on the effects of blood pressure on body organs, the event will feature a special health talk with Dr. Soe Moe Aung, a Consultant Interventional Cardiologist at the centre.
Dr. Soe, a member of the European Society of Cardiology, practiced successfully in Istanbul, Turkey for 10 years. He is widely known for his experience and interest in cardiac interventions such as coronary stentings, pacemaker, implantable cardioverter/defibrillator interventions as well as interventions of carotid and peripheral arteries.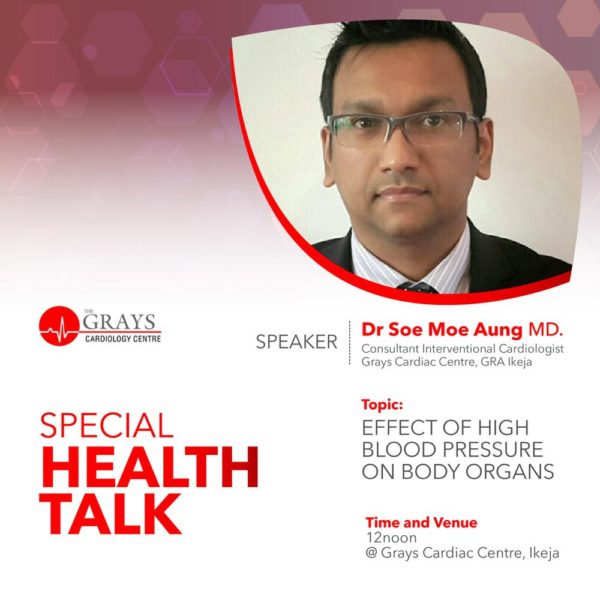 Already leading the conversations among Nigerian health experts and patients on provision of sustainable and effective healthcare, the centre is holding a free cardiology consult this September, with 50% off for follow-up cases after the World Heart Day.
The Grays Cardiology Center, a subsidiary of the Reddington Healthcare Group, is fully equipped with state-of-the-art equipment such as Resting Electrocardiogram, Exercise Electrocardiography, Ambulatory Electrocardiogram, Echo cardiogram, Stress Echo cardiogram, Ambulatory Blood pressure monitoring for managing all cardiology cases, as well as ventilators and cardiac monitors for managing all cardiology cases.
————————————————————————————————————————————————————–Sponsored Content