Hello, BN Beauty lovers!
We chat with the beautiful Anita Ginigeme for today's #BNFroFriday feature.
Hailing from Anambra State Nigeria, Anita is a human anatomist who has carved a niche for herself as a natural hair consultant, entrepreneur and freelance stylist.
She loves the simplicity, versatility, and uniqueness of natural hair and believes keeping natural hair doesn't have to be difficult or expensive and as such runs an online retail store, Herpizzazz where she sells products for natural hair.
Read her interview below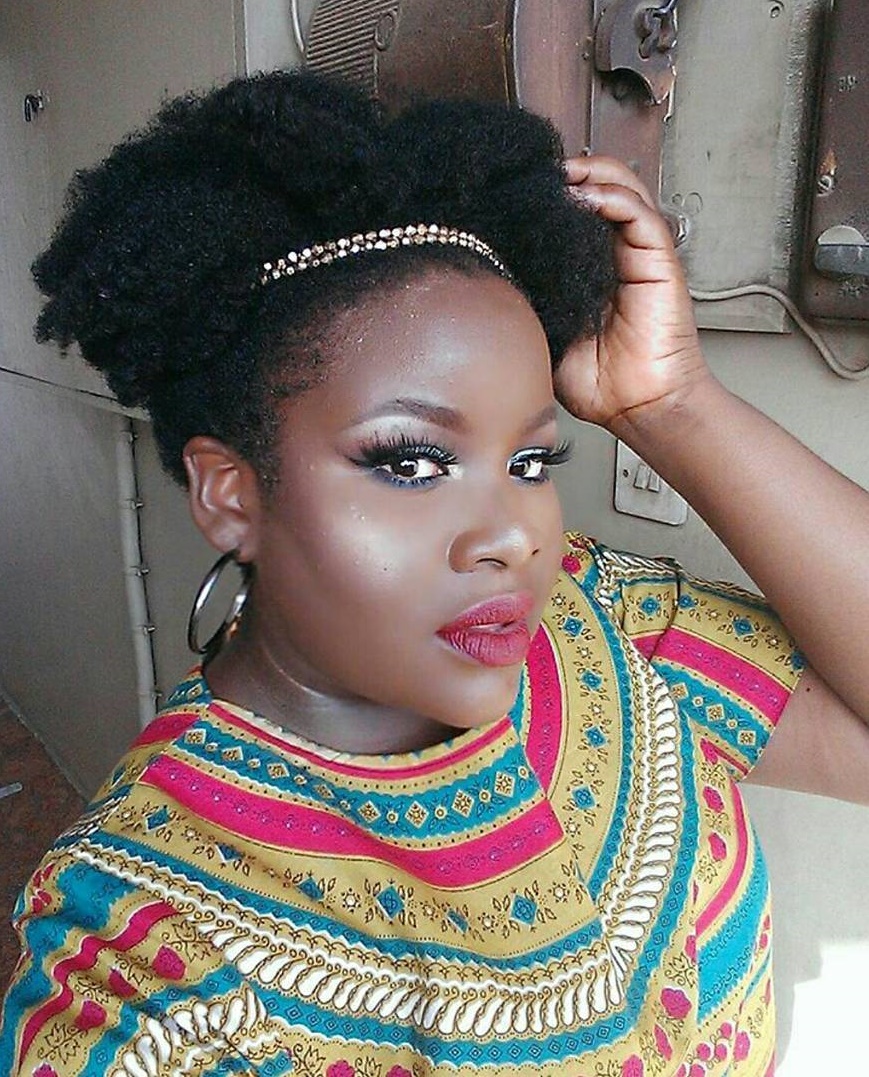 ***
BellaNaija: Tell us about your hair
Anita Ginigeme: I've always staunchly believed that my hair was unapologetically 4c but I recently discovered I have a variety of hair types namely 3b, 4b, and 4c. Concerning my texture, I have thick and coarse hair which when moisturized and handled properly, brings out the best in the various hair types I possess. Though I have never texturized my hair or undergone any texture-altering treatment except going under a straightener, in the future I plan to incorporate natural henna into my regimen.
BN: How did you go natural?
Anita: I can never get tired of telling this story. I grew up in a strict home and the punishment usually served to naughty kids was authorizing a low haircut. I was a bit troublesome so after much-repeated threats by my mother, I decided to reverse the hold of power by taking a pair of scissors to my mane (which was in single braids without extensions at that time). I chopped it off section by section, maintaining a certain distance to the root of my hair. However, I had not taken control of the situation, my mother still insisted I go to the barbershop and cut it properly! So I began my natural journey in 2009.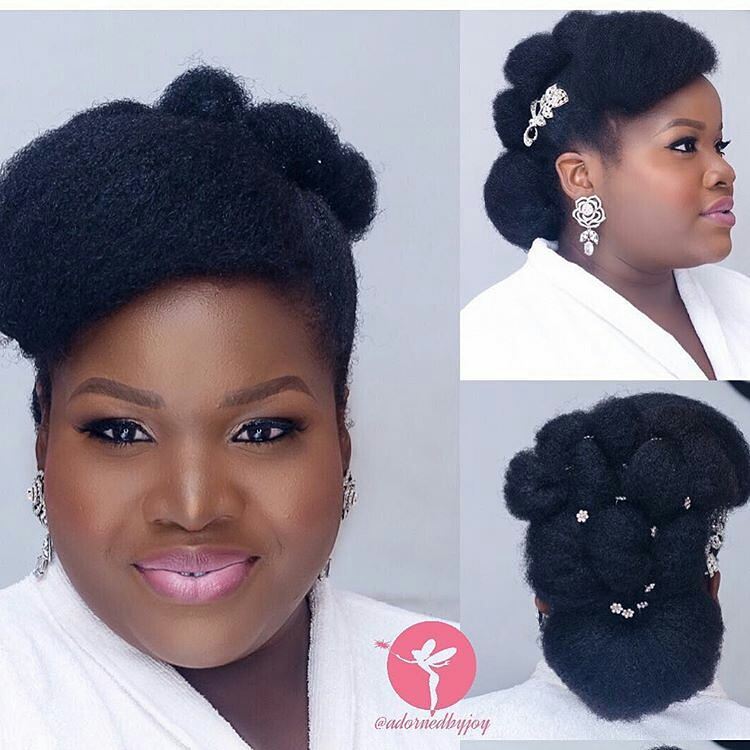 BN: How did you cope with your sudden Big Chop?
Anita: I couldn't help but mourn! The sight of my hair falling down my shoulders unto the floor to be swept into the waste bin was terrible. I had just graduated from Junior High School to begin Senior High School at a new institution, so I was glad I didn't have to face any friends. Though I couldn't run away from people at church, I made sure I always wore a scarf at the initial stages. When people asked why I cut my hair, I answered that I just wanted to get the feel of it – which was not the whole truth.
My cousin's hair inspired me to keep going strong during this turning point in my life as her Afro Puff was as tall as a magician's hat. It's safe to say she was influential to my natural hair journey, although she has relaxed hair now.
BN: Are you tempted to relax your hair?
Anita: Of course, I plan to go back to the "creamy crack", but only to once again restart my natural journey. This is to debunk the myth that the process involved in returning to and maintaining natural hair, is a tremendous task.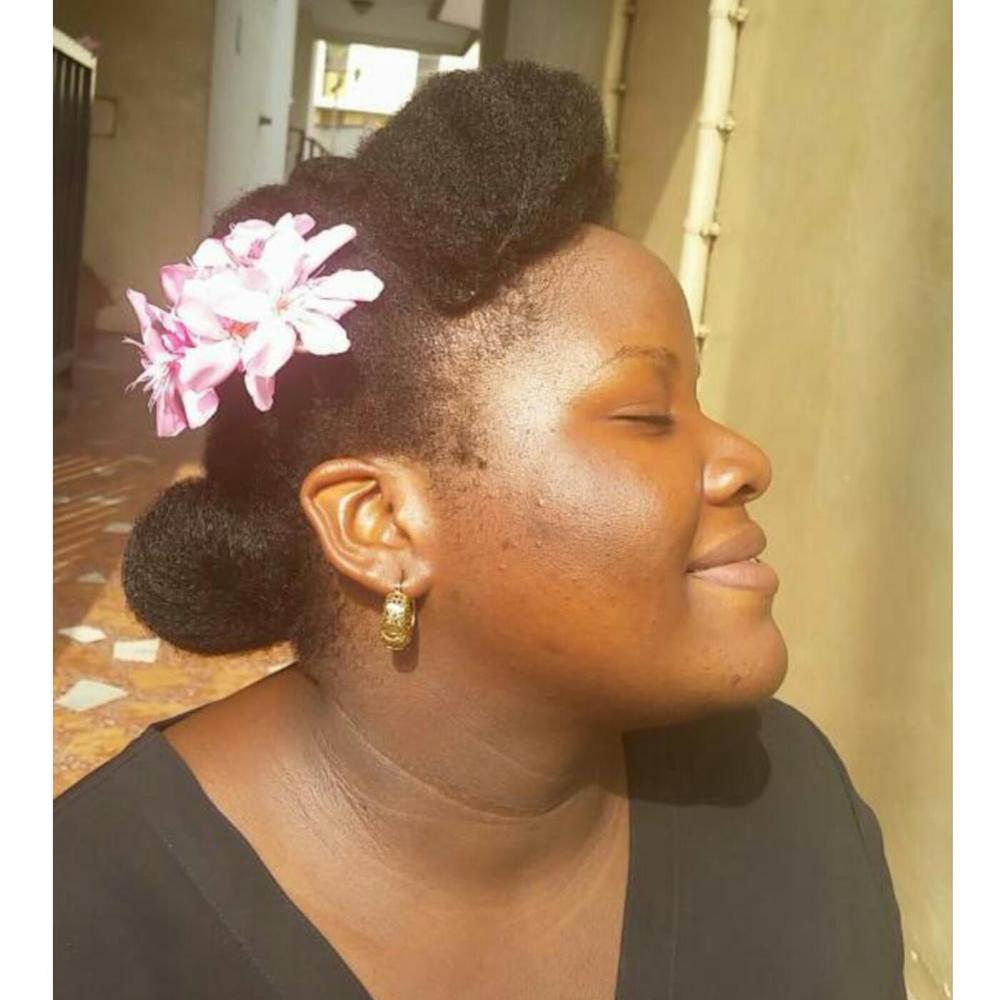 BN: Do you ever hide your natural hair?
Anita:  That was all I did the year I started the hair journey. I hid under scarves and caps in between protective styles, until I discovered threading. I particularly loved threading because I could experiment with so many sassy styles and upon the take-down, I noticed it gave my hair tremendous stretch. Then, I discovered the Afro Puff!
BN: How long have you kept your natural hair?
Anita: I've been natural since August 2009 which makes it a little over 8 years. In between, I've had 3 major chops where I cut my hair to a point it could barely pack into one. My most recent chop was May 9th, 2017 where I chopped off over half my length off. Apart from noticing dead strands, I trim at least once every 6 months.
BN: How does climate in Nigeria affect your hair?
Anita: Nigeria is a quite heated country although the weather has been playing some tricks lately. During the hot times, my hair is less prone to frizz but retains moisture longer while in colder climates, it is more prone to frizz and requires more frequent moisturizing.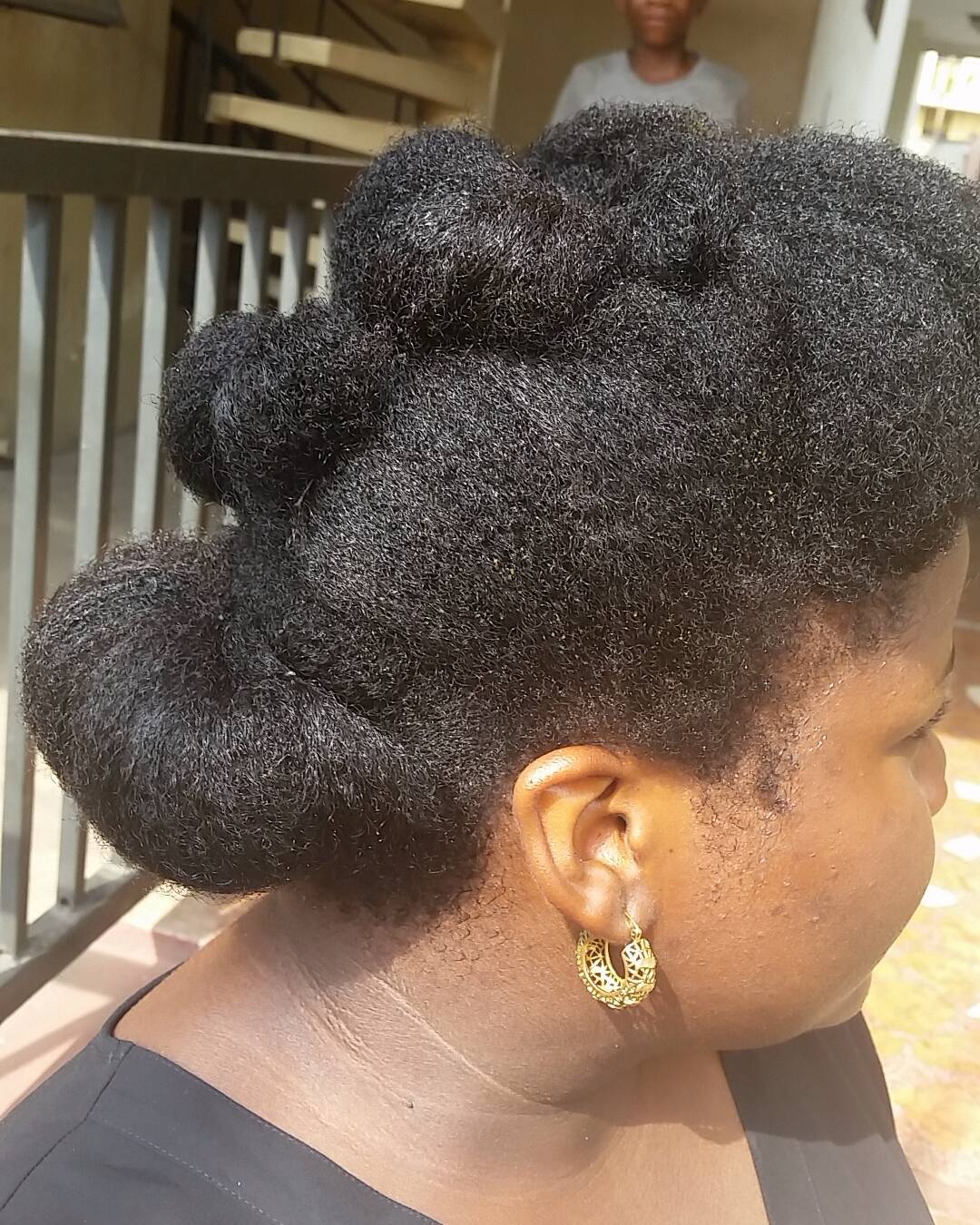 BN: Are there any other hair problems you face aside from climate?
Anita: My hair tends to have a mind of its own and is very selective in its responsiveness to certain products. Apart from this, I battle with hair products sliding down my face during hot weather.
BN: How do you deal with the hair problems you face as a natural?
Anita: I use fewer products in the hot climates and more during the cold climates.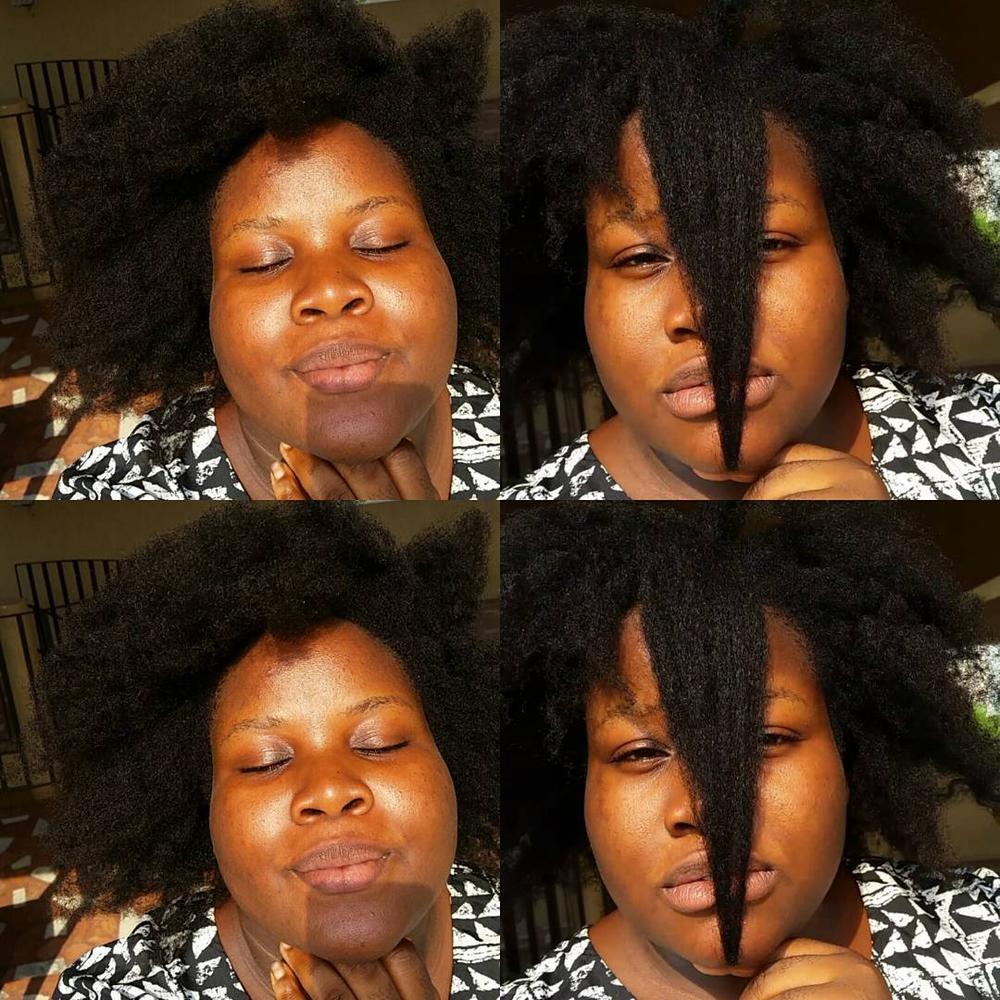 BN: Natural vs Chemical products?
Anita: Upon becoming aware of the differences between natural and chemical products and understanding the added benefits of natural products, I tend towards the natural more, though I do have a few chemical products in my cupboard I use now and again, especially when I need a deep cleansing.
BN: What's your regular hair routine?
Anita: I swear by my ultimate moisture hack which I coined LS: leave-in conditioner and shea butter. Daily, I moisturize my edges and sleep with a satin bonnet. I moisturize thrice weekly. Deep condition once weekly or bi-weekly. Massage my scalp twice weekly. And have a full wash day with hair treatments once a month.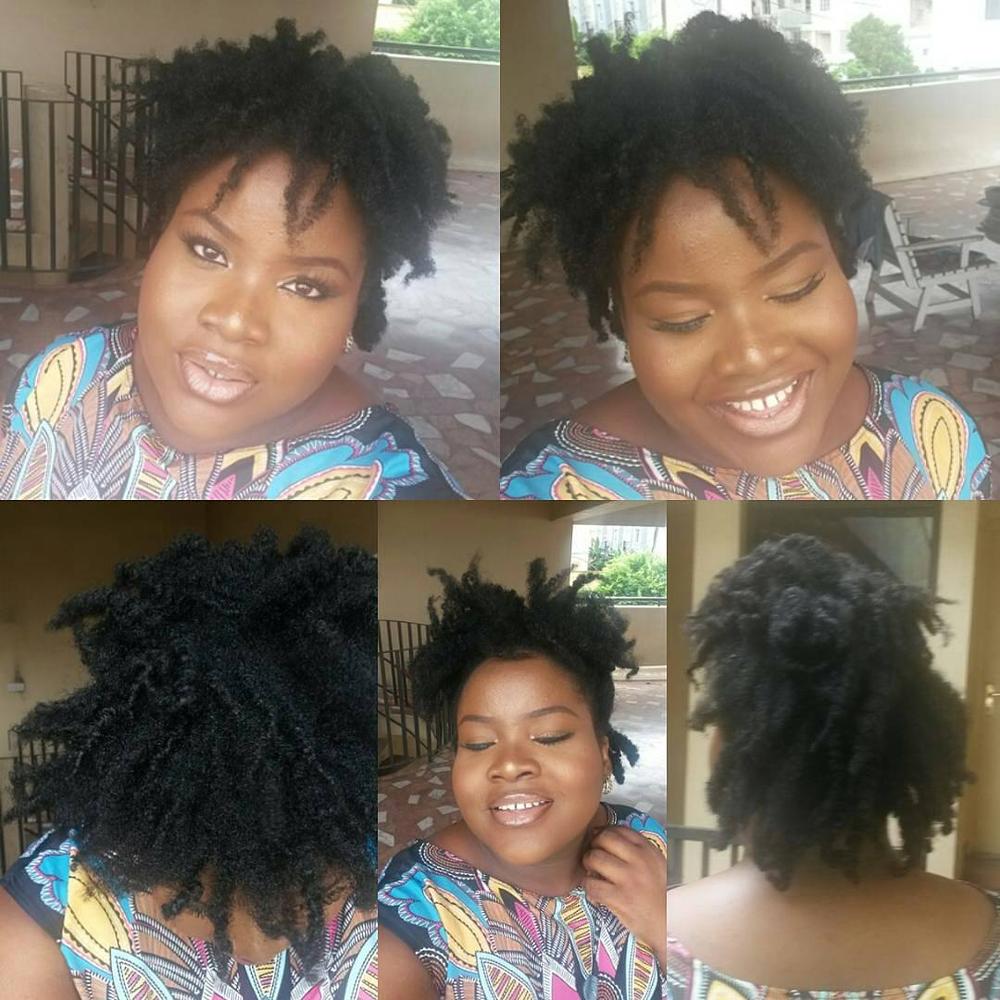 BN: What hair products can you not live without?
Anita: Mielle Organics White Peony Leave-in Conditioner, Mielle Organics Moisturising Avocado Hair Milk, Mielle Organics Babassu Mint Deep Conditioner, Aunt Jackie's Instant Detangling Therapy and Organic Shea Butter.
What do you like best about your hair and being natural?
Anita: It has made me into a confident woman who is artistic and assertive about her hair.
BN: What is your favourite style to rock?
Anita: Boy, do I love a voluminous and tall hair! If I'm not rocking my signature tuck and roll updo, you bet I'm rocking a faux bun. Some days I add extensions and rock kinky braids.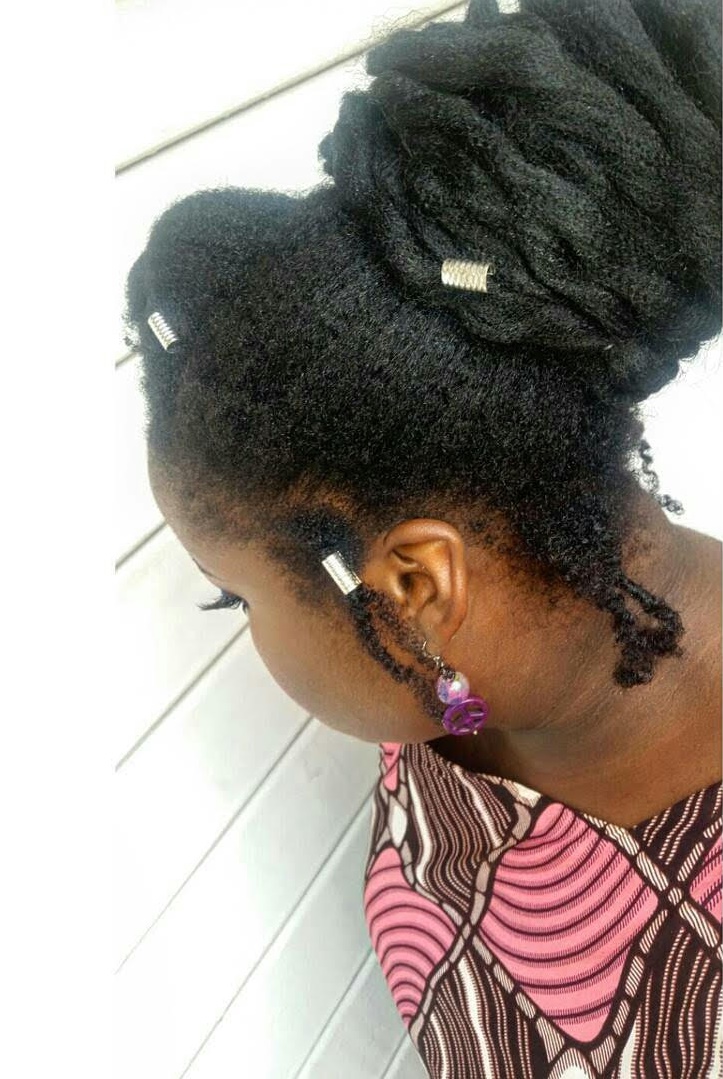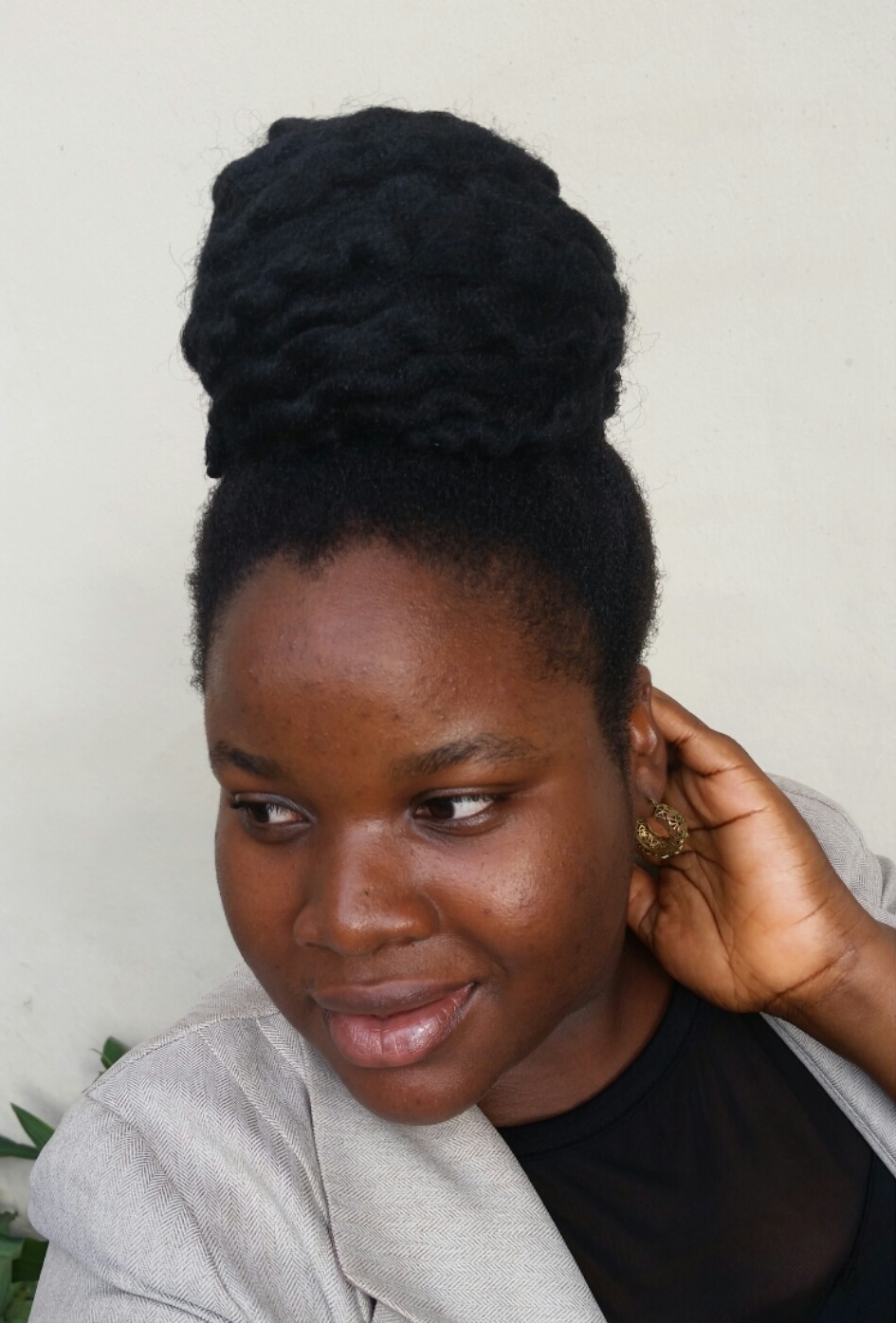 BN: Any hair crushes?
Anita: Who doesn't? While I crush on my hair each and every day, I do have other role models who inspire me, namely Inyang Comfort who grew her hair to bra strap length in 3 years and Ronke Raji.
BN: What hair accessories can you NOT live without?
Anita: Satin bonnet, leave-in, shea butter.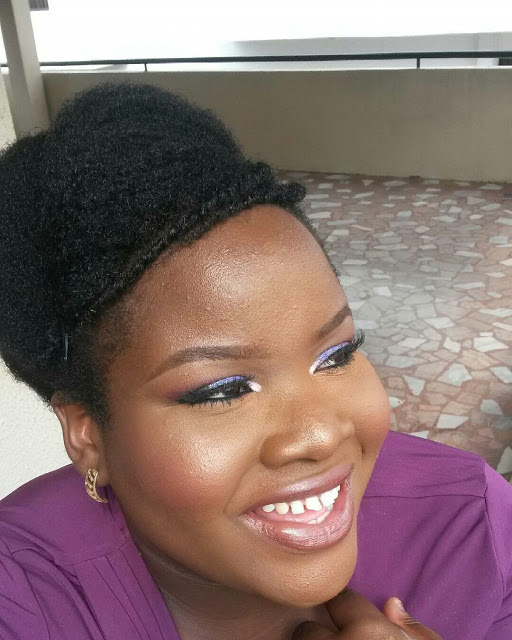 BN: If you were stuck on an island, what 3 hair products would you take with you?
Anita: Satin bonnet because I just can't have sand in places it shouldn't be. Leave-in conditioner, shea butter.
BN: What's your remedy for a bad hair day?
Anita: Moisturise and roll, tuck and pin! It's particularly handy whenever I'm trying out a new hairstyle and fail lol.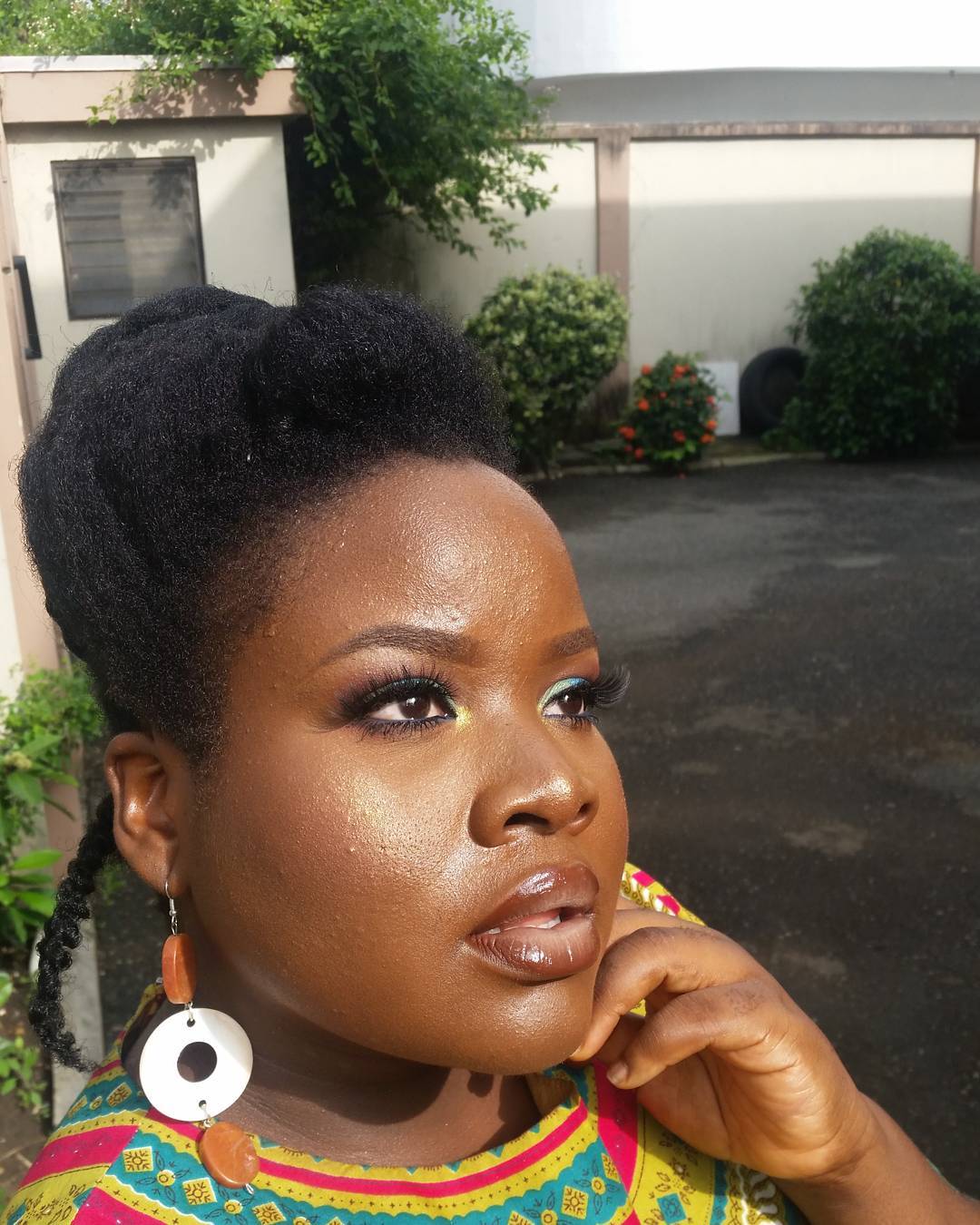 ***
Thanks for sharing your story with us Anita!
If you'd like to be featured, please send an email to [email protected] and let's make it happen!