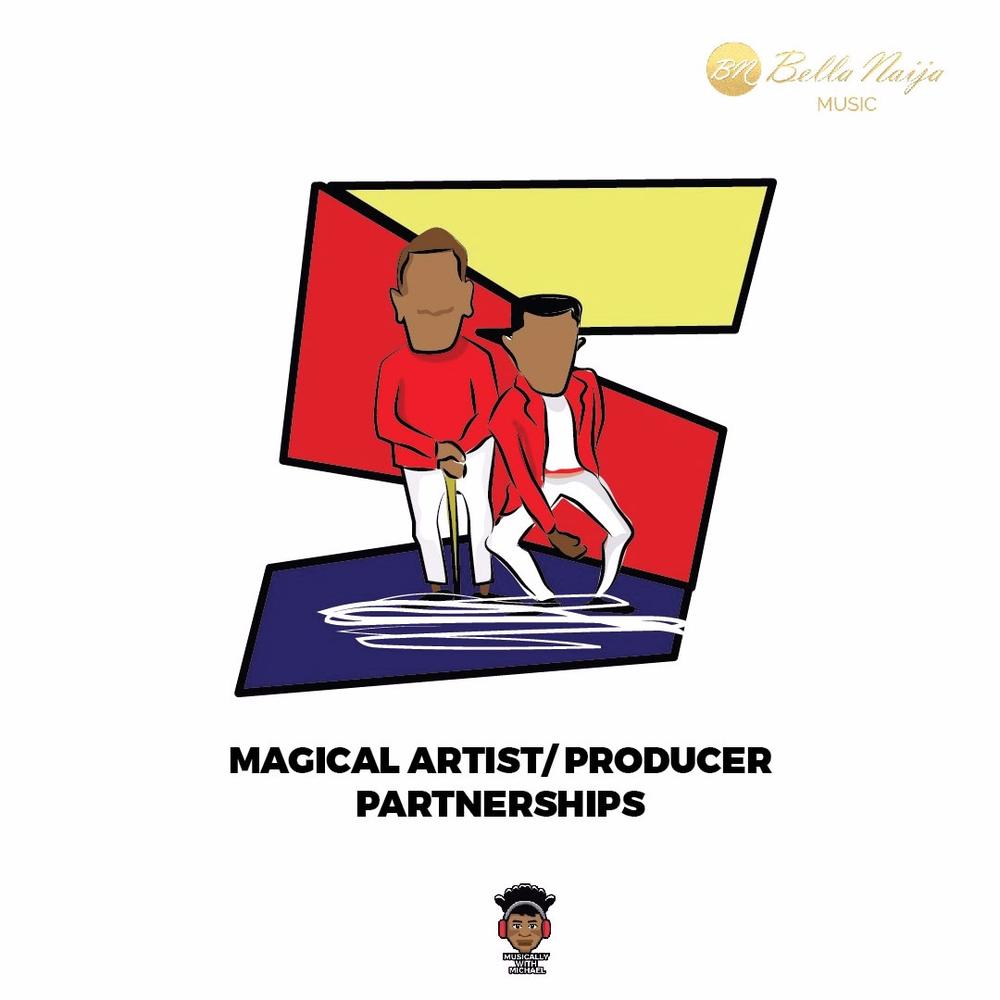 I like to think the artist/producer partnership is similar to that of a man and barber. Some men will use any barber as long as they can get the job done, while some will rather let the hair sprout for weeks than use a different barber (yes, I belong to the second category).
Now the artist/producer relationship is peculiar as the problem a lot of artists have is finding that one person they sync with who understands their sound like it is his very own. A good number of artistes have that particular person, while some just prefer drifting from one producer to the next and it does work for them as well (that'll be a topic for another day).
Today, I'll take a look at my own top 5 artist/producer partnerships. They might not be yours, so feel free to put yours in the comment section and I'll meet you there. Let's do this, shall we?
Don Jazzy & D'Banj
The Mo' Hits era was a golden age in Nigerian music and even though they are not together again, we have their works still ringing in our ears, thanks to the internet's way of bringing things back to us. Before Mo Hits however, Don Jazzy and D'Banj had created an enviable partnership with every release after the last all panning out to be hit tracks. D'Banj sure has a way of bringing the funk when he calls "It's Don Jazzy Again!", and when Don Jazzy hooks on any track, it's sure fire!
Falz & Sess
I am personally a huge fans of both Sess & Falz individually. Falz has that comic rap thing going on which I love and the way Sess infuses EDM on his "PRBLM Remix" series gives me a lot of joy. Now put the two together, you don't even need to imagine the magic because it is evident in most of Falz's tracks. Sess was responsible for most of the tracks on Falz's "Stories That Touch" album. I can only wonder what studio sessions would be like with the two of them. I would like to get invited, that's for sure.
LeriQ & Burna Boy
On Burna Boy's arrival to the music scene, his go-to producer was LeriQ. The kind of magic the two of them created together played a huge part in establishing Burna as a force in the industry. LeriQ produced most of Burna Boy's first two albums "Burn Identity" and "L.I.F.E". Although they fell apart a few years ago, they reunited last year and have been making music together again. You should check out "Cotton Candy". Like someone once said, "Burna supplied the brawn, LeriQ came through with the brain." I couldn't agree more.
D'Tunes/Blaq Jerzee & Sean Tizzle
I couldn't decide who to pick as Sean Tizzle's go-to guy, so I just had to go with both. The two producers have both done amazing work on Sean Tizzle's tracks, D'Tunes especially making it happen right from when Sean Tizzle became I nto the scene. Blaq Jerzee on the other hand is who I'll liken to Don Jazzy. His production prowess is 100% and when he gets on a hook, just know it's fire, classic example being "Eruku S'aye Po".
Cobhams Asuquo & Timi Dakolo
I decided to save the best for last! I was actually tempted to go with a Cobhams/Asa combo but to be honest, as long as it's Asa, I'm listening. Cobhams has been the producer behind most of Timi Dakolo's hits. It's actually not surprising to see that the two have built a much-efficient partnership being that they both lean towards the same genre musically.
In conclusion, it is worthy to note that for a song to turn out great, it includes effort from both parties (artist and producer). Sometimes, producers are not given their due credit for their role in creating monster hits and that is understandable to some extent. The artist is the face of the song, yet the producer should also get due credit when it is deserved. Till next week…
Yours Musically,
Michael