The internet has been buzzing with the hashtag #NoShakinCarryGo2Dubai and it isn't slowing down yet. 10 lucky Pepsi fans will be sent on an all expense paid VVIP  trip to the One Africa Music Fest in Dubai.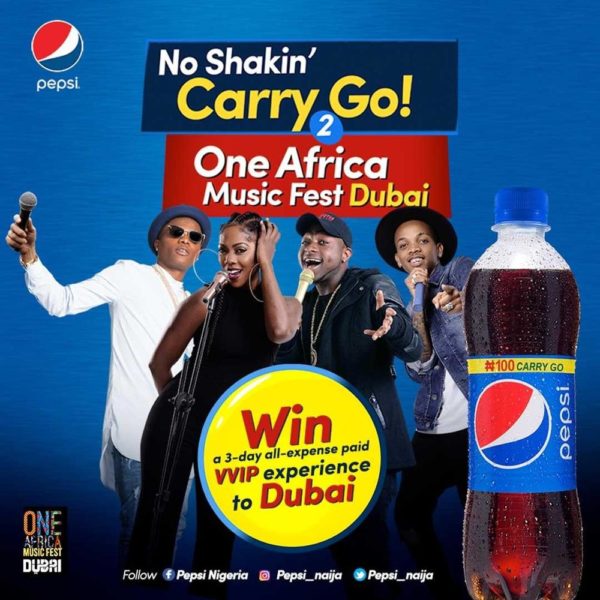 The experience promises to be mind-blowing. The lucky 10 will have the opportunity to eat, party and have fun VVIP style
You want to be among the 10? Follow these steps and who knows, you may be on your way to the One Africa Music Fest in Dubai next month.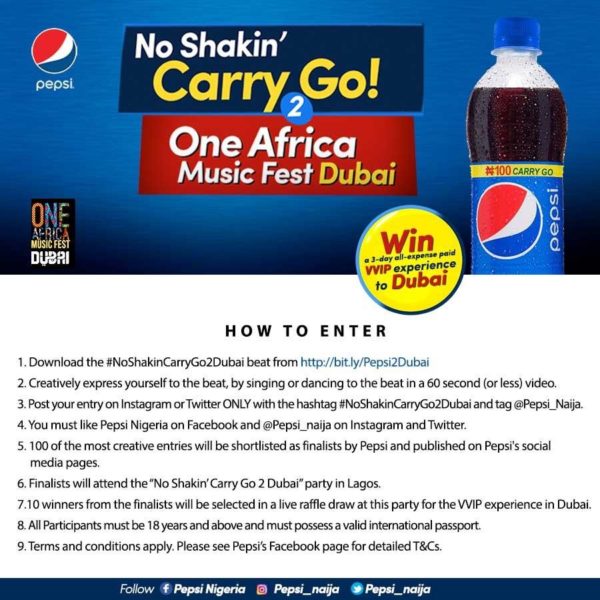 Download the #NoShakinCarryGo2Dubai beat from http://bit.ly/Pepsi2Dubai.
Creatively express yourself to the beat, by singing or dancing, in a 60 second (or less) video.
Post your entry on Instagram or Twitter ONLY with the hashtag #NoShakinCarryGo2Dubai and tag @Pepsi_Naija
100 of the most creative entries will be shortlisted by Pepsi and published on Pepsi's social media pages.
Finalists will attend the "No Shakin' Carry Go 2 Dubai" party in Lagos.
10 winners from the finalists will be selected in a live raffle draw at this party for the VVIP experience in Dubai.
All participants must be 18 years and above and must possess a valid international passport.
Terms and conditions apply.
Please see Pepsi's Facebook page for detailed Terms and condition's.
Just download the beat and have fun with it!!
Follow us on Instagram, Twitter, and Facebook.
To download the beat, click here.
———————————————————————————————————————————–Sponsored Content