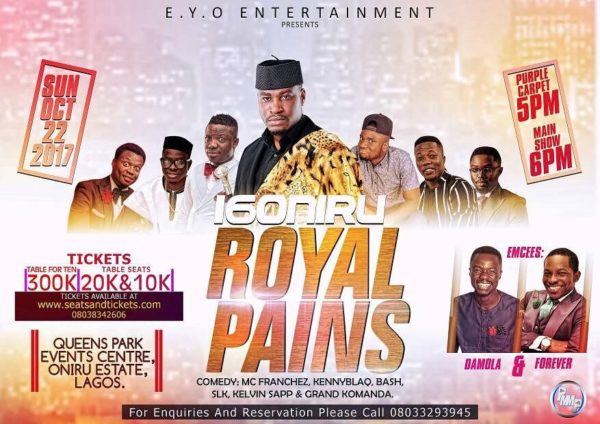 Standup comedian Prince Oriyomi Olayinka Oniru popularly known as 16 Oniru is having a comedy show themed #RoyalPains.
Date: Sunday, October 22nd, 2017.
Time: 5pm.
Venue: Queens Park, Victoria Island, Lagos.
Other top-rated comedians in the industry including Kenny Blaq, SLK, Grand Komanda, Bash, and others have been confirmed to feature at #RoyalPains, which promises to be a fun filled and entertaining affair. Comedians Damola and Forever have also been selected as the official hosts of the show.
Commenting on his anticipation of the show, 16 Oniru remarked "I am glad the wait is almost over. #RoyalPains is just few days away I can finally prove doubters wrong. At Royal Pains, I will be discussing the numerous issues royalty encounter as a result of their 'status', especially in Nigeria. It will be interesting, trust me."
16 Oniru is referred to by his inner circle of friends as 'The Royal Comedian' as he is the son of HRM Oba Idowu Abiodun Oniru, the Oniru of Iruland, Lagos and Late Olori (Deaconess) Adeola Oniru. He has also graced some of the biggest comedy stages in the country including Standup Nigeria, Alibaba's Spontaneity, iLaff with MC Abbey, Lafup Live, amongst others.
Tickets for #RoyalPains are priced at N10k and N20k per seat and N300k for a single table of 10 seats. Tickets are available for sale online at www.seatsandtickets.com.
For more enquiries, call 08033293945.
Follow the conversation on social media #RoyalPains
—————————————————————————————————————-Sponsored Content