YADDAH presents the 8th edition of its Carol Event themed 'The First Born' & powered by the Guiding Light Assembly | Saturday, Dec. 9th
Guiding Light Assembly, a Full Gospel Church with its headquarters church located in the heart of Ikoyi, Lagos, Nigeria is a gathering of believers that love the Lord Jesus Christ and seek to raise disciples who will go on to be leaders in different fields of endeavor. Its Vision is to build leaders and through them transform the world.
Date: Saturday, December 9th, 2017.
Time: 6: 30 pm (Red carpet)  7:00 pm ( Main Event).
Venue: Guiding Light Assembly Main Auditorium, Layi-Ajayi Bembe Street, Parkview Estate, Ikoyi, Lagos, Nigeria.
GLA has several enriching events and programs held monthly and annually. They range from T.H.U.G (This house under God; a highly pulsating and Invigorating worship experience) IGNITE (Monthly worship and fellowship service mainly for the youths) and YADDAH (End of year Carol Event) amongst others.
This year, YADDAH presents the 8th edition of its Carol event and its being hosted by The Voice of His Light Choir; the Music department in Guiding Light Assembly.
This event promises to be an awesome experience as we will be presenting a Cantata (musical play) with the theme ''The First Born''. The First Born is a musical drama adaptation and a work of fiction based on the true events captured by the Bible about the life and times of Jesus the ''King of Kings'' during His thirty-three and a half years sojourn on earth.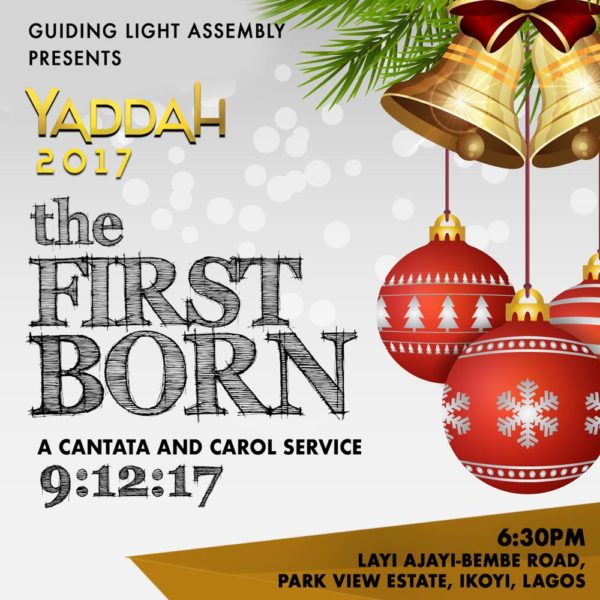 This story is captured through the eyes of one of King Herod's army general who was responsible for carrying out most of King Herod's brutal crimes against humanity, and who was the officer in charge of Jesus' crucifixion.
Ephraim as he was simply called was a soldier in the Roman army who rose to become a highly placed army general to King Herod. Born a Jew and orphaned at an early age, he found a way to survive the harsh realities of life by doing everything to please the Roman authorities.
Despite these heinous acts, Ephraim remained a Jew at heart who believed strongly in the promised Messiah and waited expectantly for Him. He hated the Roman government in its entirety and loathed all it stood for. He had to play his part in a bid to survive but desired desperately, the saviour who was to come make right all the wrongs they were exposed to.
Ephraim, his son (who incidentally was born about the same time as Jesus the Christ), and his entire household, secretly maintained their Jewish beliefs until yet again life dealt them a deadly blow that shook the very core of their existence, foundation and faith.
This caused them to question the veracity of it all….
Follow us as we unravel all on this journey……
Come and experience a Christmas Carol service like you've never had before. You'll indeed be glad you came.