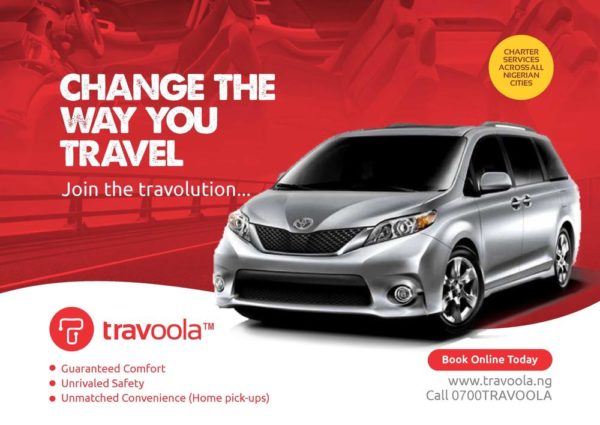 Travoola, Nigeria's leading technology based transportation service which provides unmatched customers experience for inter-city travels has just announced a special Christmas promo. According to its Managing Director, Michael Oglegba, Travoola is offering special discounts on the online booking service for its premium charter services all over the country.
This promo, a special Christmas gift to all Travoola customers runs from Monday, November 27th, 2017 to Thursday, December 14th, 2017. All travels booked and paid for between these dates will enjoy a special discount of between 10 to 20% depending on chosen destination. Travoola operates charter services in safe, comfortable vehicles all over Nigeria with major hubs in Lagos, Abuja, Port Harcourt, Jos, Kaduna and Makurdi. The company boasts of being the most cost effective alternative to air travels described as "unbelievably affordable". Travoola seeks to set the new standard for road transport in Nigeria. As the Managing Director added, Travoola seeks to make you "fall in love with travel".
The Service provides the roomy feeling of air travel in our well-maintained and classy mini vans and sedans with the added convenience of scheduling and planning every detail of your trip in advance. Premium travel customers can book trips from our fleet to take you from your specified location to your designated destination.
Our array of services are available for selection and booking on our website. Travel in style and comfort this Christmas in our fully air conditioned Sienna Mini-vans or sedans. All our vehicles are professionally maintained, and highly equipped with Speed limiters, trackers and security cameras to ensure safety throughout your trip.
Travoola is a transport solution which runs on technology. Bookings can be done on our website as well as the mobile app. The service allows easy booking and payment and offers the best option for inter-city road travels across Nigeria.
….fall in love with travel….
For more information, follow us on Facebook, Instagram, Twitter, and LinkedIn
You can also call us on 0700 TRAVOOLA (0700 8728 6652) for 24/7 support!
——————————————————————————————————————Sponsored Content