#EndSARS: "Owner of hashtag is being investigated" – Police | WATCH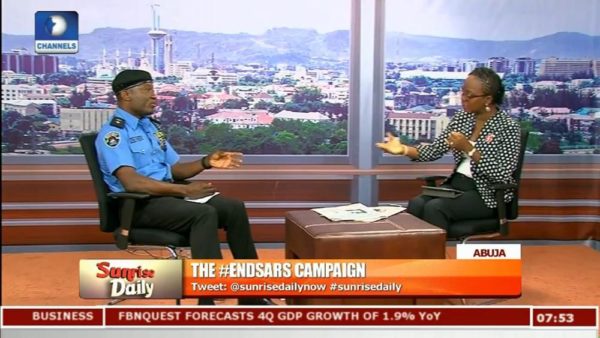 Jimoh Moshood, the public relations officer of the Nigerian Police Force, has said the person who kicked off the #EndSARS trend is being investigated.
Moshood revealed this during an interview with Channels TV, on Tuesday.
Nigerians had through the #EndSARS hashtag shared experiences of the Special Anti-Robbery Squad (SARS) violating their human rights.
The stories included experiences of abduction, extortion, and murder.
Moshood, on the other hand, has said Jega Awosanya Segun, who started the hashtag, has been working with "mischievous politicians" and had ulterior motives. He said:
Somebody who had an ulterior motive put up #EndSARS, Nigerians should be mindful because the social media is very porous.

We traced the hashtag and traced it to mischievous politicians that are trying to create problem in the system that SARS is a stumbling block for them to achieve objective in the election and we are investigating this.

The owner of the hashtag is being investigated. We know freedom of expression is the right of every Nigerian and we are taking people up because of that.

It is quite unfortunate, I'm not mentioning any name but this same Jega Awosanya Segun is the owner of the hastag and we have seen his picture with various crop of politicians and we are investigating that for Nigerians to know the reason why.
Watch the interview below: