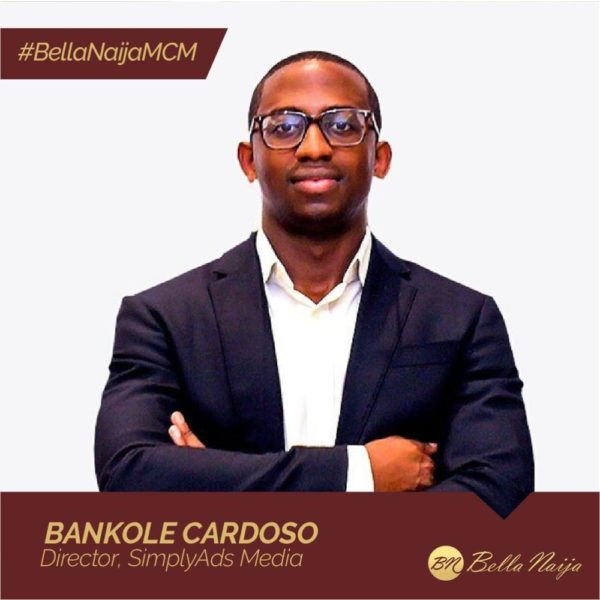 Two of the riskiest moves a young Nigerian will make will be: one, quitting his/her job to start a business (especially a disruptive one or one in a new industry); two, moving back to Nigeria, if that young Nigerian is in the diaspora.
Everyday, you see young Nigerians in Nigeria discouraging their countrymen and contemporaries in the diaspora who are planning to come back to their motherland. Our #BellaNaijaMCM this week Bankole Cardoso took the two big steps above in 2013, daring himself to move back to Nigeria and contribute his quota to national development from home (Nigeria).
Bankole, after completing his elementary and secondary education in Nigeria, moved to the UK for High School (GCSE & A-Level), and then to the U.S for his University education, attending Boston College (BC) – to study Accounting and Business Management. Upon graduation in 2010, Bankole moved to New York to work as an associate at PricewaterhouseCoopers (PwC), where he earned his CPA (Certified Public Accountant) credentials.
Bankole switched to Private Equity, joining the Global Market Strategies Group at The Carlyle Group. He worked at The Carlyle Group for 18 months before moving back to Nigeria.
It was while at PwC that he began thinking of moving back to Nigeria but he had been interviewing with New York firms and the opportunity to work at The Carlyle Group came up, and because of the opportunities it presented, he decided to take the job. At The Carlyle Group, Bankole enhanced his business acumen, working directly with the CFO, analyzing the company's investment performance across its portfolio of companies and also supporting fundraising efforts for a $1 billion business development company that his group raised to invest in small and medium sized companies.
The job was great, the prospects too, but Bankole wanted to be in business, and he wanted it to be in Nigeria. he was also looking forward to moving to other emerging economies at the time and all his research pointed him to Nigeria. Finally, he did it! He moved back to Nigeria, amidst concern from his parents about the challenges he'd face moving back, but he did. Thankfully, the timing coincided with an opportunity for him to set up a global business – Eaxi Taxi – in Nigeria.
Easy Taxi is a Smart Phone application that lets users request taxis with one click. It was founded in Brazil in 2011 by German technology startup incubator, Rocket Internet GmBH. EasyTaxi serves to connect cab drivers and would-be passengers.
Bankole was co-founder and managing director of the company between 2013 and 2015 when he resigned from his position. In 2015, he became the head of global communications for Jumia Group, another Rocket Internet-backed company. At Jumia, Bankole launched the first edition of the MTN Entrepreneurship Challenge powered by Jumia in 13 African countries. He was in the position till 2016.
In 2016, Bankole became the Director of SimplyAds Media, a position he's currently holding. SimplyAds "is engaged in digital Out-Of-Home advertising in Nigeria…. The company leverages taxis to bring innovative, flexible and street-level advertising to brands."
Bankole was named in Forbes' 2014 list of 30 Most Promising Young Entrepreneurs in Africa and is currently completing his MBA at Columbia Business School (Columbia University). He also served as an MBA Investment Associate at Quona Capital in 2017.
In 2014, Bankole was featured on CNN's Africa Start-Up where he talked about his entrepreneurial journey with Easy Taxi Nigeria.
Bankole heads the executive team of Dr Ameyo Stella Adadevoh (DRASA) Health Trust with the mission of keeping the society safe from public health threats through the advancement of infection control practices, hygiene and sanitation behaviors, and outbreak preparedness measures
We celebrate Bankole for his passion for Nigeria's entrepreneurial development and for taking a risky leap to fulfill his goals.