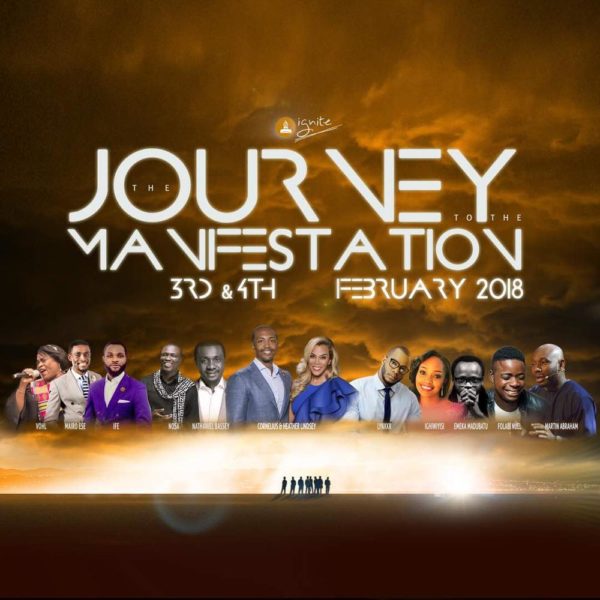 Nigeria is buzzing, as the second edition of the biggest annual youth gathering, Ignite GLA's, 'The Manifestation: The Journey To The Manifestation', on Saturday and Sunday, February 3rd and 4th, 2018 is back again. The youth event, which takes place at Guiding Light Assembly main auditorium, Parkview Estate, Ikoyi, is going to be headlined, for the second time in a row, by U.S based pastors, Cornelius and Heather Lindsey.
Date: Saturday, February 3rd & Sunday, February 4th, 2018.
Venue: Guiding Light Assembly Main Auditorium, Parkview Estate, Ikoyi.
The event seeks to encourage the youth to manifest their light with great music and powerful testimonies from Nathaniel Bassey, Lynxx, Nosa, Mairo Ese, Folabi Nuel, Ighiwiyisi Jacobs and more! It's going to be a time of life-changing word, ministration and worship. It is free to attend, but registration is required. Simply visit the website here to register. You don't want to miss The Manifestation 2018!
Ignite is the youth fellowship of Guiding Light Assembly. We are the young members of the GLA family – young men and women in business, young couples, young entrepreneurs; all young Christians who love Jesus and are trying to figure out how to live the Word in an increasingly complicated world. We meet on the first Saturday of every month to gist with the Holy Spirit, ask a lot of questions and to find out what He has to say about our everyday issues.
For more information, kindly contact us at [email protected] or [email protected]. Or via social media: Instagram, Twitter, Periscope: @ignitegla, Snapchat: @ignitegla, YouTube,| Facebook and on the blog: www.ignitegla.org
——————————————————————————————————————–
This content has been published for free as part of BellaNaija.com's commitment to youth, education, healthcare and community development as part of our corporate social responsibility programme.