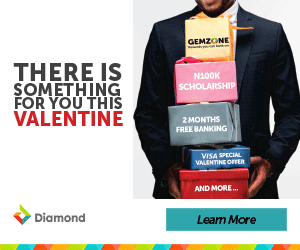 Love is a beautiful experience and we at Diamond Bank are pleased to celebrate this season of love and care by offering great packages to you and your loved ones. Experience banking with love when you subscribe to any of the following packages today:
Get world class service and life-changing offers when you open a Diamond Business  Advantage account today. You get access to business loans, personal credit cards, financial advisory services and so much more.
Opening an account for your kid has never been more rewarding. Open a Diamond Future/Cool-Teens account and you stand the chance of winning up to N100,000 scholarship for your kids!!! It does not get any better than this.
From being offered a free bottle of wine with two three-course meals at Velvet Grill Lounge and Bar, to getting a 10% discount on any meal you order at People Eat Culture, enjoy special Valentine discounts with your Diamond Gold or Platinum Visa Card at various merchant locations.
This is too good to resist!
This season of love and care, Diamond Bank has more goodies in store for you. To find more about these promotions click here.
——————————————————————————————————————–
Sponsored Content