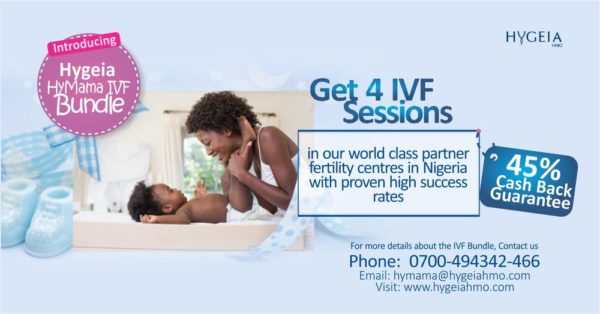 Nigeria's leading Health Maintenance Organisation, Hygeia HMO has added a new bundle to its bouquet of Healthcare solutions called the HyMama IVF Bundle. The HyMama IVF bundle is a special plan targeted at individuals and couples who require in vitro fertilization treatment.
With the HyMama IVF Bundle, beneficiaries can get access to some of the best IVF clinics in Nigeria with proven success rate. Some benefits of the plan include:
4 IVF Sessions in one bundle.

If it doesn't work, the money is not all lost. We will give you a 45% cash back guarantee.

It is affordable.

Dedicated relationship manager would work with the client throughout the process.
Speaking on the rationale behind creating this bundle, Obinna Ukachukwu, Head of Business Development, Hygeia HMO stated that "Hygeia is not just a HMO but a Healthcare solutions provider. We identify unique healthcare problems in Nigeria and develop solutions to solve these problems. This is why we have a wide range of retail and corporate healthcare plans that cut across the different socio-economic strata of the society. Our goal in one sentence is 'Healthcare for all.'"
As we like to say it, the HyMama IVF Bundle is your gateway to "tiny feet and new beginnings".
Click here to find out more about the HyMama IVF Bundle. Give us a call on 0700 494342 466 for further enquiries you might have about the bundle.Live more life!
————————————————————————————————————————————————————-
Sponsored Content