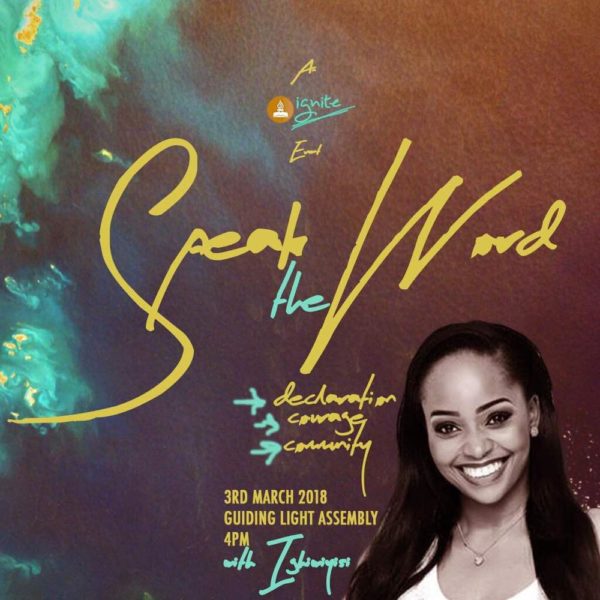 After a very successful conference, 'The Journey to the Manifestation 2018', Ignite GLA is back on track with our monthly meetups! Join us for our first fellowship in 2018 themed 'Speak the Word: Declaration, Courage and Community'. Genesis 1:3 (NIV) says "And God said, "Let there be light," and there was light." We see from this verse that God was vocal about what He wanted and it came to be by His declaration.
Furthermore, we might be going through certain situations or may have received a word from God for someone but we end up not speaking up because of fear or uncertainty. Join Ignite GLA as we discuss the importance of being courageous to make declarations over our lives, circumstances, the Nation etc and how our speaking up can affect the community around us. Ighiwiyisi will be joining us and it will be an amazing time fellowshipping with believers, there will also be physical refreshments served after the spiritual refreshment. Feel free to invite your friends, colleagues, families, we look forward to seeing you there!
Date: Saturday, March 3rd, 2018
Time: 4.00 pm
Venue: Guiding Light Assembly, Parkview Estate, Ikoyi.
Ignite is the youth fellowship of Guiding Light Assembly. We are the young members of the GLA family – young men and women in business, young couples, young entrepreneurs; all young Christians who love Jesus and are trying to figure out how to live the Word in an increasingly complicated world. We meet on the first Saturday of every month to gist with the Holy Spirit, ask a lot of questions and to find out what He has to say about our everyday issues.
For more information, kindly contact us at [email protected] or [email protected]. We are also on various social media platforms: Instagram, Twitter, Periscope, Snapchat, YouTube, Facebook and on the blog: www.ignitegla.org
——————————————————————————————————————–
This content has been published for free as part of BellaNaija.com's commitment to youth, education, healthcare and community development as part of our corporate social responsibility programme.