#BBNaija – Day 43: All Hail Queen Nina, Dissolved and Nominated & More Exciting Highlights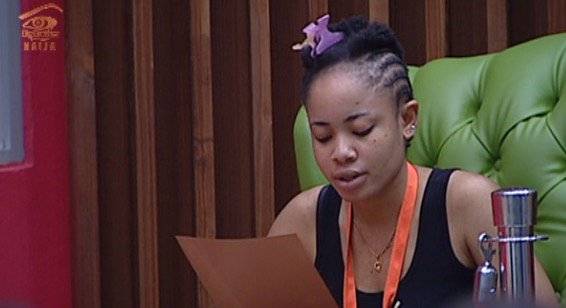 Did you watch day 43 of the Big Brother Naija 3 reality show?
If you missed it, we've got the highlights for you!
..
Back to Square One
The Fireball
Alex has been one of the liveliest Housemate in the Double Wahala House, bringing her youthful, joyful and playful self to the game. Her childlike personality has allowed her to always stay true to herself, and never find herself in situations she couldn't stomach. It is true that Alex "can cry for Africa", but when she laughs, the world laughs with her. Alex's colorful hairstyles and electric smile made her impossible to miss, and incredibly hard to not get attached to. When Alex entered the House she rocked a green short hairstyle and blue lipstick and made no attempt whatsoever to hold her sharp tongue.
The Flame of Love
With her no-nonsense attitude, she has never hesitated to put people in their place, like she did with Cee-C and Princess. With equally hot-headed Housemates, Alex had struggled to keep her temper under wraps. It was only until Biggie paired her with Leo that another side of her emerged. Although the chemistry between her and Leo lit up the screen, theirs was quite an odd relation. Leo had made it no secret that he found her too immature for his liking, and acted more like a protective older brother whose calming presence reassured her. However, things took a turn, and their romance has grown.
The Dimming Fire
Alex was the young, 'feisty girl in the House', and it is only Leo who has tamed her confrontational nature. They have locked lips several times, slept in the same bed and were practically glued to each other whilst in the House, bringing out a softer side in Alex. His Eviction last night has left her in shambles, crying way into the night and at different points this morning. There is much more to Alex than what meets the eye. With Leo gone, will she be able to rise from the ashes and find herself, and play the game she came to play?
Toned-Down Tobi
Three-times winner of the Head of House title, Tobi has been slow to embody his promise of bringing lots of fun to the BBNaija House. He seem to still be riding on the wave of his very first appointment as Head of House and hasn't gone out of his way to ginger things up.
Beating Around The Bush
When Cee-C volunteered to be his co-regent during the first week, it was his friend and foe that he had unknowingly attracted. Tobi seemed to be as equally annoyed by her constant drama as irresistibly drawn to all that she is, flaws and all. Cee-C and Tobi have had their share of shouting matches in the House, to Housemates greatest exasperation. After all, there was only so much prodding that Cee-C could do to get him to woo the House.
Yet at first, just like Angel, Tobi was despised for his coarse and insensible handling of the different personalities in the House. He was buff and displayed bullying tendencies when he very early on and publicly said he couldn't understand how a man could look like the lithe Lolu. His military-style workout mania also didn't win him any friends, as Ifu Ennada complained that he enjoyed making people feeling bad.
Rolling In Clover
As much as he saw eye-to-eye with Angel, Tobi dreaded Teddy A, whom he saw as serious competition and Nominated him for Eviction at the first chance. It's only very recently that Tobi seem to have struck a friendship with Miracle, but only after the latter had also won the Head of House title. Of late, Tobi has started consulting with Anto, who had left him at a loss for words until then. With the pairing with Alex dismantled, it remains to be seen whether Tobi will get out of his leisurely and complacent ways in the House.
Bright Shining Stars
Housemates had gathered in the Arena to contend for the prized Head of House crown and all the privileges that come with it, such as the luxury bedroom treat and the ultimate freedom to boss everyone around as they pleased.
Lucky Stars
To qualify for the challenge, Housemates had to put a ping pong ball into cups using a measuring tape. All lined-up and focused on the small round ball, the four ladies went in first. No one had time to feign surprise when Nina and Cee-C were announced as qualified, for the astonishment was genuine. Cee-C in particular was elated for this would be her second win in the House, after her landmark Arena Games victory. As for Nina, she seemed genuinely taken aback and sported the biggest grin to date. When their turn came, the four guys rose the challenge and in one swoop, hit the balls right in the cups.
Star-Crossed Lovers
As much as Cee-C and Nina's qualification felt like a bombshell, when Biggie announced that Miracle and Tobi had qualified for the challenge, it was another mood altogether. For a start, this meant that Tobi may – for the fourth time – take the lead, be the voice, and the head of the House. Should Miracle win, it would be the second time that he sits in the Chair. Still whether it is Biggie or the stars that are smiling upon these four Housemates, one cannot stop but wonder what part of a victory would go to their heads? After all, this would mean the familiar return of Mina (Miracle-Nina) and Ceebi (Cee-C-Tobi) to the scene on one hand, and also affect the growing Tobi and Miracle bromance.
Starbust
Earlier, Biggie also amended the Head of House competition by removing Immunity and Veto Power to Save and Replace. Instead he introduced four Chance Cards, each with different possible outcomes that the future Head of House would find in the glass booth.
Dissolved and Nominated
If the saying 'change is the only constant' wasn't relevant before, saying it is now would be a complete understatement because that's all we're being served today.
Pairs Dissolved
At last, well at least some of them, the dreaded pairs have been dissolved and Housemates get to stand alone and balance their own bridges.  They were all clearly hit hard by the almost completely random pairing. With each focused on their individual games and low key backdoor plotting; having to tone it down and share both the grace and the disgrace threw them off and laid them in the comfort zones from which they refused to exit in the past few weeks. The weaker threads depended on their strong links and this whole dynamic was the reason for the internal wars the Housemates have been having. Now that they've been freed from the burden of being 'their brothers' keepers', the Nomination promise to be more strategy than empathy; cut throat and downright dirty.
The Nominations
We can't tell whether the fast pace at which the Nominations took place is owed to the Housemates' release from the pair prison or to the fact that Biggie drove his own wagon; with Rico Swavey as exception, the Housemates matched the wagon's speed and fired away, Nominating their adversaries. Seeing as the process wasn't coordinated, the results came as a shocker and Housemates were finally given the right of passage to reveal what they thought of each other, in Nomination form of course. The results saw more than three thirds of the House closer to the chopping boarder. All but HoH Nina and Rico Swavey are up for Eviction and this is how it went down:
Anto – Teddy A & Alex
Rico Swavey – Cee-C & Miracle
Cee-C – Anto & Alex
Lolu – Rico Swavey & BamBam
BamBam – Tobi & Anto
Tobi – Teddy A & BamBam
Alex – BamBam & Cee-C
Teddy A – Tobi & Miracle
Miracle – Cee-C & Lolu
Nina – BamBam & Lolu
No Save and Replace
This day should officially be renamed and 'Dissolved' would be a fitting replacement.  The HoH privileges has also been sifted and awarded in very small portions. Instead of the normal Save and Replace, reigning queen Nina had to make do with just the Immunity, thanks the Chance Card she picked, 'Immunity from Nominations Only – No Save and Replace'. The games have finally begun.
All Hail Nina
If we didn't believe in the 'the first will be last and the last first' philosophy, it's safe to say that we do now because Nina has gone against all the odds and managed to bag her very first win in the House; a win that happens to be the most important.
Not All is Fair in Warfare
We can't necessarily use the word 'fair' to describe Nina's share of the unlucky end of the stick because compared to the other Housemates, she's had to swallow a whole lot more. If she wasn't under constant surveillance, we'd attribute her victory to a couple of burnt offerings and maybe a few weeks of dry fasting because it was not expected at all. Her thirst for the win was demonstrated when she had an emotional break down during one of her diary sessions,complaining about her lack of luck. However, the Universe definitely conspired in her favor and brought her the win on a silver platter; bruising the puffed Tobi's ego, pulling the rug from under Cee-C and denting Miracle's confidence.
 ***
Have you been watching? What did you think of the Day 43 activities?