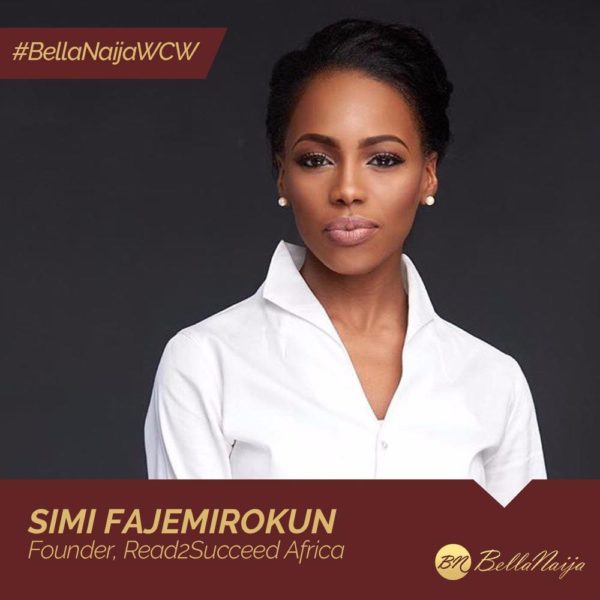 Nigeria has over 10.5 million out-of-school children, the highest you can get anywhere in the world. That's one problem. The other is that even the children in school, especially in public primary and secondary schools, do not know how to read and write and/or are being taught with outdated curricula.
These problems have several causes – poverty, insurgency, health challenges, corruption, poor teaching materials and/or lack of trained teachers – that are linked and our #BellaNaijaWCW this week Simi Fajemirokun is working to tackle some of these problems, one public school at a time
Simi is the founder of R2S (Read 2 Succeed) Africa, a non-profit organization committed to improving the literacy level among children in public primary schools. The problem is not necessarily access to schools, or lack of adequate infrastructure, the biggest challenge is what children actually learn in class and that is what R2S is focusing on.
R2S Africa has been described as "an intervention program designed to improve student's performance, support the class teacher and positively impact the school environment."
The platform is advocating for improved education sector, interact with the schools to understand their unique challenges, and also provide support inform of training materials for teachers.
R2S recently launched The Dreamers Project, an initiative that seeks to build the future workforce, one classroom at a time. The platform brings experts from different fields to teach the kids about making the right career choice for themselves, and also help them outline their dreams and pursue them intentionally.
The programme which runs for 3 weeks, trains pupils in goal setting, problem solving, presentation, public speaking and tapping skills.
Simi had worked for some time in the U.S before returning to her home country Nigeria, out of her interest in making a difference in the developing world.
On returning to Nigeria, Simi worked in the public sector as a consultant, and this exposed her to the issues bedeviling the country, especially in the are of education. She set up ESFAJ & Partners "an advisory firm that provides innovative and creative solutions to the increasing need for research, data analysis and visualization in business development" in 2011.
Simi, a research and education consultant, holds a BA in International Relations and Politics from the University of Reading, United Kingdom, and is a 2012 World Economic Forum (WEF) Global Shaper. In the same year, Simi received the Good Planet Foundation award in Davos based on her research on "Mobile Learning in Rural Areas."