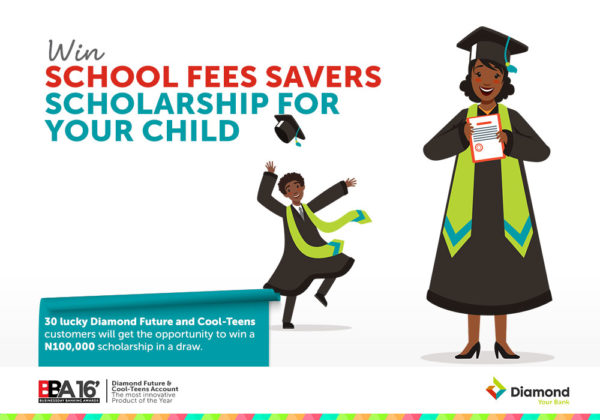 Diamond Bank is at it with rewards again! In anticipation of the new school term and the financial challenges it poses on many Nigerian parents, the bank has announced its interest in helping parents prepare ahead for fees, by giving out scholarships to 30 children.
Scholarships of NGN 100,000 each will be awarded to 30 children who are Diamond Future or Cool-Teens account holders. The School Savers scholarship is mostly targeted at parents who have children in preschool, primary and secondary school. To leverage opportunity open either of the two accounts.
To take part;
Maintain a monthly average of N25,000 or set up a standing instruction of N10,000 and above to qualify

Every month you qualify is a ticket to the draw. Increase your chances every month to qualify

Start saving to give your child that Diamond Future and Cool Teens Advantage
Qualified account holders will participate in a draw at the beginning of each term. Winners will be selected during the draw and interestingly, scholarship prizes will be presented to winners in schools where they emerge.
The Diamond Future account has other loaded benefits, some of which are; the 13th Month bonus reward, the structures savings plan, competitive credit interest rates, access to educational tools, games for kids.
While the Diamond Cool-Teens account teach your teens how to save and spend wisely, educates them on financial responsibilities, a free debit card with two trendy design options, allows them to receive pocket money, pay for movie tickets, buy books and video games with their cool-Teens debit card, enjoy loads of freebies like portable tablets and phones when they join the Cool-Teens community.
The School savers Scholarship reward is a good way for parents to fund their children's education so they can put personal income earned into other investments. Allow your kids enjoy the School savers advantage, open a Diamond Future or Cool-Teens account today. Visit the nearest Diamond Bank branch for more details or click this link to learn more.
—————————————————————————————————————————————————————
Sponsored Content