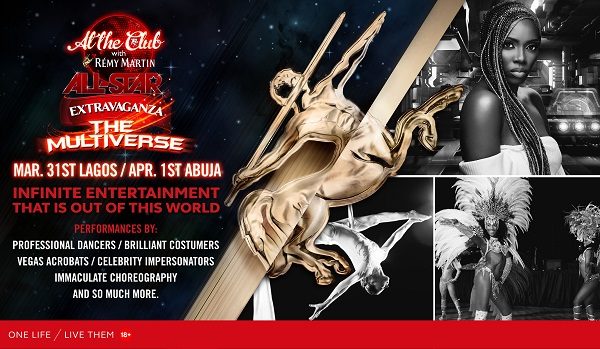 Ever been to space? Let Remy Martin take you to the multiverse! Save the date now!
Lagos-
Date: Saturday, March 31st, 2018
Venue: Balmoral Convention Centre, Federal Palace, 6-8 Ahmadu Bello Way, Victoria Island Lagos
Abuja- 
Date: Sunday, April 1st, 2018
Venue: BMO Event Arena, 174 Ahmadu Bello Way, Wuse 2, Abuja
Remy Martin is set to shut down the Lagos and Abuja scene with 'At the Club with Remy Martin All Star Extravaganza". Themed 'The Multiverse', the event promises to be an out of the world experience. The interplanetary event will feature your favourite artists, intergalactic performers and more.
Renowned for putting the 'extra' in Extravaganza, the 9th and 10th edition is going to be Bigger! Better! Bolder! There's even more mind-blowing news! Remy Martin is introducing a whole new world for one night only.
Talk about the sky is your limit; Remy Martin aims to show the sky as a stepping stone. Expect a night that will surpass last year, just imagine what the night will be like!
See how it all went down in December last year!
Follow @remymartinng on Instagram, Twitter, and Facebook for more details.
18+ Drink Responsibly
#AtTheClubWithRemyMartin #RemyMartinAllStar #RemyMartinNG
———————————————————————————————————————————————————————————
Sponsored Content