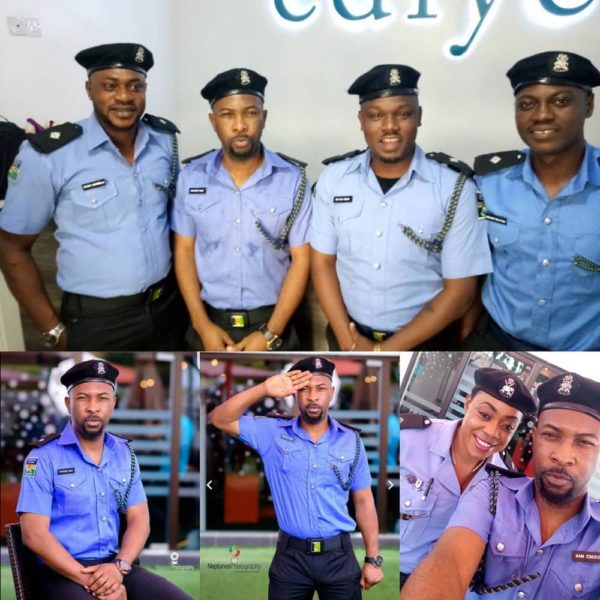 Rapper Ruggedman has, on his Instagram, explained the reason why he's performing at a police concert later in the month.
Ruggedman had earlier posted a video of himself with Sound Sultan, both in police uniform, announcing the concert.
While some had praised the move, others complained that the concert will not stop police brutality or extortion, which last year led to the #EndSARS movement.
Writing on his Instagram, Ruggedman said while the concert will not end the injustice, he feels it is a platform for the Nigeria Police Force and the government to listen to the populace's fears. He wrote:
I have gotten so many different messages since I posted pictures and videos of myself and colleagues wearing the Nigerian Police uniform.
They are of mixed feelings and I understand everybody absolutely.
It's a police concert billed for 20th of March 2018 inside University of Lagos.

I know the concert will not eradicate internet fraud immediately.
The government has to provide well paying jobs for the youths to see this start happening.
It will not stop police brutality, extortion, unlawful arrests and every other acts of impunity by bad officers. The @nigerianpoliceforce has to #reformthepolice and let their officers know they are out there to work for the people and not oppress the people.
They have to do a lot of work to gain the people's trust and respect.

Before #Endsars or #Reformthepolice, I have been working with the good OFFICERS I know in getting justice for victims of police brutality.
I am involved in this because I see it as a platform to make the people's fears be heard by the Nigerian Police and the government.
These are people who will facilitate the reforms we need.
The government needs to understand that the police need to be well taken care of, so they can have level heads to serve and protect. THEY ALSO NEED TO GIVE RETIRED OFFICERS THEIR BENEFITS.
So that serving officers do not see the force as an avenue to make money.

This concert will not give us the perfect police force, but what it will give me is a chance to speak for my people and I will definitely do that.

I applaud @opetodolapo for doing what has never been done before by our police.
Herself, @[email protected]
@iheanachorifeanyiomuta are some of the great and upright officers I know.
THE NIGERIAN POLICE HAVE TO DO SOMETHING QUICK TO RID THE FORCE AND THE SREET OF SUCH PEOPLE.

God bless you and keep doing the great job. God keep and protect you for us.

FOR ANY POLICE COMPLAINTS CALL THE POLICE PUBLIC COMPLAINT RAPID RESPONSE UNIT
+234 805 700 0001
+234 805 700 0002

#entertainmentmeetssecurity#policeandyouth#march20#Policeconcert#securityconcert#youthssaynotodrugdealings
#Youthssaynotocultism
#youthsaynotointernetfraud.
Log in to www.polextra.org
See the post below: