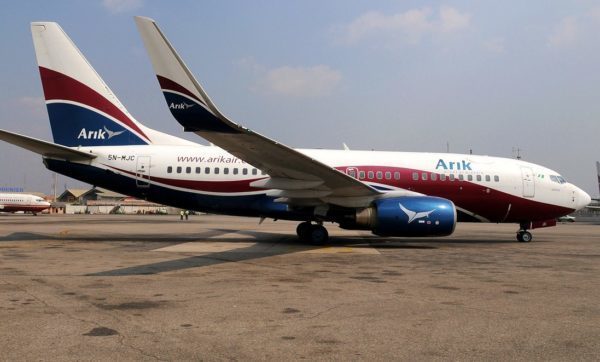 A Twitter user @Tutsy22 has narrated a scary ordeal on an Arik Air flight that took off from Lagos to Accra on Tuesday and suddenly had smoke in the cabin barely 35 minutes into the flight.
She disclosed that the flight crew had no idea where the smoke was from and provided tissues in place of oxygen masks that weren't available.
She called on the Nigerian Civil Aviation Authority to ground the plane following the incident.
See her tweets below
2. Passenger: The name of the aircraft is STEPHEN. It was a Dash 8 NextGen propeller aircraft. The flight took off precisely 7.20pm (Lagos time)
35 minutes into the 55 minutes flight, I started perceiving something smelling like a burning stuff.

— Adetutu Balogun (@Tutsy22) March 9, 2018
4. The air hostesses were busy scampering around opening the cabins and the lavatories to check if they could trace the source of the smoke without success.

— Adetutu Balogun (@Tutsy22) March 9, 2018
6. About 5 minutes after, precisely with 15 minutes of flight time remaining, the pilot came on the public address system to inform us that they have smoke coming into the cabin and that they don't know the source and that they have DECLARED EMERGENCY".

— Adetutu Balogun (@Tutsy22) March 9, 2018
8. We were evacuated into a waiting bus with instruction to leave everything behind in the cabin. Sadly there was no Arik official to address us neither was there any manner of first aid attention given to the passengers to manage stress and possible elevated blood pressures.

— Adetutu Balogun (@Tutsy22) March 9, 2018
10. I'm highly discouraged that this near crash major incident was not reported in the media 2 days after (today is 08/03/2018) and I suspect a cover up by Arik and the authorities. So I have chosen to use the social media to ensure this news gets out.

— Adetutu Balogun (@Tutsy22) March 9, 2018
12. @NCAAGOVNG should ground the plane until:

– The circumstances of the mishap is known,

– Why ArikAir put a plane without oxygen masks in the air?

– Why ArikAir failed to provide support for traumatised passengers after landing?

— Adetutu Balogun (@Tutsy22) March 9, 2018
13.ArikAir acted extremely irresponsible & knowingly endangered d lives of those passengers by breaching basic safety regulations.We demand a proper investigation into this incident. @PremiumTimesng @thecableng @vanguardngrnews @MobilePunch @NCAAGOVNG @hadisirika @nigeriantribune

— Adetutu Balogun (@Tutsy22) March 9, 2018