#BBNaija – Day 68: The Three Musketeers, Feelings Too Deep & More Highlights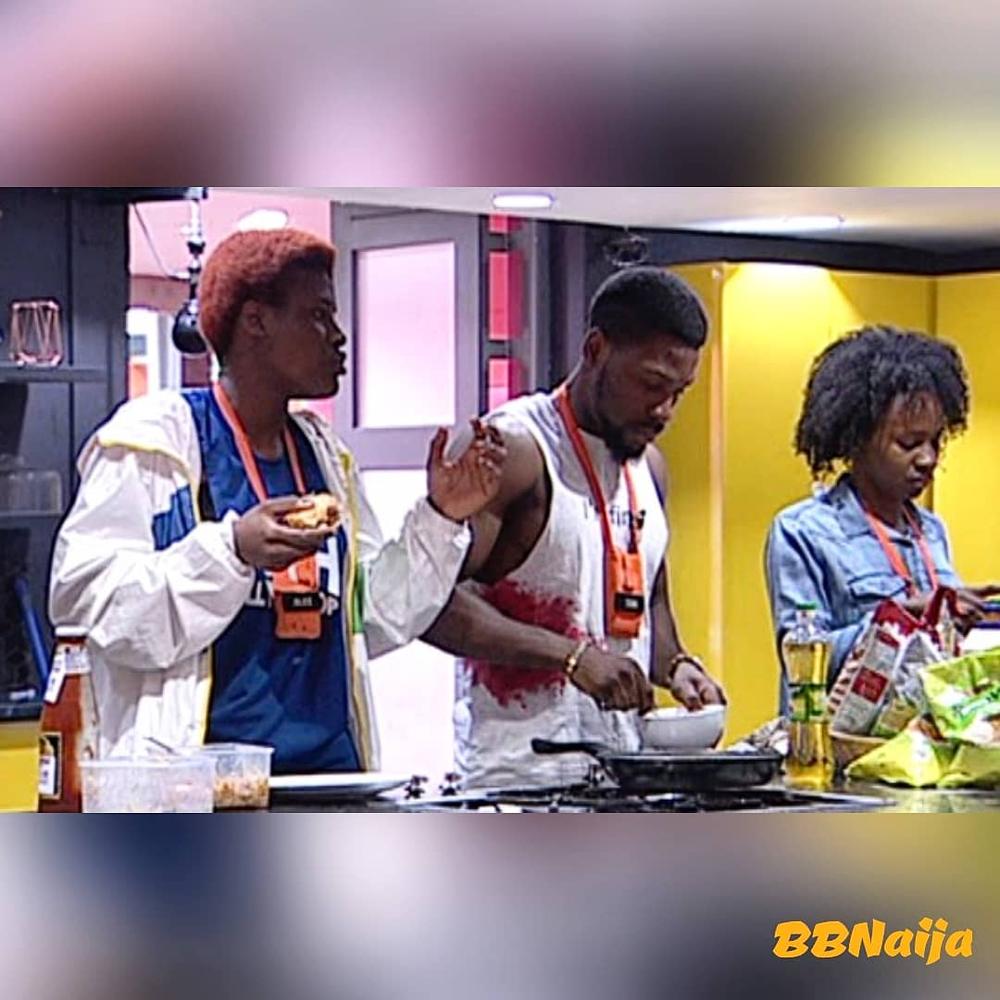 Did you watch day 68 of the Big Brother Naija 3 reality show?
If you missed it, we've got the highlights for you!
..
Alex' Baby Dolls
Thanks to yet another Yes card delivery, the House was fully submerged in laughter as the Housemates had the time of their lives watching the boys strutting their stuff in Alex's dresses, whipping their heads back and forth while sporting Nina's wigs and balancing for dear life in their heels.
An Hour on The Throne
Alex was handed an Hour of pure bliss on a silver platter and not a minute was wasted as she used, used and abused her Throne perks. She quickly came up with the idea of cross dressing the guys and having them look pretty in her numbers.
The sight of Miracle was that of an unhappy purple chandelier as Alex forced him to wear her sponsored Sari. He tried to wiggle his way out of the hour long deal but Alex wasn't having any of it. In fact, she seemed to have been drinking from a mysterious cup of inspiration that had her seeking each one of the guys out.
The Mannequin Parade
Rico Swavey was her second victim. She handed him a tight red number and he looked pretty ridiculous; both descriptions apply. Lolu got the shortest end of the thorny stick as he wasn't made to wear a dress but he too was a funny sight. Tobi on the other hand thought he'd dodged the feminine highway that the other guys had been forced onto but thanks to Miracle's constant wailing, he too was dragged onto it and was forced to wear a tight black number and we must say, he looked a muscular mess.
As if that wasn't enough embarrassment to last a couple of weeks, Alex ordered Nina to bring out her wigs and completed the guys' sasha fierce looks with dark coloured lip stick. She had them dancing on her cue and screaming her moves onto them when they refused to oblige. While Rico, Tobi and Lolu were participating quite decently, Alex had her eye on Miracle and of the bunch, he suffered a great deal.
The Three Musketeers
Once is not always in the Double Wahala House, and especially not when it comes to the guys in the House. For once Lolu, Miracle and Tobi did hang out and seemed to have a good time at it.
Joined at the Hip
Miracle and Tobi hit it off pretty instantly and developed a bromance as the weeks went by. These two have been tied at the hip since, for one is never too far from the other. Both had come across as alpha males whose on and off romantic love interests Nina and Cee-C kept gingering the House. Though also an alpha male, Lolu didn't play it the same way at them, and his smooth manners combined with his fierce comeback had kept most of his peers at a respectable distance.
Enters Lolu
So to see Lolu, Tobi and Miracle chilling and sharing a good time together came as quite a surprise, but the answer may well lie on a woman's shoulders – Anto. After all, Miracle and Tobi have never hidden that they were fond of Anto's friendship and held her every word in high esteem. Miracle had not held back from hugging her in more than friendly ways ever since he chose her to be his partner during his Head of House tenure.
Sparkles in the Air
While Tobi made no secret of his intense attraction for Anto, going as far as painting her naked buttocks on a canvas as opposed to painting a cartoon character on Alex's picture. Yet as much as Tobi's artistic prowess didn't please Lolu at all, it is Lolu that Anto had feelings for, and as much as she entertained Tobi and Miracle, only Lolu made her cry. It could also well be that Miracle and Tobi seem to have finally endorsed Lolu ever since he kissed Anto and proven that he too could be as playful as they had been. How do you think this will all end up?
Food, Water & Compliments?
With the return of Khloe, accusations of food going missing and fights have resurfaced. Yet the Head of House may not be entirely responsible for the foodies' claims.
Who's to Blame
For one, while Khloe was away, Housemates food dynamics had revealed patterns of dependence between eaters and feeders. Besides it was Rico who had had become the resident chef to his hungry peers. To his credit, Rico is the only Housemate to have summoned his peers over their waste of food. Yet fights over food had become a permanent fixture in the House. Take the Evicted Housemates Teddy A and BamBam whose quarrel over missing chicken will go down in the BBNaija history as quite memorable for Teddy A's scorning of his sweetheart over a piece of food. Even Alex who accused Khloe for the alleged rise in food fights had also proven to be a cheeky one, after suggesting to Teddy A to cover up for their mischief of eating BamBam's meat.Let us not forget the notable bickering that went back and forth between Cee-C and Nina over a plate of food.  Even Lolu unusually was drawn into one of these fights.
What Lies Beneath
On a number of times, Biggie had tried to calm Housemates food fervors with not much success. Ninjas were sent it to take food from them, bizarre Tasks were instructed to them, to no avail. When it comes to food, there are no amount of compliments and appreciation that can make this House a more peaceful one. In essence food fights have come to be a way to indirectly vent to each other. Interestingly though Housemates have not once spat over the drinks and alcohol that has flown in the House. As for Khloe, it looks like she really enjoys cooking, having relieved Rico from his duties since her return. Food may also be her own way of showing love to those around her. As much as she doesn't like people meddling in her cooking, it may well be that Housemates have been too afraid to tell her that they don't like her cooking.In that she is not alone for Miracle has also taken offence to Cee-C's cooking.
Flying with Captain Miracle
Nothing brings life back to Miracle as much as speaking about his dream of flying planes to his Housemates. Whenever he had the chance to share his hopes and aspirations for a successful career, Miracle's face lit up so much that it could well power the entire House.
With Flying Colours
When he entered the House, Miracle pretty much was glowing of satisfaction and eagerness for the BBNaija adventure. He was the first male Housemate to lock lips and start an on-screen flirt with Nina. He went ahead and scored a few other wins such as the Head of House title, the Arena Games and helped his mates secure Wagers. Miracle has also proven to be a good sport, gladly bending to his roommates strip dice pressure when he lost a bet. Altogether Miracle has been a good friend to Tobi and freely offered good advices to anyone who cared to ask.
When the Feathers Fly
With all this, as his relationship with Nina faded, Miracle seemed to have somewhat lost direction in the House. Amusingly as Nina distanced herself from Miracle, she seemed to have grown more confident to the point that she called him off for allegedly shouting at him, which he vehemently denied. Fortunately for him Anto also lent credence to his plea which unsettled Nina even more.
For reasons known to himself, he was in a rather gloomy mood for most of the week. It also didn't help that the decoration Task was a lonely endeavour as Miracle has shown to be at his best when working in groups.  That was only until he painted a mural of his piloting dreams and Biggie rewarded him with a matching bed set.
Winning The 8-Part Wager
For yesterday's Wager Challenge, yet another set of twists were introduced and seeing as a majority of their wars are food related, the Housemates had no choice but to fully engage. Just as it has been during the last couple of weeks, the Housemates were not afforded the luxury of deciding how much they'd put on the line as Biggie had already decided on their behalf.
The Challenges were divided into 8 uneven parts that were accompanied by cards marked with the chunk of the Wager they represented. Cards 2 and 8 weighed 25%, card 3 weighed a whopping 50% and the rest of the cards had no value attached to them.
Twice The Dunk
Replicating last week's Task that was won courtesy of BamBam and Miracle, the Challenges were to test the Housemates' retentive memory, color and water skills. Anto and Lolu were chosen as the first pair of representative, Tobi and Khloe being the second and Rico assumed the loner's responsibility.
The Challenge was relatively easy but proved a bit challenging practically as the two pairs failed their first and second attempts at cracking the color coded puzzles put before them. They were to observe the order in which the boards appeared and replicate them on their own boards. Both Lolu and Khloe were dunked twice but managed to escape another involuntary dive as Anto and Tobi finally replicated the color boards and earned the House the first two Wager cards. Card 1 weighing absolutely nothing and card 2 guaranteeing them a quarter of their Wager.
Rico the Great
For the Loner's Challenge, Rico Swavey was given a rather messy ultimatum. He could either take the Card and forfeit his chances as landing Hoh or retain them and go back to the House bearing absolutely no gifts. He'd opted to go ahead and face the Challenge but when Biggie listed his very limited options, he decided to take one for the team and increase their chances at dodging the hunger bullet.
75 Percent in
This noble act saw the Housemates unknowingly bagging 50% of their Wager, lifting them to the 75% heights and that much closer to a clean win. 25% and 5 cards remain, with a huge chunk already guaranteed, we wonder if they'll be able to earn the rest of their Wager.
The 100 Percent Dance
The Housemates, after a week long challange have managed to bag themselves a win on the wager and the excitement accompanied by dance moves is just too visible to ignore.
After finishing their Arena games, Biggie asked the Head of House to reveal what the last card valued and it was 25% which became an addition to the 75% they had already bagged.
Feelings Too Deep
Lolu has revealed that if he were to learn that the feelings between him and Anto were not mutual, that would break him.
This was triggered by a question from Khloe about his relationship with Anto in what seemed like a questions and answers game where Housemates asked each other questions about other Housemates in the Big Brother House
He opened up to his fellow Housemates, adding that because what he feels for Anto is so genuine, he hasn't thought beyond their stay in the House about the relationship.
Second Time Lucky
His lucky star shined upon him when Anto was voted back into the House, granting him a second chance to pursue what he's always went after.
This time around things have been a bit different and Anto more receptive towards Lolu's advances. However, he didn't have it easy but that didn't stop him from trying.
When Anto came back to the House, she confessed to being led on by Lolu whom she felt like slapping if there were no rules in the House. However, their ironing out session turned out for the better and they got even closer. A kiss was shared to seal the newly formed union.
Protecting What Matters
Anto also had an opportunity to ask Lolu a question about why he felt threatened by Miracle and Tobi getting closer to her. His response, like a protective boyfriend, was very brief and to the point.
He said he wouldn't have felt the need to protect her if he saw that their closeness was legit and not part of their strategy. Additionally, he say from a rare view their friendship would have been commended if it looked more natural than it was.
***
Have you been watching? What did you think of the Day 68 activities?