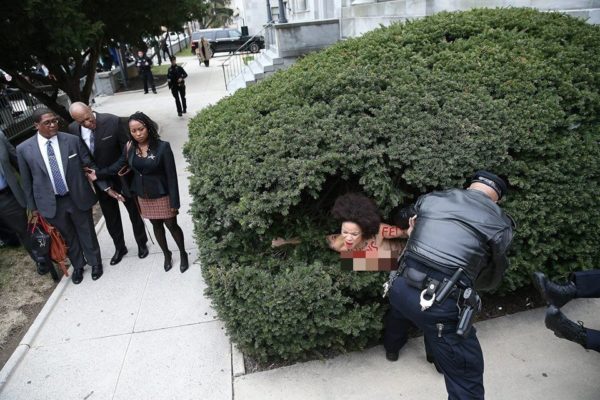 Nicolle Rochelle, a 39-year-old who appeared on 4 episodes of "The Cosby Show," staged a topless protest at the retrial of Bill Cosby.
Cosby's sexual assault retrial began on Monday in Pennsylvania.
Rochelle had written on her body the words "Women's Lives Matter" and names of some of the women Cosby had allegedly raped.
In a police press release seen by People, Rochelle was said to have been charged with disorderly conduct "after she entered a restricted area on the grounds of the Montgomery County Courthouse at 8:35 a.m., when the defendant, William H. Cosby Jr., was arriving for court."
Speaking to People, Rochelle said:
My action today was first and foremost an action lead by the group I joined in Europe about a year and half ago called Femen. Femen is an international Women's movement of topless female activists painted with slogans and our mission is protesting the patriarchy and reclaiming our bodies.

Protesting Bill Cosby was important for us because he is a man who has been disempowering women's bodies for decades and in being naked today, I was symbolically taking back the ownership of all the victims' bodies and redefining it as a political tool as opposed to a sexual object.

When I was 12 years old I did recur on the Cosby Show but regardless of whether I had been on the show or not, I would have been there today protesting on behalf of Femen and for the rights of women worldwide.
Photo Credit: @DrRashonneCurry