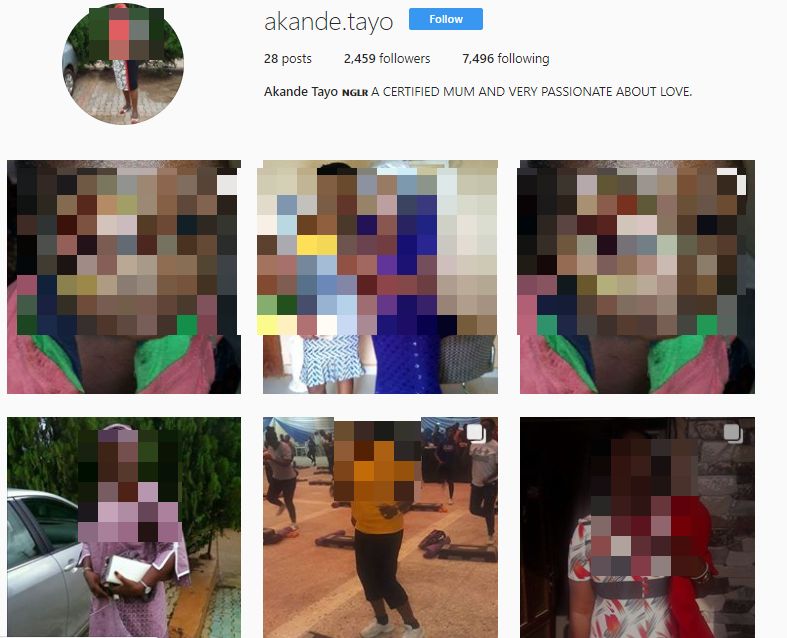 A fraudster with the name Akande Tayo on social media, who has been using the photo of a child with Retinoblastoma has been busted. Retinoblastoma is a rare form of cancer that rapidly develops from the immature cells of a retina most commonly in children
The conman, who has been sharing photos gotten from Benue-based humanitarian Ukan Kurugh's page on their Facebook and Instagram pages will post details of the child's ailment but add a personal account number in the end.
The child Aondofa Alagyu, who unfortunately, didn't make it, had undergone his first circle of chemotherapy in October, 2017, according to Ukan, but later passed in November of the same year.
Dr. Ngutor Faajir, from the Benue State University Teaching Hospital, who is the child's physician also confirmed to BellaNaija that he passed in November.
Ukan told BellaNaija that he had contacted Akande Tayo on Facebook but was blocked. He also told his friends and all who could listen that Akande Tayo is a conman and they contacted the page, but the fraudster blocked them too.
This is not the first time Akande Tayo is using people's call for help to scam the public, Ukan said. He added that the Akande Tayo had used the story of one Stella Meeikyaa, a student of the School of Nursing who survived a gas explosion but later passed. Ukan said that Akande Tayo has also used the story of a woman and her triplets who were abandoned at the hospital by her husband, to scam unsuspecting public.
Ukan made his own investigations and shared all details on Akande Tayo he had with the police but the officers requested for N100,000 for "mobilisation" to arrest a suspected criminal.
He left the case to focus on the other children and less-privileged in his care.
Akande Tayo, in October (the month Aondofa Alagyu had his first chemotherapy), created an Instagram page and has been posting photos of a middle-aged woman, insinuating that she owns the page. It is possible the woman in the photo has no idea someone is using her photo for such practices. At some point, Akande Tayo posted a photo of a couple with the caption: "Happy married life my son….. Much love from me to u❤❤❤❤❤❤"
The first post on the page soliciting for funds was on Sunday, April 22nd, and the last on Tuesday, April 24th, months after he had passed.
This is a public service announcement to everyone that that page is fake and the operator is in no way related or has any form of relationship with the family of late Aondofa, and to call on the police, the Economic and Financial Crimes Commission (EFCC), and all relevant agencies to nab this fraudster.
This also brings to fore, the importance of verifying every information found online, and only donate to organisations or persons you have found credible enough.