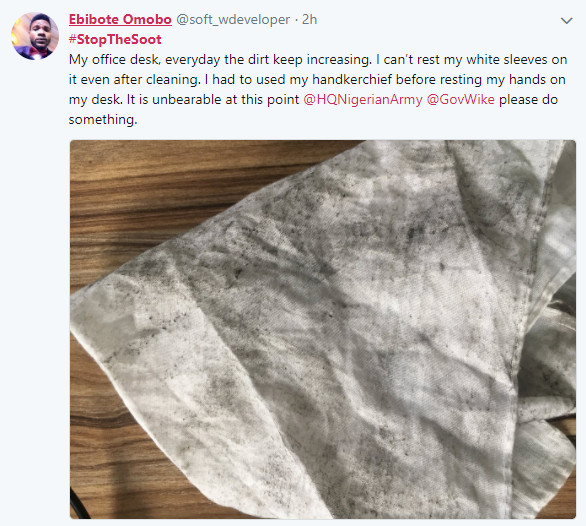 There's a brewing health crisis in Port Harcourt, the Rivers state capital, and it appears the government is doing nothing about it. Late 2016, residents of the capital city raised alarm over soot taking over the atmosphere and by December, it stopped, only to begin again a month later, this time worse.
By February 2017, the soot was making its way into people's homes, causing a mess, but what's worse, is the implication on life. Residents raised alarm again, and the government set up a task force to tackle the situation. It stopped after the state government shut down a Chinese Asphalt plant allegedly responsible for the presence of soot in the atmosphere, only to begin again early 2018.
In February, the federal ministry of environment declared an air pollution emergency in the affected areas, saying that preliminary test samples of the soot indicated it was caused by "incomplete combustion of hydrocarbons" as well as "asphalt processing and illegal artisanal refinery operations." The statement also said that "an asphalt processing plant" has been issued a notice to temporarily shut down.
About 2 months after the release of that statement, it appears there is no action being taken. Residents, have taken to social media again, to protest the menace using the hashtag #StopTheSoot.
Residents are also petitioning the federal government, calling on it to #StopTheSoot. It has gathered almost 4,000 signatures as at the time of this report. You can lend your voice and sign the petition HERE.
Again, we are calling on the Ministry of Environment, Ministry of Health and all appropriate agencies to taken lasting action on this crisis as residents are being exposed to a risk factor of respiratory diseases, cancer or worse. #StopTheSoot!
We cannot afford to keep silent!! We already have a lot to deal with in this country..@segalink @adeyanjudeji @julietkego @Tutsy22 @i_am_Anomeli pic.twitter.com/VVm0XzL4MV

— Kate Henshaw (@HenshawKate) April 4, 2018
#StopTheSoot
My office desk, everyday the dirt keep increasing. I can't rest my white sleeves on it even after cleaning. I had to used my handkerchief before resting my hands on my desk. It is unbearable at this point @HQNigerianArmy @GovWike please do something. pic.twitter.com/Giayvezjwp

— Ebibote Omobo (@soft_wdeveloper) April 4, 2018
See ehn, this soot issue in Port Harcourt, it's one thing to come on twitter to talk about. It's another thing experiencing it 1st hand. In the morning, the fog is thick and blinding. My eyes were itching from the soot.

— Notey A (@notiacs) April 4, 2018
Save yourselves #Portharcourt.

This government won't save you. #StopTheSoot pic.twitter.com/LEsxa58ImB

— Chike (@MrGustav_) March 28, 2018
Do you people know that some of these black soot have very tiny particles of metal in them? We inhale these particles. MY God!!! We don't deserve this. Let us all #Stopthesoot . Let us send a message to the government. We want to live. Lets let them know we need fresh air.

— MY OGA. (@Istandfortruth1) March 6, 2018
Honestly speaking, this soot thing in port Harcourt is getting out of hand, is it until it starts killing people that the government will react??#Stopthesoot

— TheRealGentleman™ (@Just_Chuka) March 6, 2018
We don't have another home. This is our home. This is beyond politics my brother. This has become a matter of life and death. Help us spread the word. #stopthesoot https://t.co/IVa1WbrF3c

— MY OGA. (@Istandfortruth1) March 6, 2018
We're dying from soot in port harcourt. This is what we inhale every second. Everyday. @TouchPh pic.twitter.com/x7TPs0j4S4

— Quashie (@OderahQ) March 3, 2018
Respiratory diseases, cancers or worse are some of the implications of this, and nothing is being done.