Want to raise Confident Girls? Register to attend the RCG Annual Conference with your Girls | Saturday, April 7th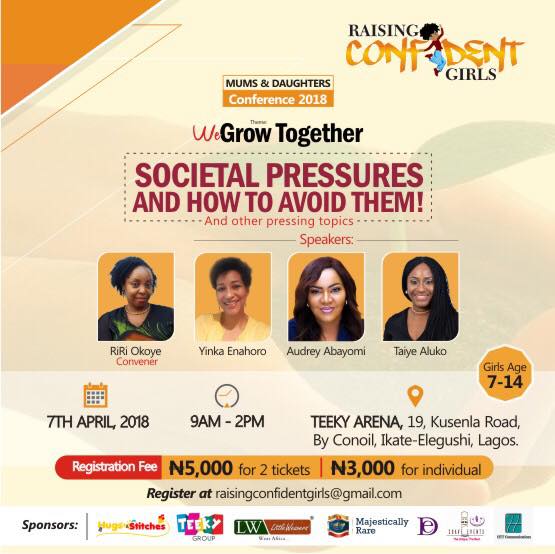 Lack of confidence has been identified as one of the biggest factors that could hamper the womenfolk from excelling in life. Hence in a quest to tackle this impediment, a group has arranged a programme that would teach and groom girls on how to navigate through life, and how they can handle the many issues they would confront in the fast-evolving world.
According to Rita Okoye, the founder and convener of Raising Confident Girls (RCG), their quest is to provide a platform to support and give solutions to the challenges that young girls face. "We want to have an engaging forum for both mothers and girls," she said, "Our aim is to build a nation where every girl no matter the status is confident. When you're confident, you know your worth as a human being and can achieve anything.
"I am passionate about this because it is an issue I dealt with in the past and I've come to notice that in Nigeria, one needs the confidence to survive and excel in whatever you do. Confidence is the key if you want to stand out and get ahead. 'Also grooming confident girls would curb sexual abuses because they would be bold and brave enough to speak out or report to their parents if there are attempts to molest or abuse them.'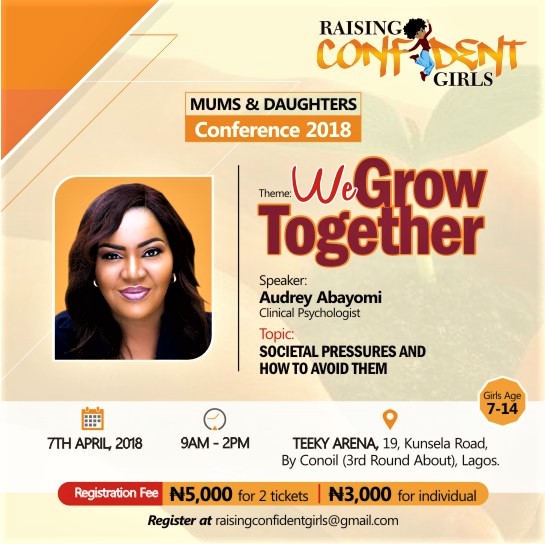 Okoye disclosed that this median programme, which is tagged 'We grow together', is slated to take place on Saturday, April 7th, 2018, from 9 am to 2 pm at the Teeky Arena, 19 Kusenla Ikate Lekki axis of Lagos metropolis, and that the event is for mothers and their girls between seven to 14 years old.
Disclosing some of the program packaged for the event, Okoye said that RCG aims to hold a one of its kind Annual Conference where mothers and daughters can sit together and have specific confidential conversations. She hinted that seasoned speakers and psychologists would also be there to discuss various incisive and educative topics that would engage and provide useful tips for all participants.
"RCG just wants to add value to the society because we believe in the bigger picture where we will groom confident girls that would grow up to be great women and good leaders," she added.
———————————————————————————————————————————————————————————–
This content has been published for free as part of BellaNaija.com's commitment to youth, education, healthcare and community development as part of our corporate social responsibility programme