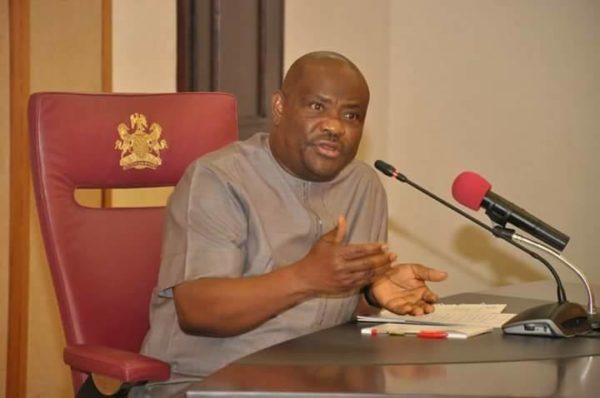 Residents of Port Harcourt and its environs have for about 2 years have been experiencing soot in the atmosphere. The residents who have repeatedly cried out of the the situation and its short and lung term effects on the population have also decided to stage a peaceful protest against the problem.
Governor of the state Nyesom Wike has accused the federal government of having plans to depopulate the state, using the soot.
He made this known to a delegation from the United Nations at the Government House in Port Harcourt, a statement by Simeon Nwakaudu, the governor's Special Assistant (Electronic Media) said.
The governor was quoted as saying:
Thank God that the United Nations has come in view of the issues we have raised. We thank the United Nations for their concern on the Rivers Environment as it relates to the soot.

If we must move on, we must situate the cause of the soot and the fact that the Federal Government has decided to make sure that a greater percentage of the state dies.

The Federal Government wants to eliminate a greater percentage of the state. The problem of soot is not caused by the Rivers State Government. It is caused by Federal Agencies.

The Rivers State Government do not own companies that refine crude. We have made representations to the Federal Government and her agencies on the issue of soot, to no avail .

We have called on the security agencies to find more refined ways of destroying the illegal refineries. We have informed the National Council of Environment, the military and all Federal Regulatory Agencies, but they are not interested in intervening.

We want the international community to come to our aid and pressure the Federal Government not to politicise environmental issues. We are ready to work with the international community to address this challenge.

All the Federal Government is doing is to chase shadows , organising people to protest. Until they stop politicizing very serious issues and focus on governance, we will head nowhere.

The Federal Government is using the soot as a political strategy, not knowing that it will fail woefully.

I have directed the Honourable Attorney General to brief an environmental lawyer to sue the Federal Government and the international oil companies over the issue of soot.
Wike also questioned why $1 billion dollars would be approved for security challenge and same not done for the environmental challenge in the Niger Delta.
The governor had earlier called on protesters to direct their grievances to the federal government as the state has no control over security agencies, the Port Harcourt refinery, and the destruction of illegal refineries in the state by the Nigerian Navy.
Watch below: