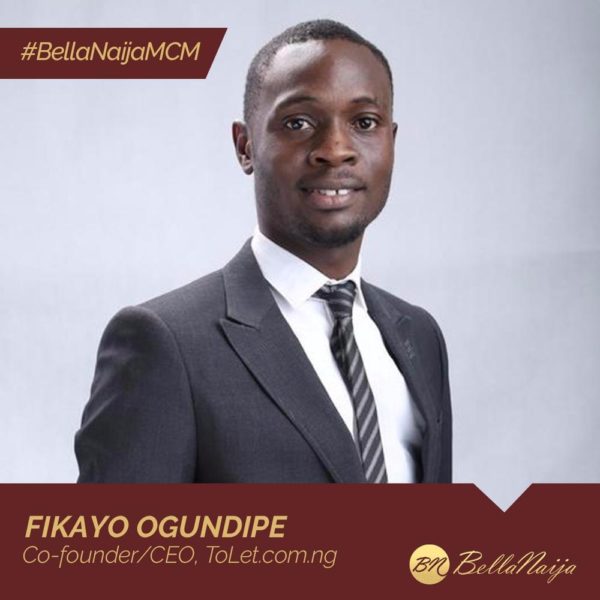 Apart from food and clothing, one basic need anywhere in the world is shelter. In Nigeria particularly, it can be a herculean task to find a good property. Trust and fraud are two of the largest contributors to this problem.
Our #BellaNaijaMCM this week Fikayo Ogundipe and his friends set up a platform (ToLet.com.ng) to tackle this problem, easing your search for landed property.
From savings from their personal funds, ToLet.com.ng was founded in 2012 as Estatenode.com by Fikayo, Sulaiman Balogun (CBO), Dapo Eludire (COO) and Seyi Ayeni (CTO). Not too long after that, in 2013, it received $230,000 in seed funding from Jason Njoku's Tech company accelerator Spark.ng and subsequently rebranded to ToLet.com.ng.
The company has been growing steadily since then, and latter caught the attention of Frontier Digital Ventures (FDV), a Malaysia-based investor in leading classifieds companies in emerging markets. In 2016, ToLet.com.ng raised a $1.2 million Series A round of funding from FDV.
The platform does not just connect property owners to sellers or agents, it also runs a blog that offers real estate advice, news, and ideas for home decor. Working together with agents it has vetted, the platforms helps customers to ease their search, and save time and money.
ToLet.com.ng aims to provide users "the best property search experience, be it online or offline." To achieve this, the company said on its website, "we have created a fast and smooth online search system, while also using technology to connect you with legitimate and verified real estate agents to ensure the offline/physical aspect of your property search is equally seamless."
To assert its dominance in the online property letting space, the platform, in 2017, acquired Jumia House Nigeria for an undisclosed amount. The two platforms merged under the new name of PropertyPro.ng
Ogundipe holds a Bachelor's degree (Electrical and Electronics Engineering) from Obafemi Awolowo University (OAU), Ife. We celebrate Fikayo and the entire ToLet.com.ng team for venturing into a virtually new field as at the time of founding the company, and sticking to their passion through thick and thing.