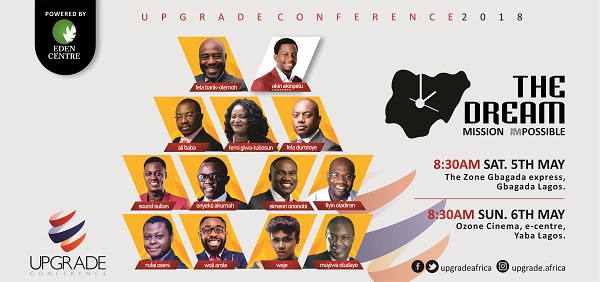 You will agree that the society, economy, and opportunities we seek in Nigeria today are not just far and in-between, but difficult to capitalize on. There is no sweet talking these facts away. However, the negative facts paint an incomplete story. There are people among us that are taking the charge to change this negative narrative. Young folks that embody the possibilities that remind us that Nigeria is still a #MissionPossible.
Sharing their stories, thoughts and strategies at the Upgrade Conference 2018 which holds on Saturday, May 5th, 2018 and Sunday, May 6th, 2018, will be non-conformists like Temi Giwa-Tunbosun of Lifebank, Onyeka Akumah of Farm crowdy, Simeon Ononobi of SimplePay, Fela Durotoye of Gemstone, Fela Bank-Olemoh special adviser to the governor on Education, Fiyin Oladiran, Partner at Mckinsey, Abimbola Agbejule, Head of commercial at Alat by Wema, Atunyota Alleluya Akpobome (Alibaba GCFR), Aituaje Iruobe (Waje), Olanrewaju Fasasi (Sound Sultan), Bayegun Oluwatoyin (Woli Arole), Rufai Oseni and Olumuyiwa Oludayo amongst other.
With Upgrade conference, the goal is to inspire and challenge Nigeria's young adults, professionals and entrepreneurs that the Nigeria of our dreams is a Mission Possible but only if individually we take the charge and commit to making it happens. We aim to raise more leaders who will rise to solve!
Attendance is strictly on a registration basis. To attend please register at www.upgradeconference.org/register
Date: Saturday, May 5th, 2018.
Time: 8.30 am.
Venue: The Zone tech park, Gbagada.
Date: Sunday, May 6th, 2018.
Time: 8.30 am..
Venue: Ozone Cinemas, Yaba
Upgrade is a thought leadership conference, bringing together hundreds of luminaries (Young professionals, entrepreneurs) and dozens of visionaries (Trailblazers, Innovators) for two days of speaker sessions, networking and one on one mentoring. Powered by Eden Centre and the host Akin Akinpelu.
Upgrade 2018 brings together the most influential and emerging leaders across industries in Nigeria. The two-day conference will be packed with discussions, stories and strategies with Nigeria's most innovative minds, and we'd love you to be part of the conversation.
This will be a great opportunity to spend time with your peers, debate the challenges ahead and how we're solving them. Also have fun! Don't forget to secure your seat at upgradeconference.org/register
————————————————————————————————————————————————————————————-
Sponsored Content