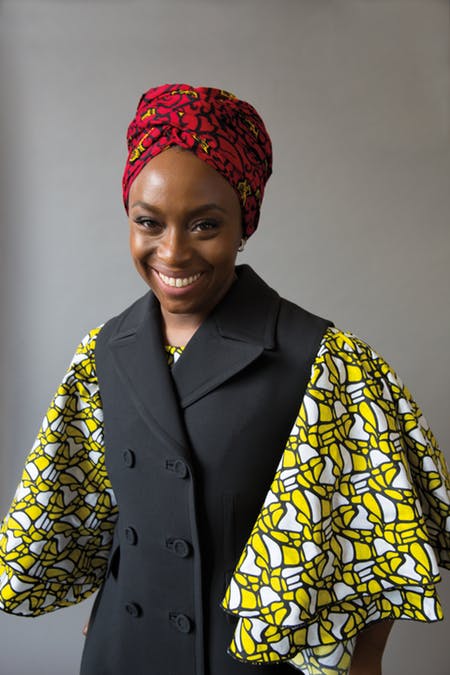 Renowned Nigerian author Chimamanda Ngozi Adichie has been referred to as one of the most vital and original novelists of her generation, having touched vast topics with her novels that drew extensively on the Biafran war in Nigeria during the late 1960 and non-fiction articles. In a new feature on The NewYorker, Larissa MacFarquhar profiles Chimamanda and takes us on an extensive journey of her life so far, referencing quotes from her books in an article titled: Chimamanda Ngozi Adichie Comes to Terms With Global Fame.
One part of the article talks about her rise from being an up and coming writer to established Bestselling author of Half of A Yellow Sun. Since attaining great heights in her career, Chimamanda is very in Nigeria. Her face is on billboards. People crowd around her at the airport. When she enters a restaurant, there is a ripple of recognition. Sometimes she will ask for the bill and discover that someone else has paid for her meal. She is admired as a Nigerian who has become an international celebrity, bringing renown to her country and a sense that now, for a Nigerian, anything is possible.
But, because she is so visible, everything she does or says is scrutinized. Once asked where she went instead to find the best African fiction, she said, "My mailbox," where she received her workshop students' stories. This was met with a lot of backlashes, especially from Nigerian Twitter. One user wrote; "It doesn't take much brain juice to realize from her interviews that Ms CNA's ego can sink an island. So the best African fiction is in Chimamanda Adichie's inbox?". Another said, "I hail thee, queen-god mother. Go f–k yourself, Chimamanda."
The profile has quotes from Chimamanda about being African in America, feminism and more. Se excerpts:
On how people handle her success
Ta-Nehisi Coates said to me once that what hurt him the most, becoming successful, was how much it was black intellectuals who seemed to be out for him, and I know what that's like. I told him that there's a circle of Nigerians who are resentful of my international success, and it's very hurtful because I want my people to wish me well.
On being African in America
There is a certain kind of black American that deeply resents an African whom they think of as privileged. Privileged Nigerians especially. My husband and I have got to the airport and they've said to us, You're Nigerian, I bet you have twenty-five thousand dollars in your bag, let's see it.
On being in a feminist marriage
One of the perils of a feminist marriage is that the man actually wants to be there. He is so present and he does every damn thing! And the child adores him. I swear to God, sometimes I look at her and say, I carried you for nine months, my breasts went down because of you, my belly is slack because of you, and now Papa comes home and you run off and ignore me. Really?
On the right age to indoctrinate her daughter in feminism
If I tell her when she's four, They don't let women do that! will it do something to her?. You know that English word 'chippy'—will she become one of those people who are called chippy?.
Read the full feature on www.newyorker.com
Photo Credit: Lofficiel Italia