Rehoboth 2018 Kicks off with Bishop Mike Okonkwo & Dr. Abel Damina | May 2nd – 6th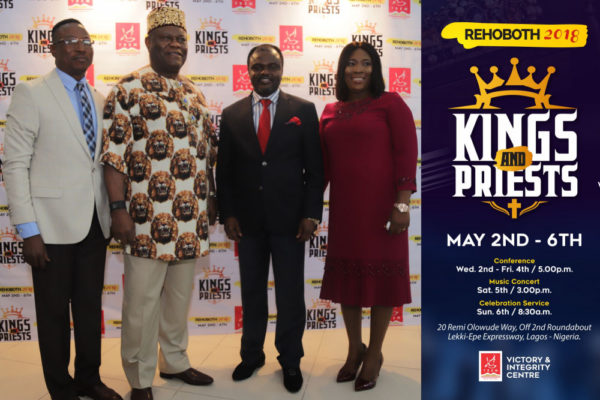 The much anticipated Rehoboth Conference started yesterday, Wednesday May 2nd, 2018 on a glorious note with Dr. Mike Okonkwo, the Presiding Bishop of TREM and Dr. Abel Damina leading the very long list of Pastors and Ministers in attendance. It was indeed an amazing experience.
This year, the conference enters its 6th Edition with the theme "KINGS AND PRIESTS" and will run from Wednesday, May 2nd through to Sunday, May 6th, 2018.
Date: Wednesday, May 2nd  – Sunday, May 6th, 2018.
Time: 5.00 pm on weekdays, 3.00 pm on Saturday and 8.30 am on Sunday.
Venue: 20, Remi Olowude Way, 2nd Roundabout, Lekki, Lagos
Rehoboth 2018 is a platform where anointed servants of God including Dr. Mike Okonkwo, Dr. Abel Damina, Apostle Victor James and Rev. Tony Samson (the Host Pastor) will empower and equip participants with the word of God. It also provides an opportunity for everyone to receive prophetic impartation and an outpouring of God's blessings.
All activities will be held at the main auditorium of The Redeemed Evangelical Mission (TREM) – Victory and Integrity Centre, 20 Remi Olowude Way, by 2nd Round About, Lekki, Lagos.
The highpoint of the conference is the music concert on Saturday, 5th May, headlined by Beejay Sax, Psalmos and The Worshippers.  There will also be a launch of the "Make-a-Wish Initiative", where people will have their wishes granted by just asking and believing.
There will be free transportation every day from Ajah to and fro the venue. The buses will be there from 3.30pm on weekdays, 2.00pm on Saturday and 7.30am on Sunday.
Rehoboth 2018 will be a life-enriching conference, don't miss out!
———————————————————————————————————————————————————————————
Sponsored Content