Get Amazing Outfits at Discounted Prices while contributing to a Worthy Cause! Don't miss Yard Sale on May 26th & 27th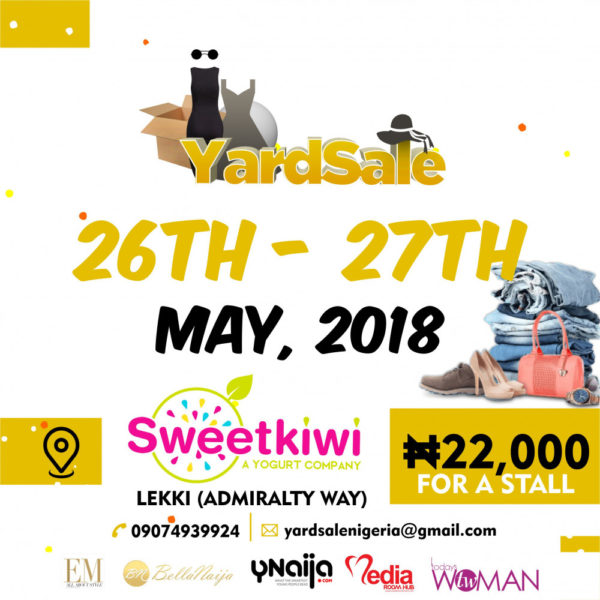 Save the date!!! Yard sale is back again. This is your opportunity to snag high and exquisite fashionable celebrity pieces and accessories at discounted prices while contributing for a worthy cause. There will be too much stuff you can't get enough.
Date: Saturday, May 26th & Sunday,May 27th 2018.
Time: 12pm- 6pm.
Venue: Sweet Kiwi, Admiralty Way, Lekki, Phase 1.
Yard Sale Nigeria aims to provide a platform for socialization while generating funds to help to support and assist individuals or communities who are affected by various societal issues. Through its previous editions, Yard sale has raised funds donated towards:
2016-Beibei Haven Charity: This is a charity organization that tackles the problem of infertility and raise awareness on various issues causing infertility
2016-Makoko Project: Yard sale personally directed its funds to feed 300 needy people in the district area of makoko.
2017- Zaron widow charity: A charity that assists widows to create a sustainable life for them and their family.
2018- The Federal Nigerian society of the blind. A vocational training center for the blind to help rehabilitate them while they acquire skills to make their own contributions to the society.
—————————————————————————————————————————————–
This content has been published for free as part of BellaNaija.com's commitment to youth, education, healthcare and community development as part of our corporate social responsibility programme