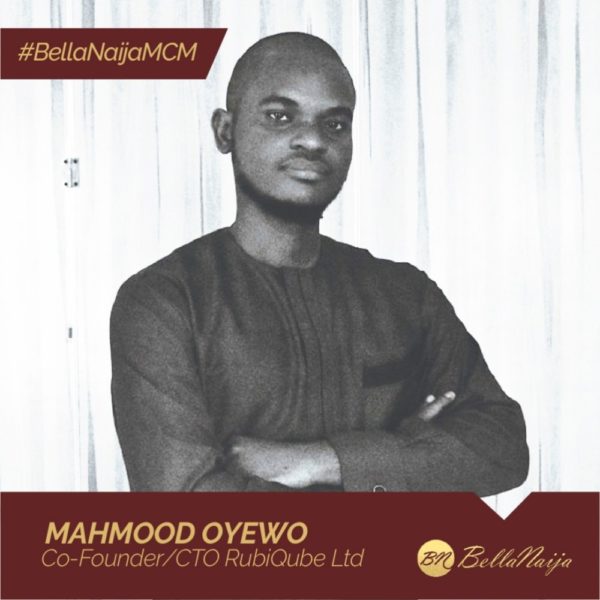 At 17, our #BellaNaijaMCM, Mahmood Oyewo, and his brother Mukhtar were already tech-savvy, building an airtime top-up solution which, unfortunately, was unable to scale.
This didn't stop them. They later registered an app/web development and management company called MobiQube.
Before getting into Obafemi Awolowo University to bag his computer engineering degree, Mahmood also started Mabtech Solutions, making radio transmitter circuits, and writing C++ applications and selling to secondary schools.
By the time he was 20, MobiQube had evolved into a mobile application platform – RubiQube – that allows more developers access to customers, and customers access to apps. This was in response to the challenges African developers encounter in getting their apps to their target audience.
With RubiQube, Mahmood got into the Anzisha Fellowship and reached the semi-final stage with his startup.
RubiQube is an open mobile cross-platform tool that gives users access to replicate mobile content depending on the geographical location. It depends on (African) mobile content developers and African developers to load content into its system, and then it provides the content to their target users, depending on their location.
Individuals can then use the application on RubiQube's platform without having to download the applications to their phone.
RubiQube's design "addresses three major needs in the burgeoning African mobile market. The first is increasing the monetization potential of local apps by reaching more potential customers on different platforms. The second was it allowed developers to build apps on one platform and sell them across several platforms. Thirdly, it had the ability to curate local applications based on the user's location."
Between then and now, RubiQube has evolved into "a reward-based advertising platform that drives engagement and monetization opportunities for online publishers, while delivering rewards to their end users and providing advertisers with engaged customers."
This design, tagged RubiQube Advertising, launched in 2017 and offers users of several platforms the option of paying for online perks by watching a 15 seconds video. The service also offers performance-based advertising services to top brands to reach over 200 million monthly active users across Africa.
RubiQube has worked with Nestle, GSK, Visa, Zenith Bank, UBA, Coca-Cola among others.
Mahmood has worked in the I.T department in the oil and gas industry and was a software intern at Interswitch, Nigeria's premier payment platform.
Mahmood was also named in the Forbes Africa 30 Under 30 (Technology) list for 2018.
We celebrate Mahmood for being an early starter and achieving so much at a young age.