How #BellaNaijaWCW Nichole Yembra of GreenHouse Capital is helping Tech Startups Raise Funds & Get Support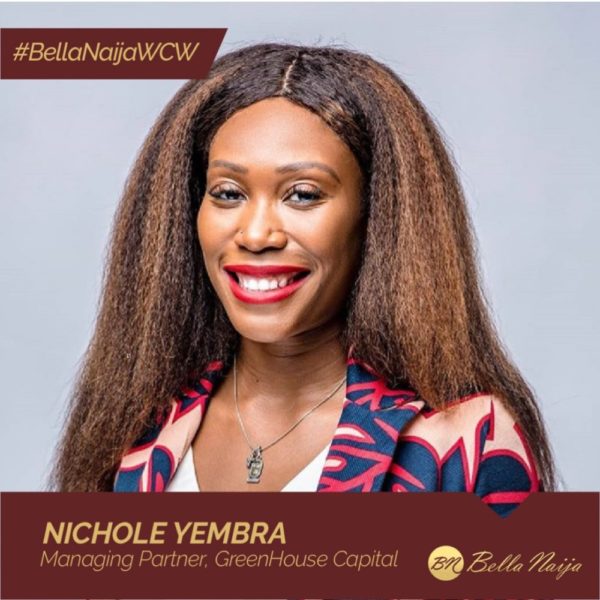 One of the major challenges startups, especially in Nigeria, is funding, and our #BellaNaijaWCW this week Nichole Yembra is contributing to dealing with this challenge in her own way.
Nichole is a Managing Partner at GreenHouse Capital (GHC), the investment arm of Venture Garden Group (VGG) where she also serves as the Chief Financial, Risk and Investment Officer.
"When Nichole joined the VGG and Greenhouse Capital teams, she guided the formal legal structure of the fund and led the investment into 8 new ventures in 2016, raising the group to the 14 companies it has today," Forbes wrote about Nichole in 2017.
AppZone, PrepClass, MaxNG, TalentBase, Flutterwave, Rensource are some of the companies GreenHouse Capital has in its portfolio.
Nichole is one of 200 participants of the inaugural Obama Foundation Leaders: Africa program. She was also named in Most Influential People of African Descent (MIPAD)'s global class of 2018 under the Business and Entrepreneurship category.
Nichole is also an advocate for gender diversity, enhancing opportunities for women in leadership. She co-chairs and sponsors the Garden Women's Network, a group dedicated to the development and retention of high-performing women in the VGG ecosystem.
The Garden Women's Network hosts all female hackathons that aims to bring together females to bring out ideas to create solutions using Technology.
Nichole is also the founder of Agni Fitness, "a nutrition and fitness technology company that provides accurate and relevant health data while simplifying the relationship between trainers/nutritionist and their clients."
Agni Fitness works in such a way that it helps generate customized meal and exercise plans based on user preferences and facilitates the relationship between professionals and their clients.
In 2017, Nichole was named in Forbes 30 Most Promising Entrepreneurs list.
Nichole has a Bachelors degree in Business Administration form the University of North Carolina, and a Masters degree in Accounting from Wake Forest University School of Business.