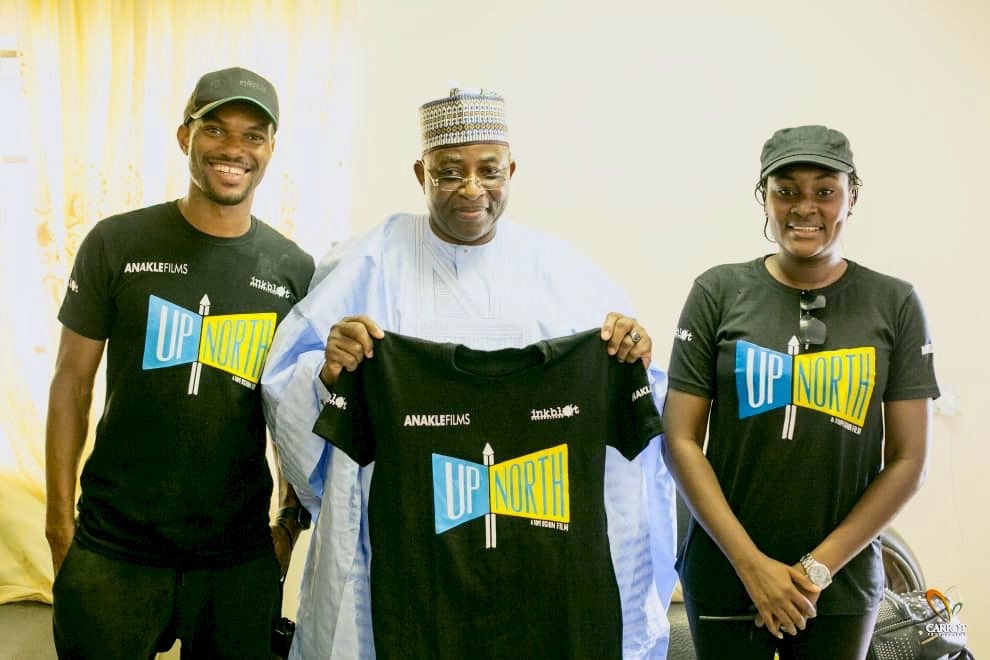 The Governor of Bauchi State, Mohammed Abdullahi Abubakar, is an avid supporter of Nollywood and we've got proof!
In a thread on twitter, CEO of Anakle Films, Editi Effiòng, explains his encounter with the Governor before and during the making of his latest project 'Up North'.
According to him, in 2017 when he was returning from Bauchi, he met the governor on the plane and told him about a film he had intentions of shooting in Bauchi.
Over the past few weeks of shooting the movie, the Governor followed up with him before filming began, gave him everything he needed to make work easier; from officers, to an emir, to his personal convoy and more.
The top it all off, the Governor also auditioned to feature in the film, his reason? – "If I am in a film, it will set an example and encourage the young people who want to go into film as a career"
It's very encouraging to know that the Governor knows and fully understands the power of Nollywood and how it can revolutionize tourism in Bauchi State.
See his tweets below:
So this happened. The governor of Bauchi (@GovMAA) was on set to support #UpNorthTheFilm, but that's not the story. pic.twitter.com/D6VcRVDqiz

— Editi Effiòng (@EditiEffiong) June 22, 2018
In mid-2017, I was returning from a story research trip from Bauchi, when I met the him on the plane.

I told him I'm working on a film to be shot in Bauchi, and his first reaction was "What do you need?"

— Editi Effiòng (@EditiEffiong) June 22, 2018
Over the next couple of weeks, the governor called at least once a week to check how preps went, and assigned an officer to help us get the access we needed.

It turned out every hotel in Bauchi was booked out for half the time we were going to be here, so offered us Yankari!

— Editi Effiòng (@EditiEffiong) June 22, 2018
We arrived in Bauchi just after the governor had left for Umrah in Saudi Arabia, which meant some of the instructions he left behind would fall through administrative cracks.

So he would check in every 2-3 days to ensure things were going well, and fix any problems we had.

— Editi Effiòng (@EditiEffiong) June 22, 2018
On the second week, we had this scene that required our hero's dad to arrive Bauchi in a convoy. Since Bauchi isn't Lagos, finding the cars for a convoy meant we had to get cars from Abuja.

Governor said nope, and sent us his own convoy. No joke. With escorts, sirens etc.

— Editi Effiòng (@EditiEffiong) June 22, 2018
Rewind – about the time we started pre-production, the governor asked if he could read the script.

When he saw we needed to show a Durbar, he introduced me to the emir, and got us permission to shoot at the emir's palace.

So we have the real emir of Bauchi in #UpNorthTheFilm

— Editi Effiòng (@EditiEffiong) June 22, 2018
Then he asked if he can audition to play the governor in the film (we had a governor character). I objected, but the director said we should give him a shot.

That's how come we have a sitting governor playing a role in #UpNorthTheFilm pic.twitter.com/034rVjbGEJ

— Editi Effiòng (@EditiEffiong) June 22, 2018
When I asked @GovMAA why he's so invested in the film, he said "I'm trying to diversify my state economy, and I've been begging Nollywood people to come and make films here. I have to support you guys, so you can go tell others. Also, you're employing a lot of Bauchi people." pic.twitter.com/peaCZ2qvh8

— Editi Effiòng (@EditiEffiong) June 22, 2018
On why he wanted the role in the film "You know, some parents think people who work in film and entertainment are bad people. If I am in a film, it will set an example and encourage the young people who want to go into film as a career".

Couldn't fault the logic.

— Editi Effiòng (@EditiEffiong) June 22, 2018
On film sets, actors tend to forget they're miked and gossip. The sound guy hears everything.

So while waiting for setup, the Governor was telling his commissioners "Do you know what this film could do for our state, our whole economy could be transformed."

— Editi Effiòng (@EditiEffiong) June 22, 2018
So the the governor and good people of Bauchi, thank you for opening your state to us, and helping us make this film.

Thank you Bauchi. pic.twitter.com/41tKZ1WbMK

— Editi Effiòng (@EditiEffiong) June 22, 2018