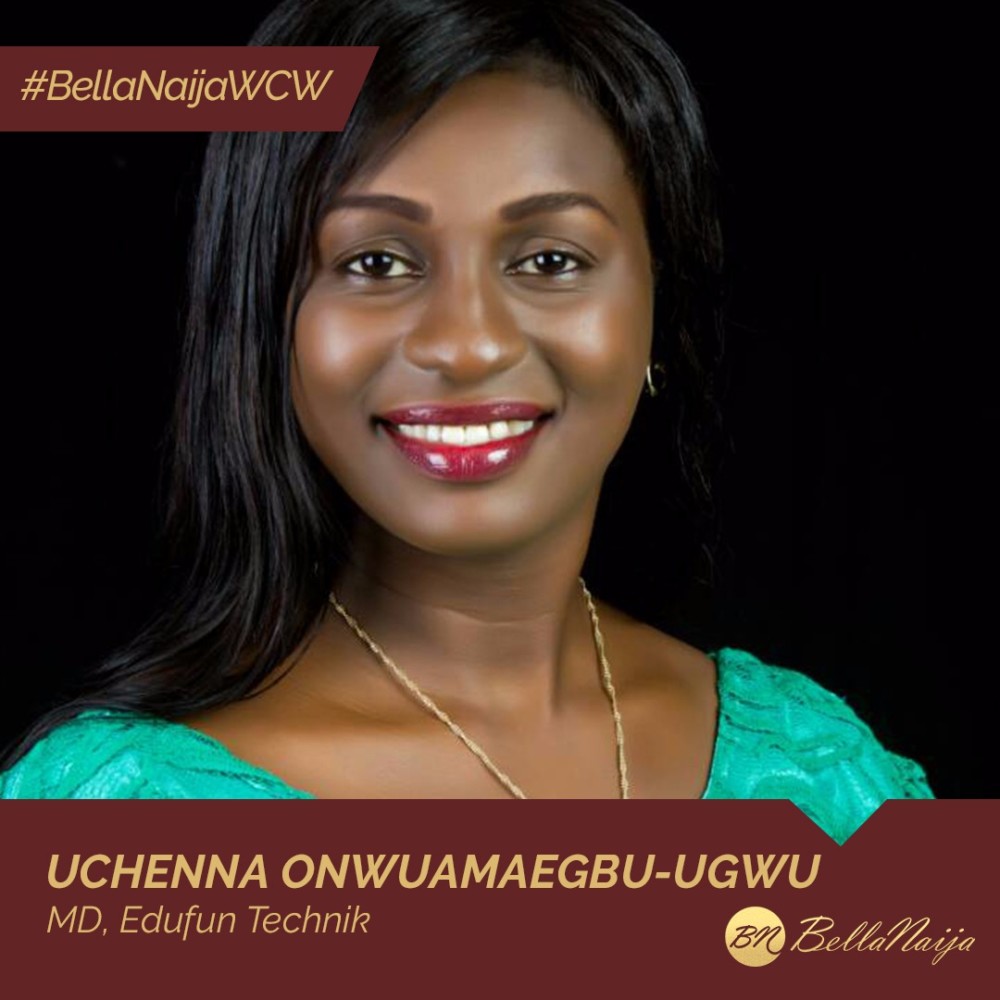 The importance of Science, Technology, Engineering and Mathematics (STEM) education cannot be over emphasised, particularly in this day and age.
Virtually everything is going digital and although Nigeria is playing catch up, some individuals are making sure we catch up faster. One of them is our #BellaNaijaWCW this week Uchenna Onwuamaegbu-Ugwu.
Uchenna is the founder and CEO of Edufun Technik, and her work is focused on implementing STEM education in schools for children and youth from ages 3-18, especially girls in rural communities in eastern Nigeria.
Edufun Technik is "an educational organisation that specializes in creating educational solutions for children and youths to help them plan and learn through play method, practice, hands-on and learner/ child-centred method of training while allowing them to immerse themselves in the world of technology and specifically (STEM) education through the STEM LAB."
"We exist to reach out to children and youths by providing innovative, STEM-Centric, hands-on technology education; engaging learning at every level with real-world learning opportunities that exposes students to careers in STEM as well as focusing on the critical need to develop the 21st century skills, such as Critical Thinking, Adaptability, Problem Solving skills, Creativity and Innovation, Self-direction and Self-assessment," the company wrote as its mission on its website.
The company has covered over 500 classes of STEM curriculum from 2014 till date and has trained 1200 pupils and 2100 students in workshops, after school and in-class activities.
Uchenna consults for schools on matters relating STEM/Robotics Education, making her impact reach a who lot more than what her company has achieved directly.
What pushed her to start this social enterprise?
The year was 2014, and Uchenna was in Dubai for an educational fair where she had an encounter, for the first time, with robotics and what they can be used to achieve. She missed out on learning about STEM as a child and knew that other children were missing out on this, too, especially in rural areas. So she decided to act – to bring STEM education to underserved communities.
On why she focuses on girls, Uchenna told YALI:
First of all, I think that girls are very smart, but they are limited to what they think about themselves. Starting from a very young age, didn't believe in themselves, and the society don't believe in them. So it's important for girls to start early, from a very young age, to start experimenting with sciences, with nature, and this is going to build their trust in the long run. I have some girls that come up to me and say, "I want to be an engineer. I want to be this," and the mom would say, "No. You're a woman. This is for boys." I also have a personal encounter where someone told my 5-years-old girl that she cannot be a pilot, because she said she wanted to be a pilot. And I don't know how they think at the age of 5, her friend, to know that girls can't be pilots. So I think girl is very important for us to take the lead, to let girls know, inspire them, encourage them, that they can do this because they are smart. They can do it.
Uchenna holds a Bachelor's Degree in Psychology from Nnamdi Azikiwe University Nigeria, and studied Business and Entrepreneurship at the Kellogg School of Management, Northwestern University Illinois. She's a 2017 Mandela Washington Fellow
Uchenna is one of the 200 persons selected to participate in the inaugural Obama Foundation Leaders: Africa program.
We celebrate Uchenna for giving the next generation the kind of education she never had and for contributing to building the future of Nigeria.