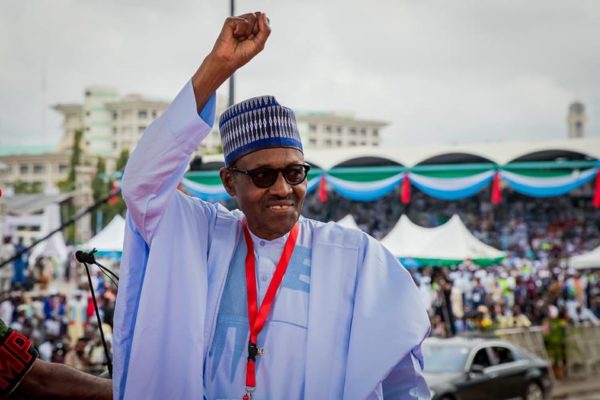 President Muhammadu Buhari has congratulated Kayode Fayemi on his victory in the Ekiti polls.
Fayemi was declared the Governor-elect after triumphing over other candidates in 12 out of the 16 local government areas of the state.
Buhari, congratulating Fayemi, asked that the losers in the elections be "gallant in conceding defeat" and seek redress in a way acceptable by the Nigerian constitution.
This was said in a statement released by the president's Special Adviser on Media and Publicity, Femi Adesina, on Sunday.
The people of Ekiti have spoken loud and clear, Buhari said.
PRESIDENT BUHARI CONGRATULATES GOV-ELECT FAYEMI OF EKITI STATE

President Muhammadu Buhari heartily congratulates Dr. John Kayode Fayemi on winning the Ekiti State governorship election.

The President commends the All Progressives Congress (APC) candidate and all party supporters for the hard-fought victory after a dignified campaign.

President Buhari urges the governor-elect and APC members to be magnanimous in victory as the incoming administration prepares to unfold a new lease of life for the people of Ekiti State through purposeful and responsible governance.

He commends the people of the State for their matured and peaceful conduct as they made their choice using the power of the ballot.

President Buhari also lauds the Independent National Electoral Commission (INEC) for adequate preparations and displaying impartiality throughout the process.

He applauds the security agencies for creating the right atmosphere for the relatively peaceful conduct of the polls and urges them to sustain the peace.

He also commends local and international observers and monitors for their vigilance and contributions towards the relatively hitch-free exercise.
The President urges the losers to be gallant in conceding defeat and use constitutional means to settle whatever grievances they may have rather than resort to self-help.

President Buhari appeals to all stakeholders in Ekiti State to work towards a successful transition to a new administration in the higher interest of not only the State but the entire nation and its fledgling democratic experience.

"In all this, the people of Ekiti State have spoken loud and clear, and democracy has won again," the President notes.

FEMI ADESINA
Special Adviser to the President

(Media & Publicity)

July 15, 2018