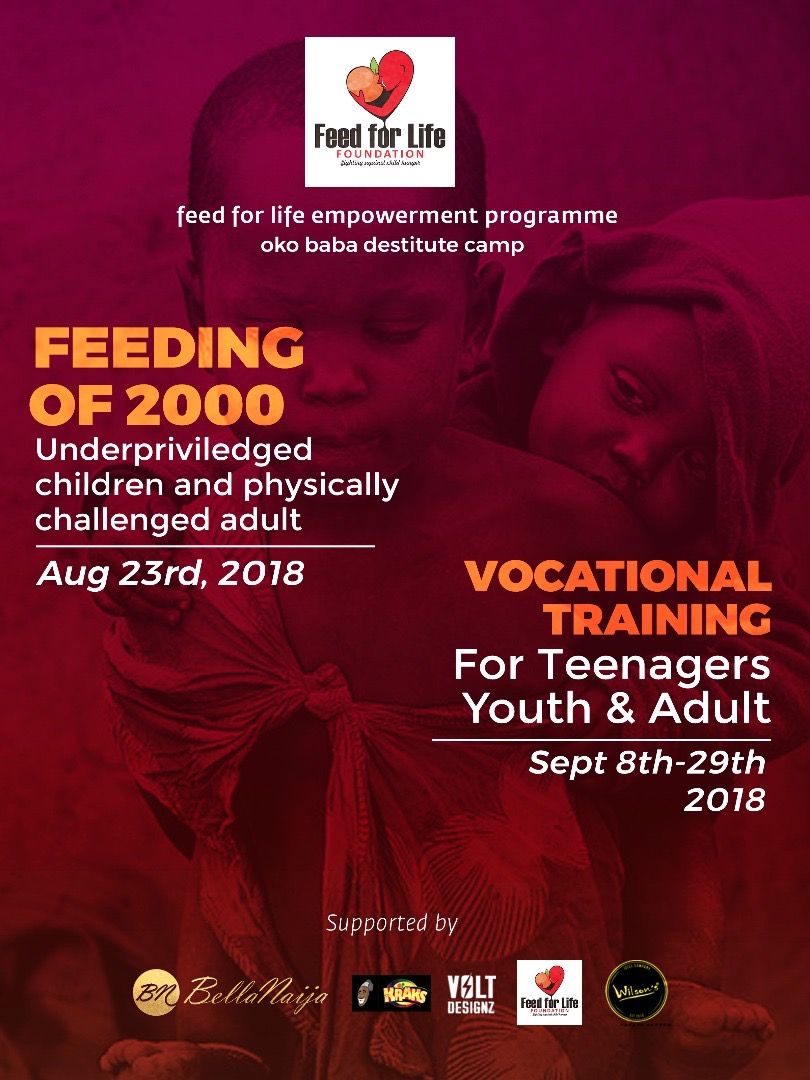 The Feed For Life Foundation will be having the maiden edition of their empowerment programme. It is an opportunity to feed and train abandoned children, physically challenged teenagers, youth and adults at Oko Baba Destitute Camp, EbuteMeta, Lagos. The feeding part of the project will run for one day, 23rd of August, 2018, while the training will run for 4 weeks.
Date: August 23rd, 2018
Venue: Oko Oba Destitute Camp, EbuteMeta, Lagos.
The foundation constantly organize food drives in select areas across Lagos and they plan to feed over 2000 people (children and adults) by God's special grace in this edition. But this time, beyond giving them food,they plan to get them off the streets by empowering them with skills that can constantly put food on their table.
They plan to train them on Shoe/Bag Making, Manufacturing skills (soap making, cream making, disinfectant making etc.), Bead/Gele training, and also feed them during the course of the training. At the end of the four weeks training, three (3) lucky winners will be given a start-up capital to enable them put their skills into good use. The residents of this camp comprises of children who are abandoned, youths, teenagers, elderly men and women who are also physically challenged.
By empowering them, Feed For Life Foundation is taking more beggars off the streets of Lagos and also making them useful to themselves and their families. Feed For Life Foundation is working towards the United Nations Sustainable Development Goal 2 – Zero Hunger and Goal 8 – Decent work and economic growth.
——————————————————————————————————————————————————————————————————————————————————————————————————–Bellanaija is a media partner for Feed For Life Foundation