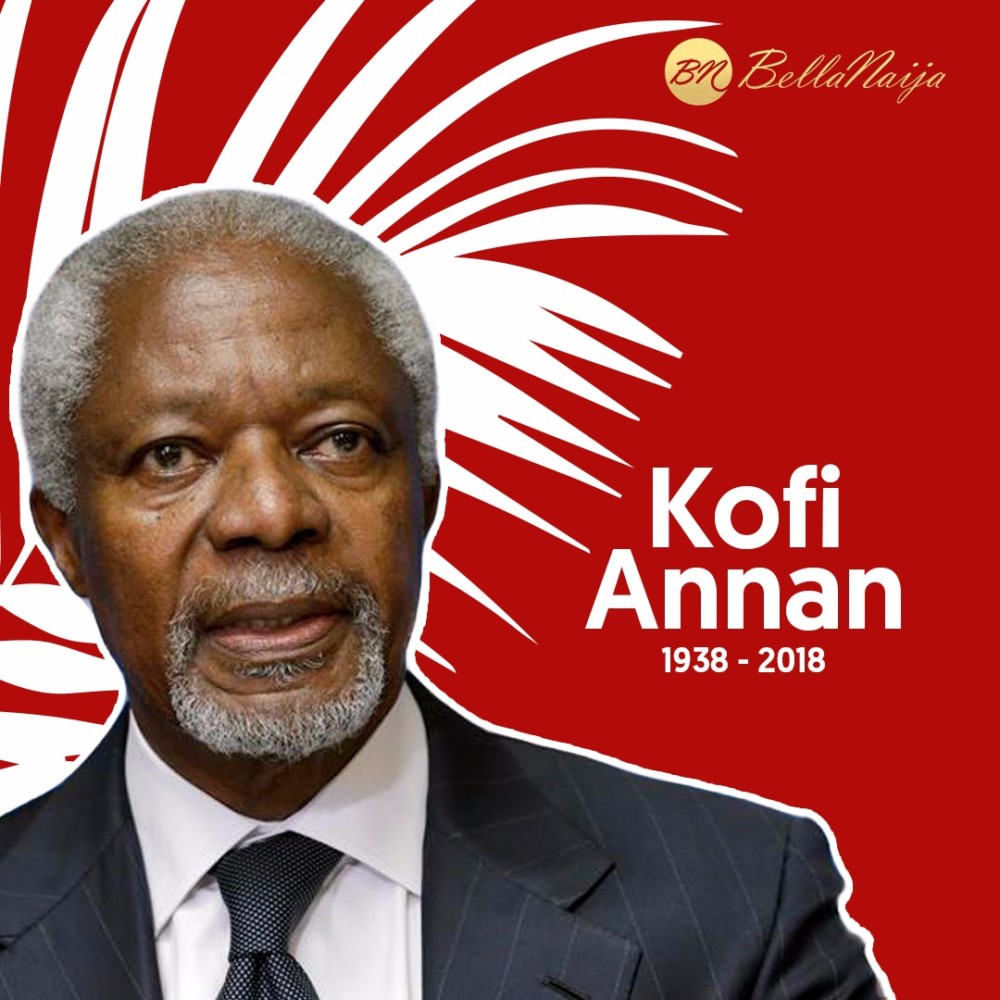 An outpouring of heartfelt tributes has since flooded social media in the wake of the passing of former UN Secretary-General Kofi Annan.
World leaders including President Nana Akufo-Addo of Ghana, President Ram Nath Kovind of India, South African President Cyril Ramaphosa, UN Secretary-General António Guterres, Amnesty Secretary- General Kumi Naidoo, Ireland's Deputy Prime Minister Simon Coveney among others have taken to their Twitter handles to share tributes.
See Tweets:
The Government and people of Ghana, First Lady Rebecca and I are deeply saddened by the news of the death, in Berne, Switzerland, of one of our greatest compatriots, Mr. Kofi Annan. 1/7

— Nana Akufo-Addo (@NAkufoAddo) August 18, 2018
Kofi Annan was a guiding force for good. I join the world in mourning his loss. In these turbulent and trying times, his legacy as a global champion for peace will remain a true inspiration for us all. https://t.co/psJ9viPIeu pic.twitter.com/SKfBk5zaY2

— António Guterres (@antonioguterres) August 18, 2018
Very sad to hear of death of #KofiAnnan – he was a hero of mine and earned a reputation for calm, firm and just diplomacy through his roll as the first African Sec Gen of the @UN. His charisma and sense will be missed at a time when effective global diplomacy is badly needed. RIP

— Simon Coveney (@simoncoveney) August 18, 2018
Sorry to learn of the passing of former Secretary General of the United Nations Kofi Annan. My condolences to his family and to the UN community #PresidentKovind

— President of India (@rashtrapatibhvn) August 18, 2018
#KofiAnnan never stopped fighting for justice, peace & dignity for all, knowing this struggle is a marathon not a sprint. He was warm, compassionate & intelligent, exuding dignity & grace. So privileged to have worked with him to tackle climate change, poverty & gender equality pic.twitter.com/NGv74aje2W

— Kumi Naidoo (@kuminaidoo) August 18, 2018
The news of former United Nations Secretary General Mr. @KofiAnnan's death comes as a great shock to us as we were with him only a few weeks ago when he visited South Africa. It is indeed a great loss to us and to the global community. pic.twitter.com/rNxr4ghNGf

— President Cyril Ramaphosa (@CyrilRamaphosa) August 18, 2018
Nigeria's Bukola Saraki, Senator Shehu Shagari, Fela Durotoye have also taken to Twitter to share their tribute to the Nobel Peace Laureate.
Kofi Annan was a 'purposeful optimist' who spoke for the voiceless, a diplomat who worked for peace in a tumultuous world, and a leader who dedicated his life to advocating for the liberty and freedom of all mankind. We shall miss him. pic.twitter.com/15MijiC29f

— Bukola Saraki (@bukolasaraki) August 18, 2018
#KofiAnnan lived an accomplished life of service to humanity.He was Africa's gift of peace to a troubled World.We will miss his counsel,experience and effective interventions.Annan left when the World needed him most.A great son of Africa he was.May his soul Rest In Peace.Adieu

— Senator Shehu Sani (@ShehuSani) August 18, 2018
It is with great sadness that I learned of the passing away of the recipient of the Nobel Peace Prize & the first black Sec.Gen of the United Nations, @KofiAnnan .
He served with dignity & brought great pride to not only the African Continent, but the world. RIP #KofiAnnan

— FelaDUROTOYE (@feladurotoye) August 18, 2018