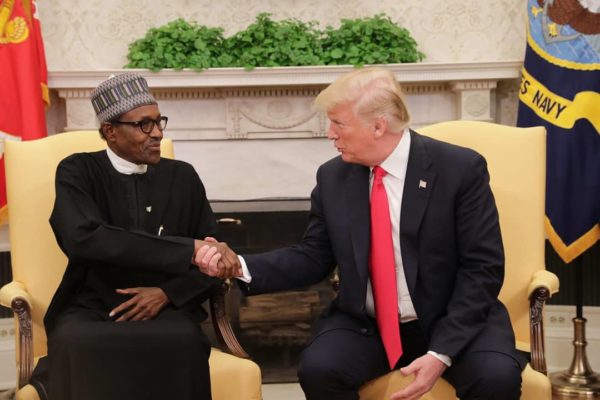 Financial Times reported on Monday that after meeting with President Muhammadu Buhari, the US President Donald Trump described him as lifeless.
Trump had reportedly said he "never wanted to meet someone so lifeless again," three people familiar with the issue shared.
Nigerians have taken to social media to share their thoughts on the comment.
Some people have praised Trump, describing the comment as true, while others have chastised him, describing the comment as inappropriate and unbecoming.
See some of the comments:
Trump's alleged remarks is something to worry about – we might not like our Presidents Policies but jubilating that a man that is almost same age as him even if he was younger but to refer to the Nigerian President as "Lifeless" is rather unfortunate – Buhari represents us all.

— Khaleesi 🇳🇬🇩🇪 (@AbangMercy) August 27, 2018
Buhari went abroad to call us criminals and lazy. So, if Trump calls him lifeless, nothing spoil.

— Faisal (@JajaPhD) August 27, 2018
After the hailing and dancing that Buhari was hosted by the American President in April 2018, Financial Times is reporting that President Trump regretted meeting President Buhari.

Honestly, who won't regret meeting a man that has nothing to contribute intellectually? pic.twitter.com/pCtdx3ShZ1

— May Ubeku (@Maybeks) August 27, 2018
Buhari's aides were celebrating his meeting with Trump. "First African (and later, sub Sahara African) president to meet with Trump. Meanwhile…👇 https://t.co/NlFnPUSU0B

— Ms Boateng (@JoyceOdukoya) August 27, 2018
How dare Donald Trump speak the truth about Buhari? I am so unoffended 😂

On behalf of Nigeria & Nigerians, we are so unmad at you for saying our president is so lifeless. pic.twitter.com/40bB1Tmf43

— The Mouth That Eats Salt & Pepper 👅 (@Manlike_ED) August 27, 2018
I have no problem with what Trump said about Buhari.

Buhari called us lazy.

Let him enjoy his new name.

— Ugonnia (@AustinYugo) August 27, 2018
Trump's impression about Buhari really doesnt matter tbh

Esp from a man that is busy paying off hookers and playboy bunnies https://t.co/ndtxFkA2Re

— Cinderella Man (@Osi_Suave) August 27, 2018