Express your Creativity with the New Note 5 Stylus! Infinix partners with Google to release the most intelligent Smartphone Yet
Infinix Mobility, a premium smartphone brand, has proven once again its commitment to bringing the most cutting-edge technology and stylishly designed mobile devices to consumers with the introduction of its latest device Note 5 Stylus. Partnering with Google, Note 5 Stylus is yet another Android One smartphone with intelligent software experience and will be available for pre-order from Monday, September 10th to  Saturday, September 15th and available in-store across all our exclusive stores from Monday, September 17th.
"At Infinix, our mission is to keep innovating and integrate the most advanced technology and trends into our products. That's why we partnered with Google once again to launch Note 5 Stylus. With the Note 5 Stylus, consumers will experience the latest technologies, such as capturing stunning photos with the 16MP AI low-light selfie camera and 16MP AI rear camera, showing their creativity with the amazing XPen, interacting with the world with the Google Assistant and many others. We are confident that the Note 5 Stylus will bring consumers intelligent smartphone experience to a whole new level and allow them to stay ahead of the crowd," said Benjamin Jiang, Managing Director of Infinix Mobility Limited.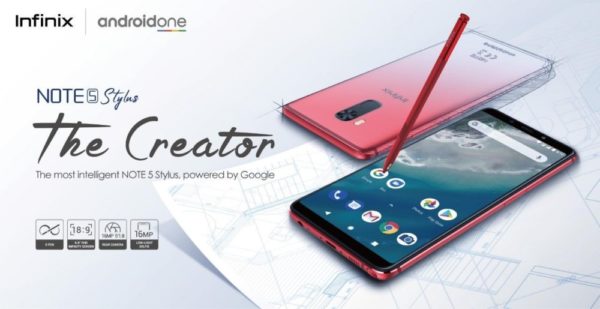 The Note 5 Stylus is designed for consumers that seek self-expression, featuring AI cameras for stunning images. The device is equipped with an upgraded 16MP AI low-light selfie camera with f2.0 aperture. With its intelligent pixel technology, the device always supports high-quality selfie images whether night or day. Its 16MP rear camera also captures more light with its larger pixels and bigger f1.8 aperture at a speed that is up to three times faster with multiple scene recognition abilities. This new feature enables consumers to capture amazing pictures on all occasions.
The XPen is another highlight of this device and creates new and innovative ways for consumers to express themselves. It is an awesome digital pen that allows consumers to showcase their creativity. With the versatile XPen, consumers can edit screenshot images instantly, sketch doodles or even jot down notes during meetings.
The Note 5 Stylus comes with a 6.0″FHD+ infinity display, giving consumers a larger screen for an immersive experience and allowing them to enhance their smartphone experience to new heights. With its trendy and convenient design, consumers will be able to handle complexity and work seamlessly with the XPen.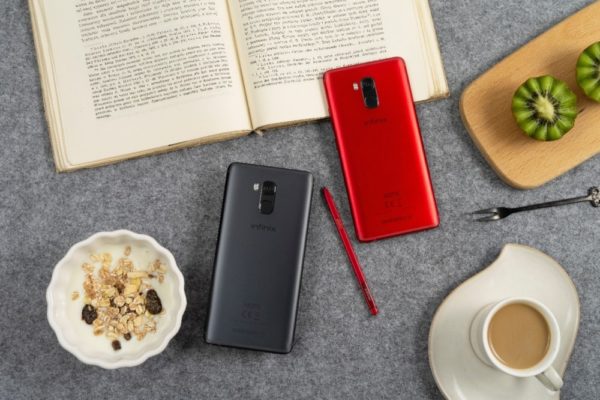 Infinix Note 5 Stylus also supports Google Lens – a new way to search what you're seeing and interact with the world around you. You can act on text, identify distinct plant and animal breeds, learn about popular landmarks and discover products like them. The feature will be available right in the Note 5 Stylus camera and through Google Assistant.
"We're pleased to add Infinix Note 5 Stylus to the Android One program following the successful launch of Note 5. Powered by Google's software and latest AI innovations, the Note 5 Stylus will offer smart, secure and simply amazing experience to users," said Mahir Sahin, Director Android Partnerships for Africa.
"Infinix Mobility's dedication in bringing consumers stylish devices with cutting-edge features perfectly aligns with MediaTek's commitment to making great technology accessible to everyone. Powered by the MediaTek Helio P23, the Note 5 Stylus enables consumers to bring their photography to the next level, enjoy the latest connectivity features and take advantage of AI-powered innovations like Google Assistant and Google Lens," said Rami Osman, Director MEA for Sales and Marketing at MediaTek. "Designed for an ideal mix of high performance and extreme power-efficiency, the Helio P23 provides New Premium Android devices with an incredible user experience."
Powered by a 4000mAh large battery with an ultra-dynamic X-charge for a quick charge, this device is designed to keep you functional throughout the day. Adopting the Helio P23 as its processor, Note 5 Stylus is engineered for high peak performance at a low power consumption, providing an incredible high-tech performance packed in a tiny machine.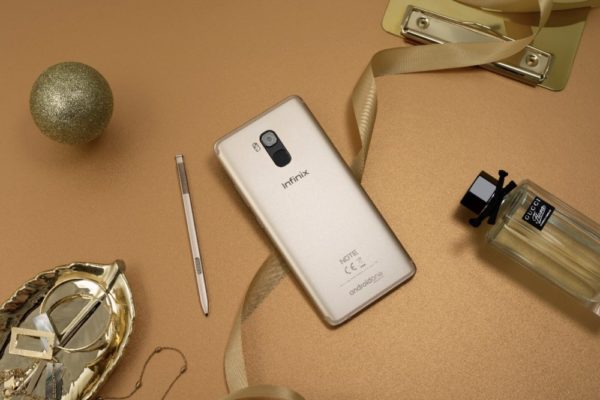 Infinix Note 5 Stylus is set to launch in more than 30 countries including Nigeria, Egypt, India, Kenya, and Morocco. Infinix Mobility Limited joining the Android One program means Infinix Note 5 Stylus will enable younger consumers to experience a seamless creative and self-expression lifestyle that empowers them to become trendsetters. 
Infinix Note 5 Stylus Specifications:
Network: 4G/3G/2GOS
Version: Android One
Display: 6.0″FHD+; 18:9; 2.5D
Processor: MT6763
Dimensions: 158*75*8.4mm – 2.5D glass
ROM/RAM: 32GB/64GB + 4GB
Battery: 4000mAh
Front camera: 16 MP; low-light selfie; 1.0um Pixels; F2.0
Back camera: 16MP; 1.12um Large Pixels; F1.8; Super PD
---
Sponsored Content