If you can handle the adrenaline and you are ready to own more than one premium smartphone at an affordable price this Yuletide season, then get yourself to the itel & Google Computer Village Carnival on Thursday, December 20th, 2018.
Date: Thursday, December 20th, 2018
Africa's mobile giant, itel Mobile, and World innovative technology company, Google are teaming up to give all shoppers in Computer Village an electrifying day of fun, music, fantastic prices and a buy 1 get 1 free promo on any itel smartphone of your choice. With itel Mobile, there is simply a smartphone for everyone to enjoy an uninterrupted and unique smartphone experience.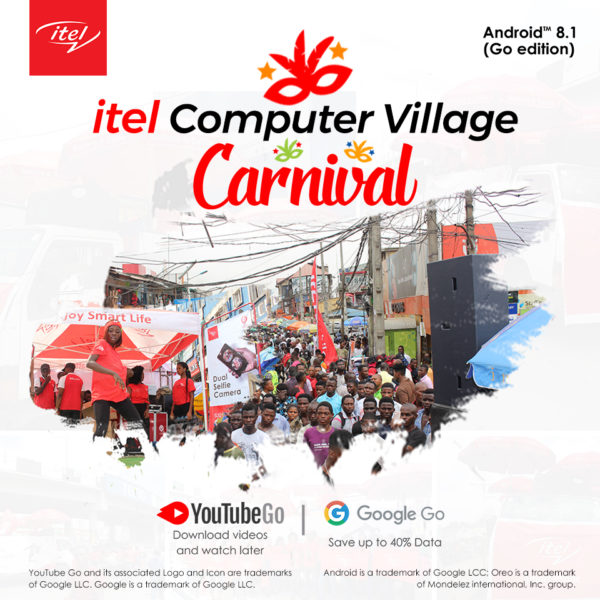 The carnival promises to guarantee your heart racing with pure excitement and thrills, as itel Mobile will be dolling out prizes such as the latest itel P32 smartphones, goodie bags, home appliances like electric kettle, pressing iron, toasting machine, blender and many more.
Also, the event is billed to have you enjoy and witness a colourful and vibrant street carnival parade, mega raffle draw, exclusive first-hand experience on all itel smartphones, an interactive session with itel team and mind-blowing performances from top Nigerian artistes.
So save up your cash now, to buy one of Nigeria's best selling smartphone of 2018 and get one free in return. There is a smartphone for everyone to chose according to their needs and preferences, whether it is the budget-friendly Android devices or long-lasting power smartphones or the clearer selfie devices.  Follow the itel fun train online on all social media platforms and check out more images and information at www.itel-mobile.com.
—————————————————————————————————————————————–
Sponsored Content