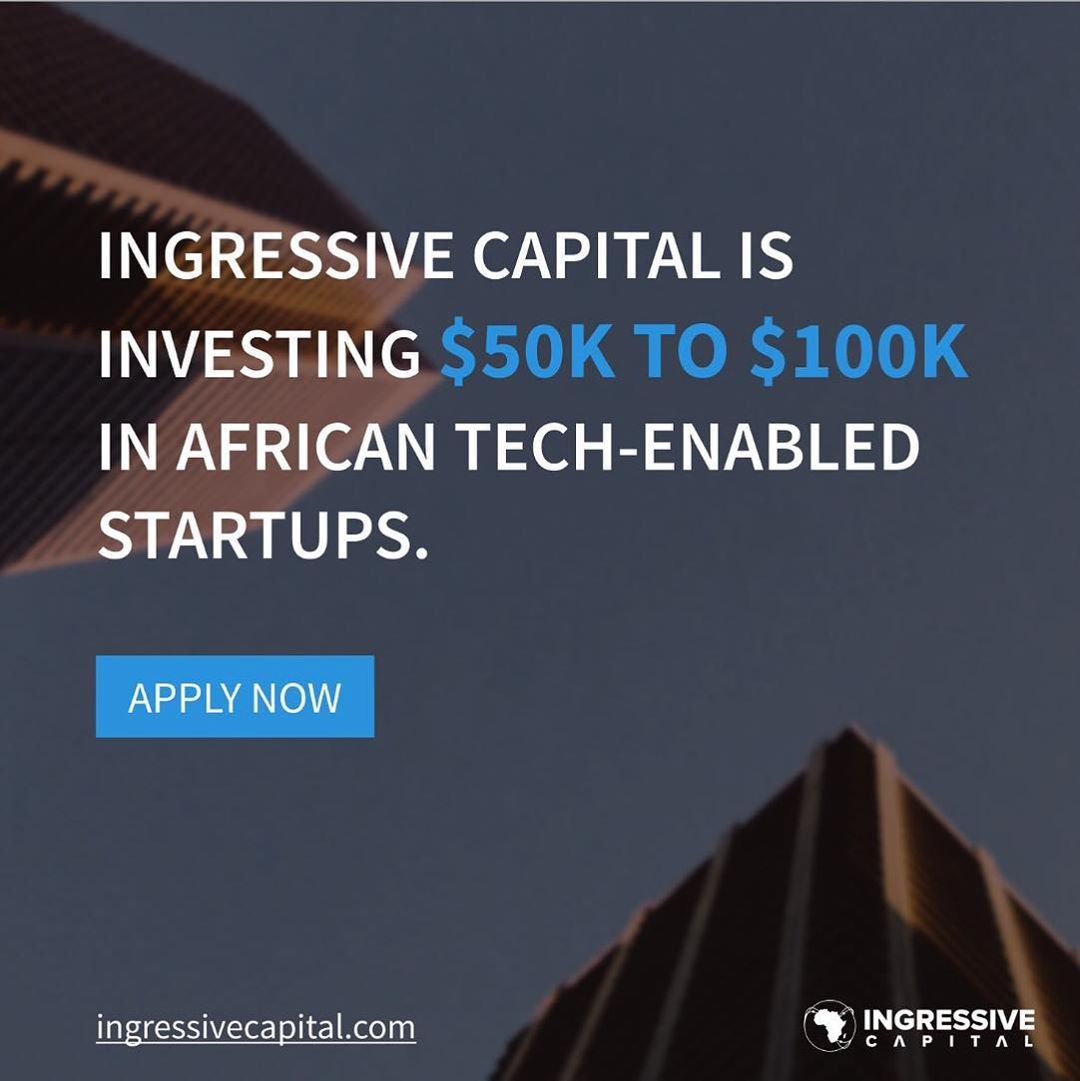 We've got an opportunity for early stage founders based in Sub-Saharan Africa!
Ingressive Capital has launched their online application for startups to raise funds – between $50k to $100k.
"Fundraising is difficult. We want to help the best and the brightest founders across Africa stay focused and keep building. We're looking for great ideas built by solid teams. No matter where you are in Sub-Saharan Africa, apply. We're looking for the best of the best, irrespective of who you know or where you're based," says Maya Horgan Famodu from Ingressive Capital.
What are they looking for?
You have launched your startup / have initial traction (i.e. money, users, etc.).
You have a clear business model.
You are a high growth technology business targeting a scalable market.
You and your team are bright, hungry, and know your market better than anyone else.
You are an early stage startup.
"We are looking for grinders. People who have an inclination to dream big and have real plans to actually get there," says Yacob Berhane from Ingressive Capital.
Ingressive Capital is sector agnostic. Fintech or manufacturing tech; ISP or logistics; O&G tech or healthtech – if you're focused on a scalable market, apply using this link and get a decision in 30 days or less.
The Fund's past investments include Paystack and Tizeti, who recently raised significant Series A investments, as well as AwaBike and more.
Ingressive Capital leverages their global network to assist with growth and scale. They plug startups in to new major clients, new investors, talent, and provide financial support.
Their sister company, Ingressive LLC, serves top international tech businesses and investment funds seeking to enter and operate across Sub-Saharan Africa, or support / acquire local startups.
Ingressive Capital aims to be one of the first cheques in, and offers $50k to $100k cheques in early stage companies.
Apply now HERE.
For local support, please contact your regional representative:
Maya Horgan Famodu (Instagram @mayanator) – Nigeria
Yacob Berhane (LinkedIn Profile HERE) – Kenya
William Senyo (Twitter @WillSenyo) – Ghana
To stay updated with Ingressive Capital, and to join regional trainings or events, check out the newsletter here.
To join Ingressive the developer, founder or designer communities, join the Slack group here.