Unlike the previous seasons where very few Housemates spoke in a foreign accent, the Pepper Dem House echoes with foreign tongues. Mike, Ike, Frodd, Khafi, Ella, even Omashola have been dazzling us with their "You know warra mean" kind of English since Day One. Wondering how this is creating a class in the House? Let's dive right in.
I Go Speak My Mind
Here's one of the sects in the House and our vibrant Ella is the Chair. Talk about spitting fire? This is the gang. They drop it like it's hot. Jackye has been dropping much about her relationship lately, and Ella is so bold that if you carry fire for head, she go drop am. Bet, hooking up with this gang as the drama unfolds will be worth the while.
Mike a Phone
King of "foneh" in the House, Mike is like a mobile phone. You want it wherever you go and you're always aware it's with you. With Mike's energy and charisma in the House so far, you bet some of the hot ladies are already weighing their options. This handsome man has got the swag and is aware of it. But, hey, will they be able to withstand Mike's American "foneh"? In short, won't any of these outgoing ladies be bored with his intellectual flexing?
Talk Is Cheap
Is talk really cheap? Well, let Seyi tell us what he was doing with a bottle of bear when he had already told us at the Launch on Sunday about his teetotaler status. Perhaps that status has changed. Jackye nko? We were jacked into the reality of her virginity yarn when she later told us that she was not a virgin. Like seriously? From "I'm a virgin" to…you know how it is na?. Anyway, let's wait to see how many more words in the House will still be taken back.
Let's Fit In
If you were a Pepper Dem Housemate, you wouldn't like to be left behind in anyway, would you? So if everybody around you was speaking foneh, wouldn't it be out of place if you stuck to your Igbo or Yoruba influenced English? Got the gist? Good. With this, it's interesting to see how each of the Housemate, from those in search of a soulmate to those in need of a gist partner, struggles. In short, the race for true friendship and relationship has never been this calculated.
What's Next?
As the struggle to prove their worth, stick to the truth, and make a difference heightens in the House, will the Pepper Dem gang be able to sustain the tempo? Fingers crossed.
The Singing Needles
Big Brother did not leave the Pepper Dem ladies out of the threading challenge for today. Of course, the reward of Bet9ja coins was at stake.
Unlike yesterday, today's Task required a level of teamwork from both the guys and ladies. The gentlemen had to jointly compose and perform one song for the ladies as they performed and completed the threading Task.
In less than 30 minutes, the Pepper Dem men showed off their threading skills with Sir Dee emerging the winner of the fastest fingers Task. Did this count for anything?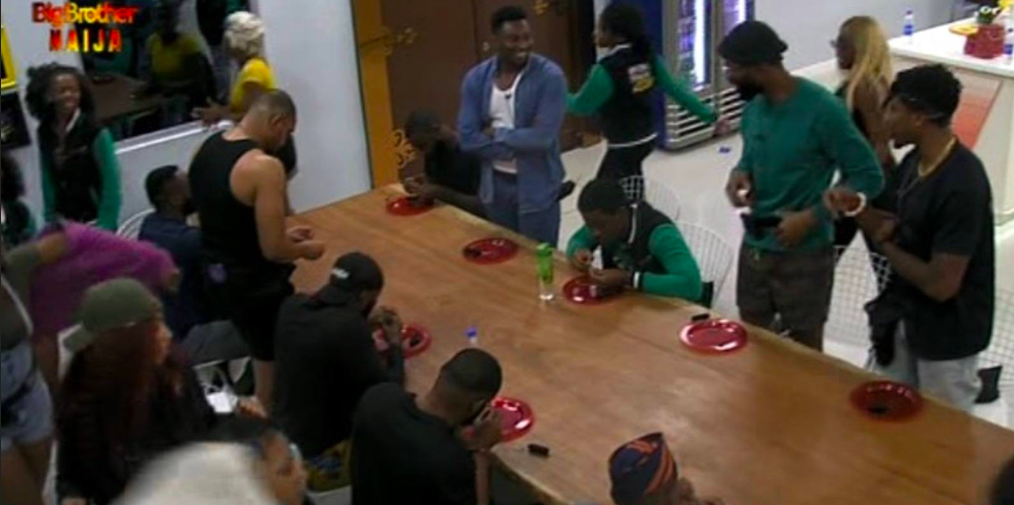 Not long after the threading Task, the men had to play a game of luck for the prize of Bet9ja coins. Interestingly, Sir Dee showed us why he deserved to be given today's Task championship title – as luck shone on him again.
The Task ended with smiles for Sir Dee, Ike, Tuoyo, Frodd and Seyi as they celebrated their wins.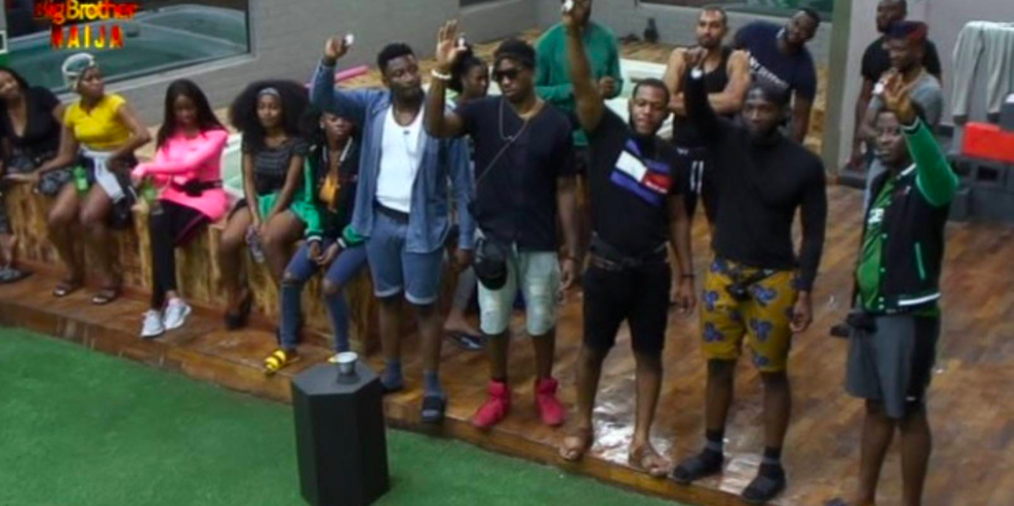 Should we expect more wins from Sir Dee? Will he be this week's Task Champion?
Dance, Tears and Confessions
What do you call a day that got the Housemates dancing, crying and making confessions all at once? Awesome!
The Time the Gbedu Entered Their Bodies
Biggie heard the cry of the Pepper Dem Housemates and gave them some hit songs to lighten up their mood.
From Patoranking's 'So Different' to Wizkid and Larry Gaga's 'Low', the Housemates did not fail to 'gbe body' in Big Brother's House.
Thelma came through with the twerks, while Isilomo gave us some zanku moves. Amidst the dance chaos, the likes of Jackye and Esther were found chilling on the bed. Saving their moves for Saturday Night Party, perhaps?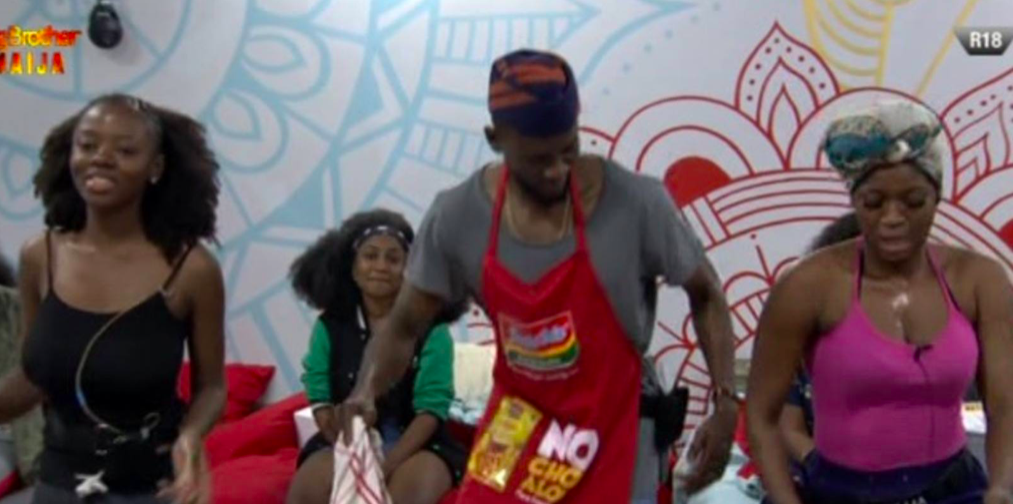 'Gbe body e' #BBNaija https://t.co/w2TXzShttY pic.twitter.com/1kEkFWZRpV

— Big Brother Naija (@BBNaija) July 3, 2019