Everything You need to Know about the Anti-Ageing Skin Care Routine by Clarins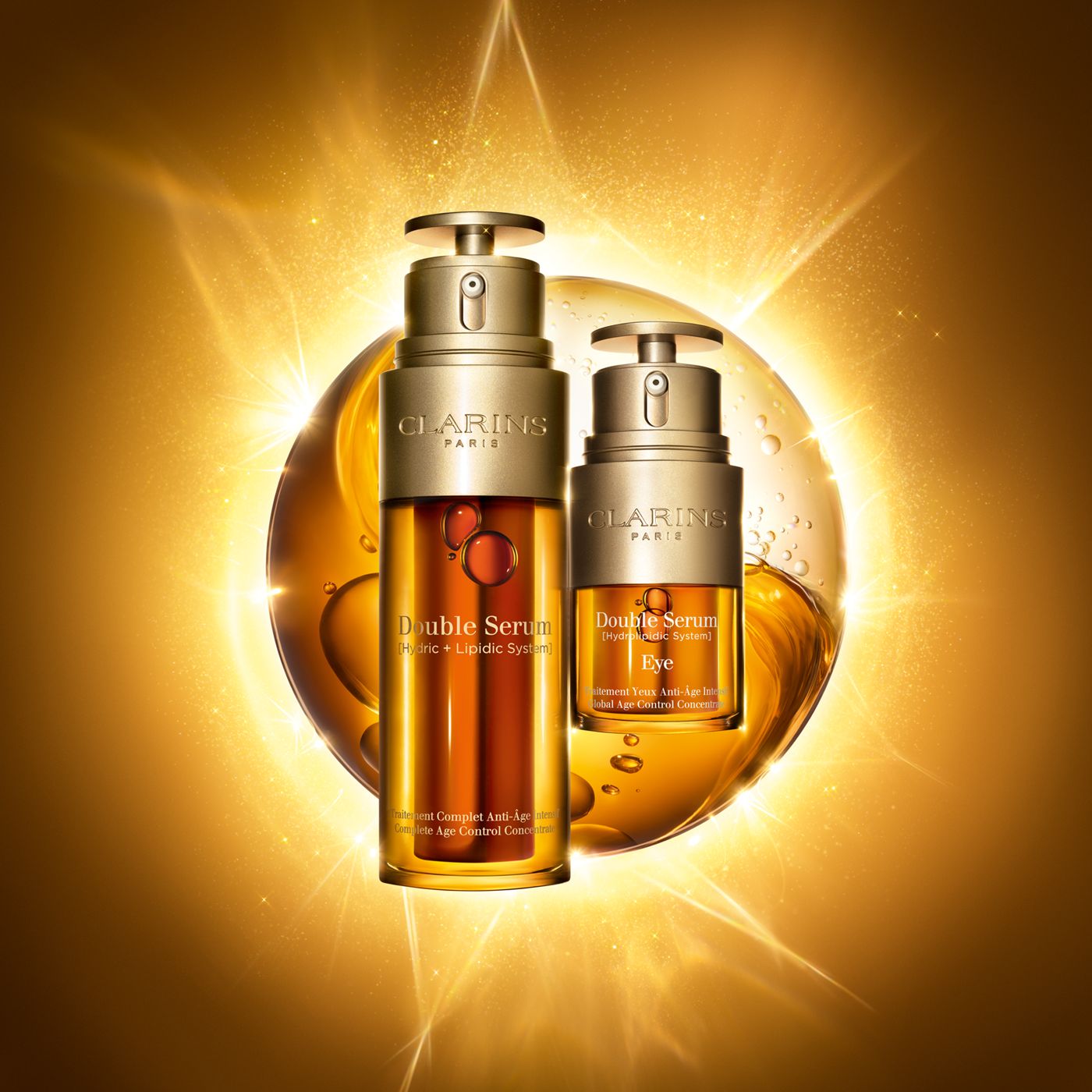 For over 60 years, Clarins has been taking care of you with skincare packed full of the best plant-based and active anti-aging ingredients.
A bottle of one of the bestselling, anti-aging wonder Clarins Double Serum sells every five seconds and now all the anti-aging expertise of Double Serum is available for
your eyes.
Double Serum & Double Serum Eye – The beauty duo that you won't be able to go without.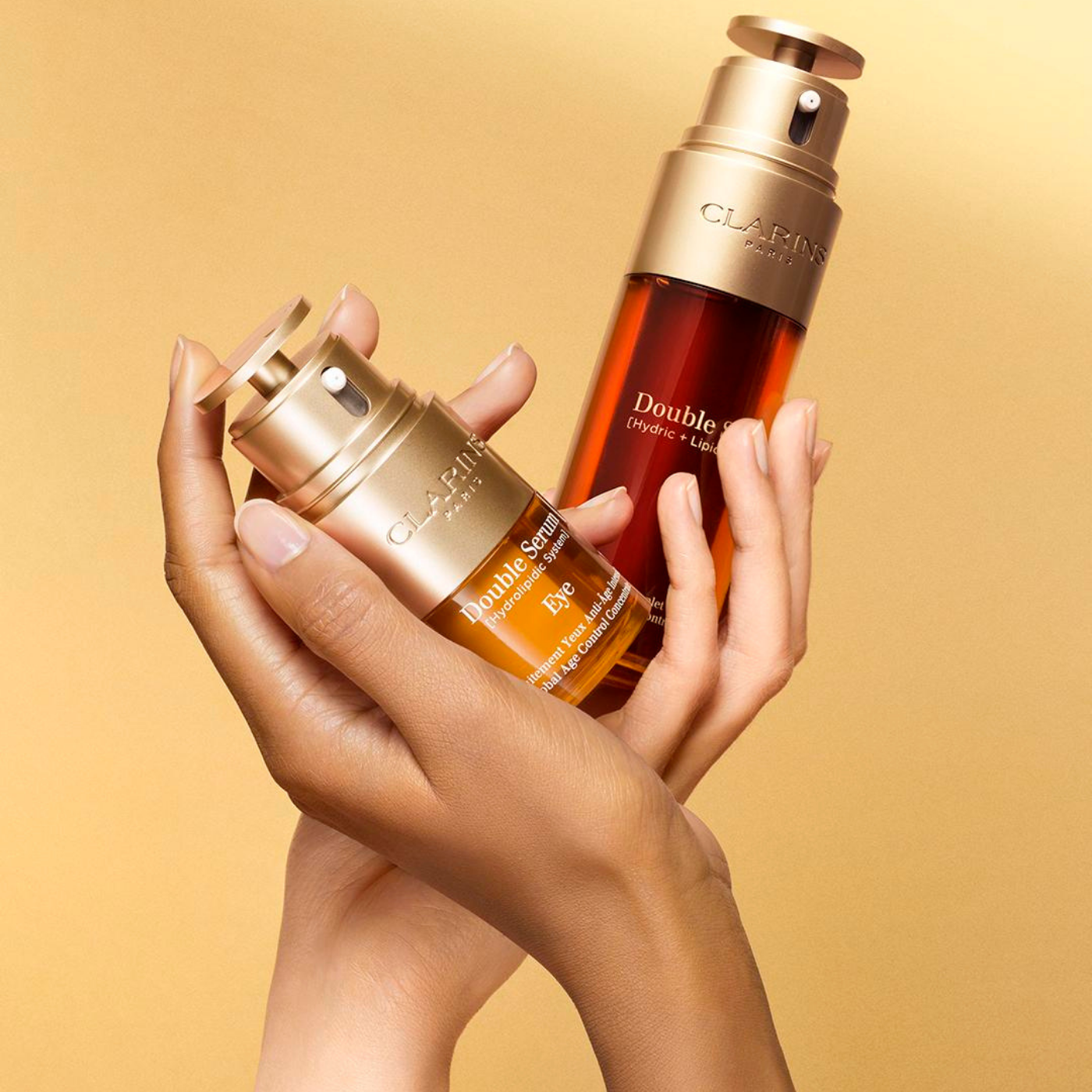 Double Serum Eye
A multi-benefit double formula visibly acts on all signs of aging around the eye area. In just 7 days, the eye area looks smoother, feels firmer and brighter.
A truly rich and silky serum, formulated with 96% natural ingredients and enriched with 13 plant extracts.
The key plant discovery to a brighter, smoother, more rested eye area.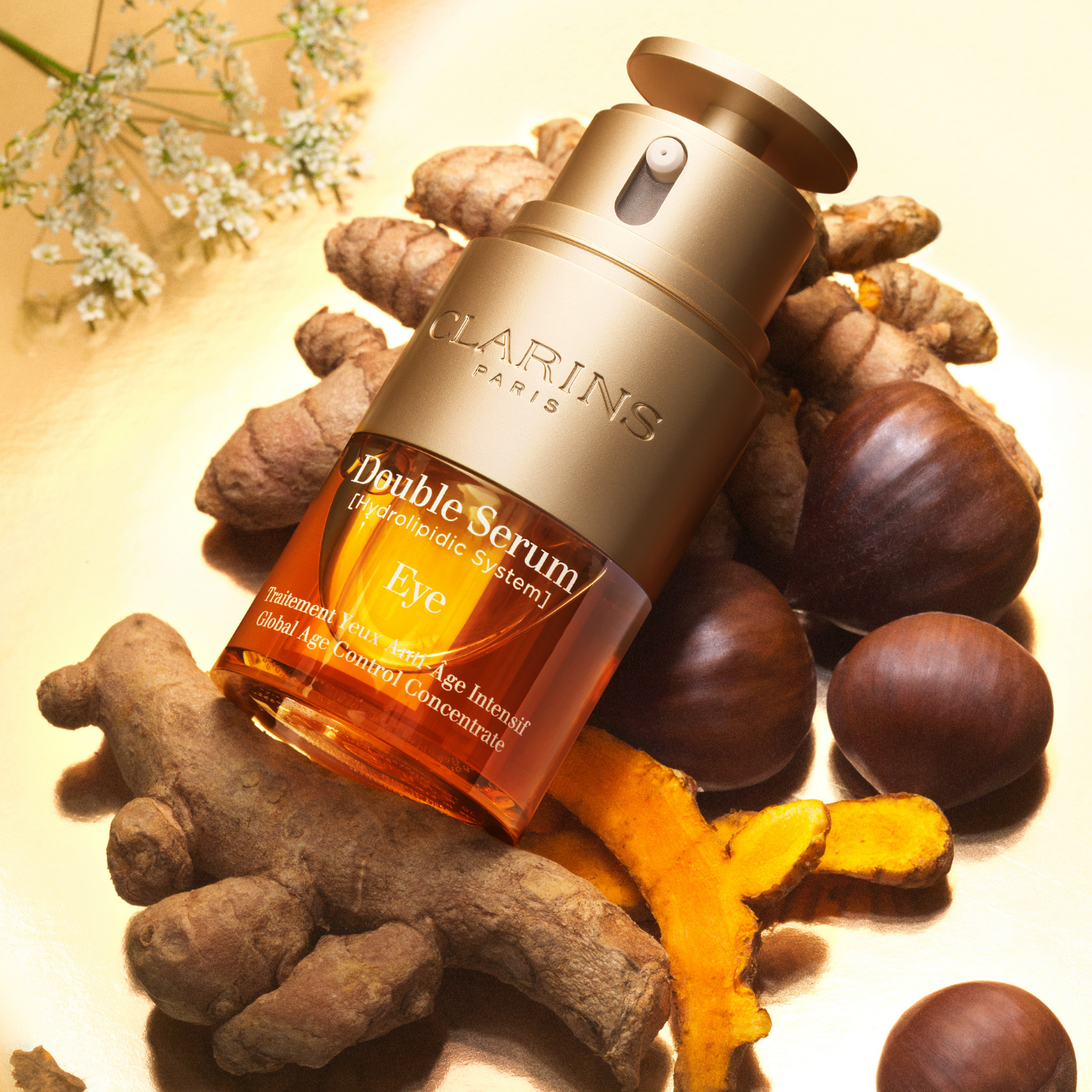 Double Serum Eye targets all women, knowing that the eye area is their major beauty concern. It is suitable for: Those who have sensitive eyes or who wear contacts. All women, all ages, and all ethnic groups.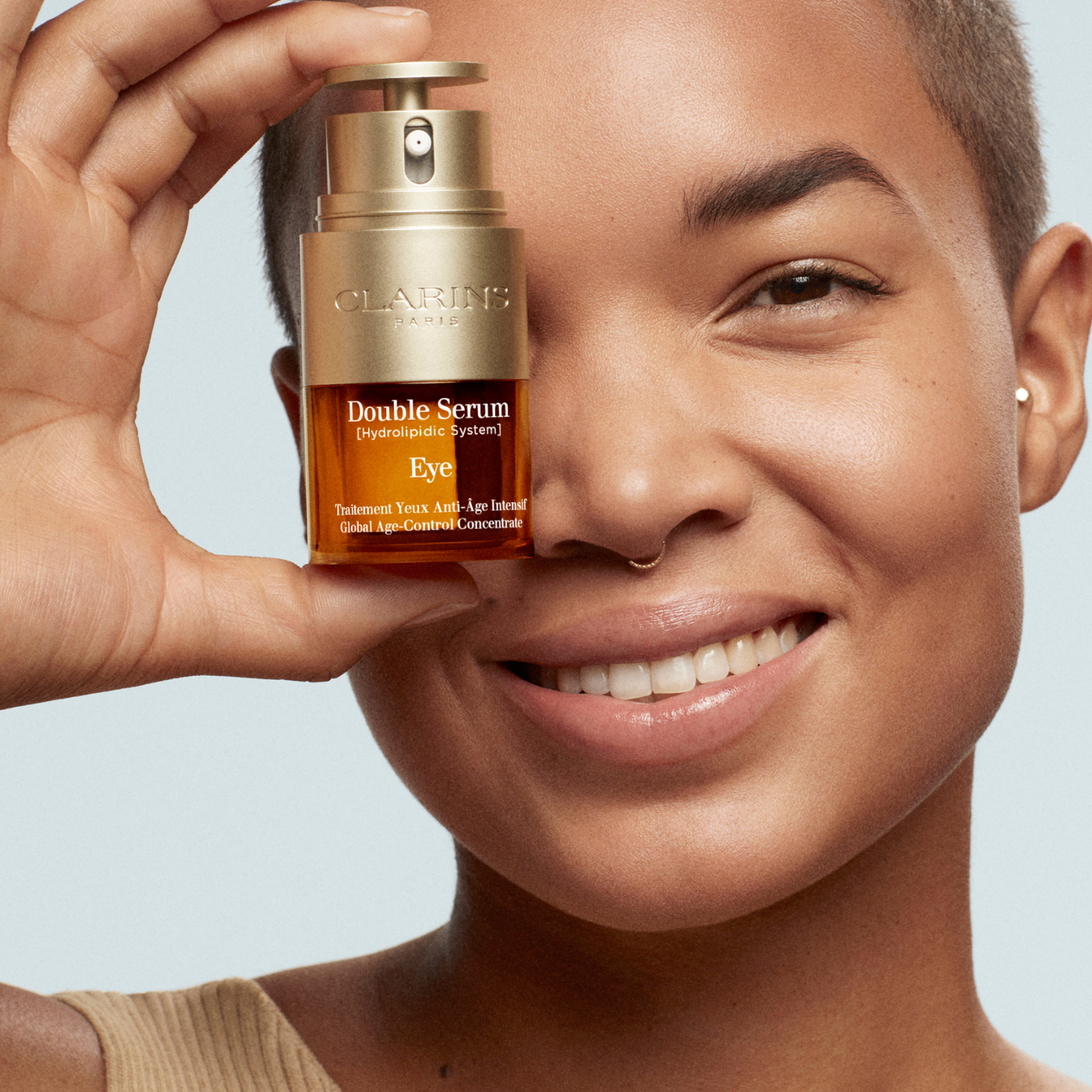 Double Serum
Faced with pollution, stress, and more, at 25, skin starts showing signs of age but you can preserve your youthful glow even longer by using targeted care early on!
Clarins Double Serum is a complete age control concentrate formulated that stimulates the skin's 5 vital functions ( regeneration, oxygenation, nutrition, hydration, and protection) to give you healthier, visibly younger-looking skin.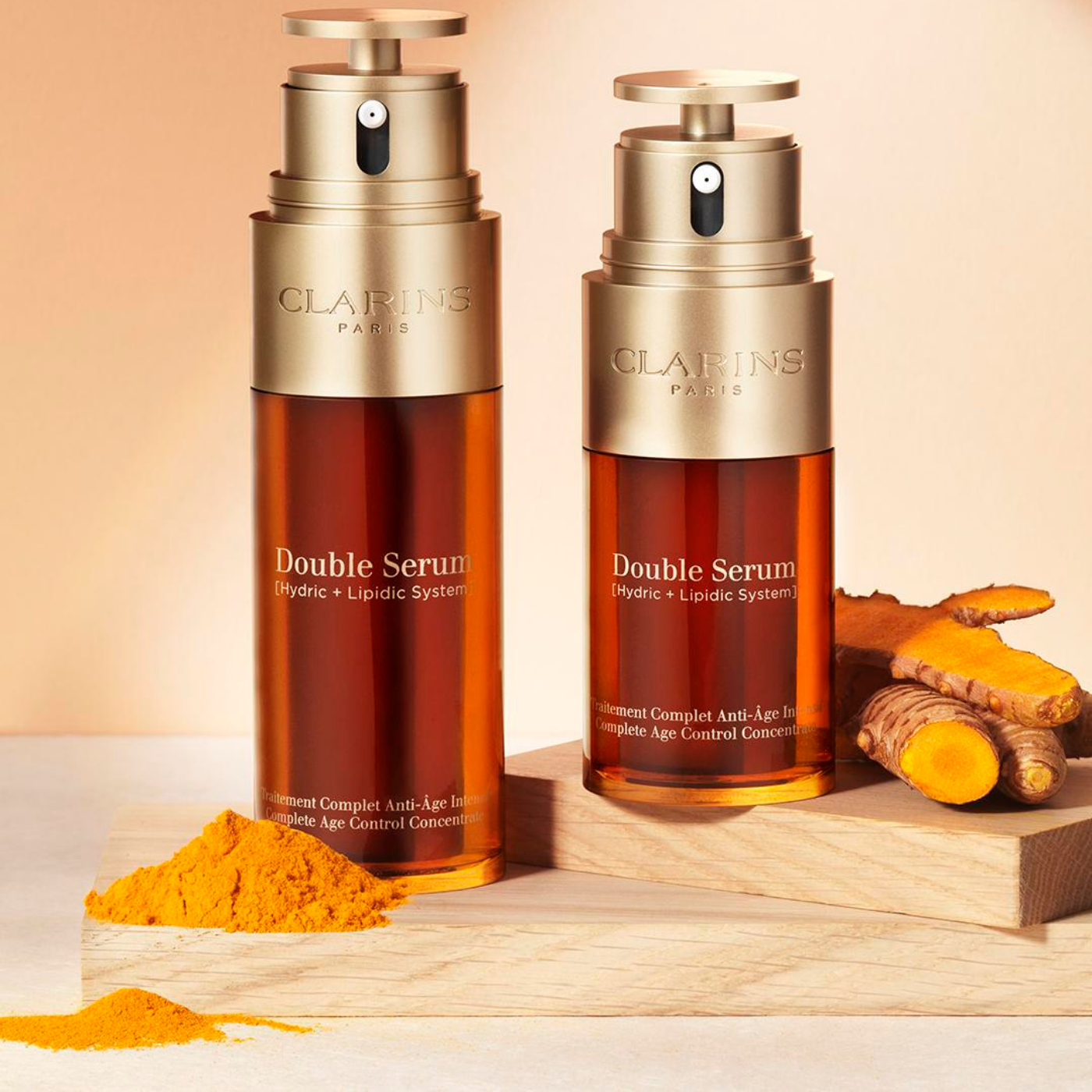 Did you know that Clarins Double Serum boosts the efficacy of your anti-aging cream?
Over 88% of women agreed! Pair Double Serum with your favorite anti-aging cream: Multi-Active, extra-firming, super restorative, or the latest Nutri-Lumière. Create a skincare routine tailored to you.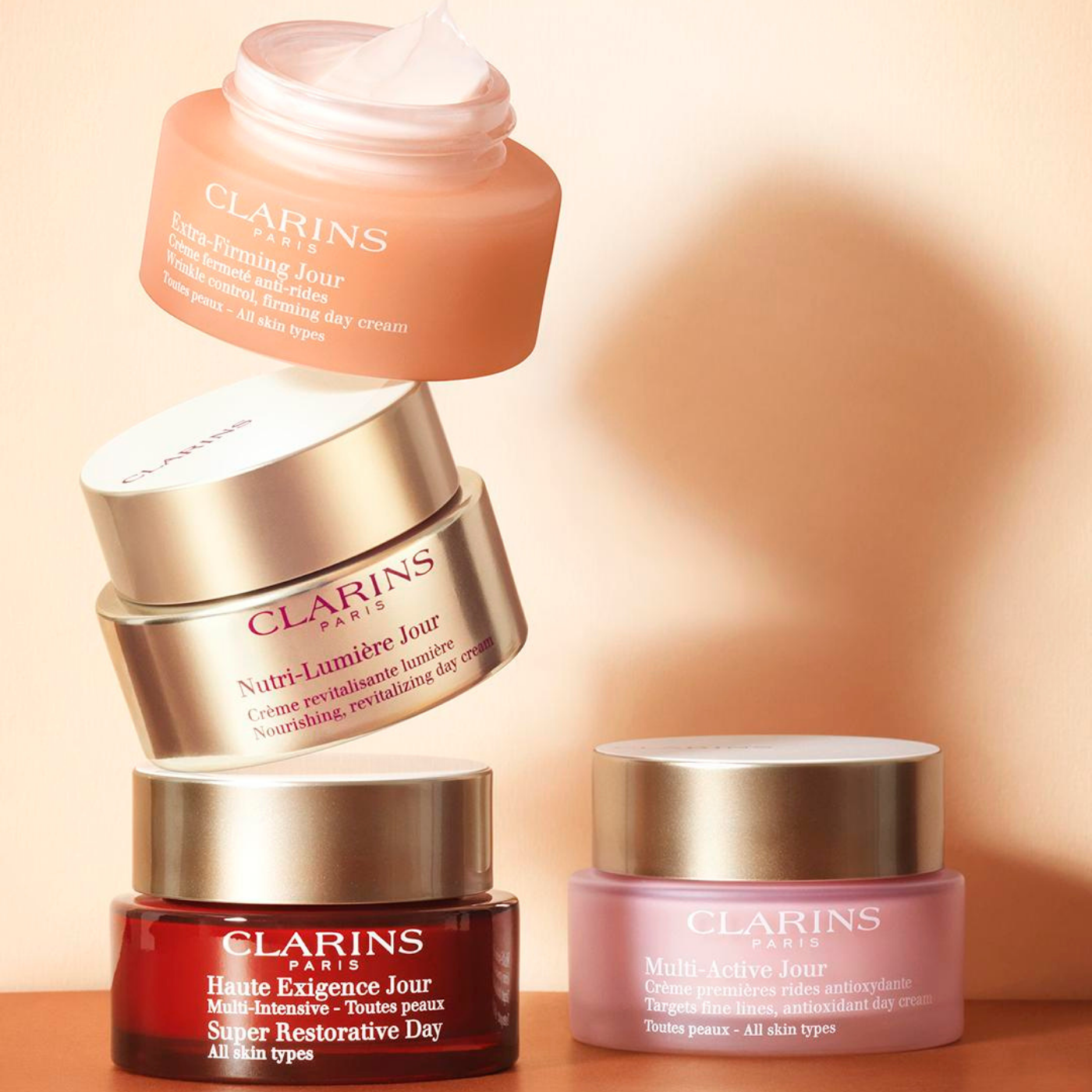 Your revitalizing partner
Multi-Active Day Cream boosts the skin's vitality and radiance. It prevents and visibly diminishes the first signs of aging, maintaining younger-looking skin thanks to the organic teasel plant. Available in two textures including SPF, for all skin types.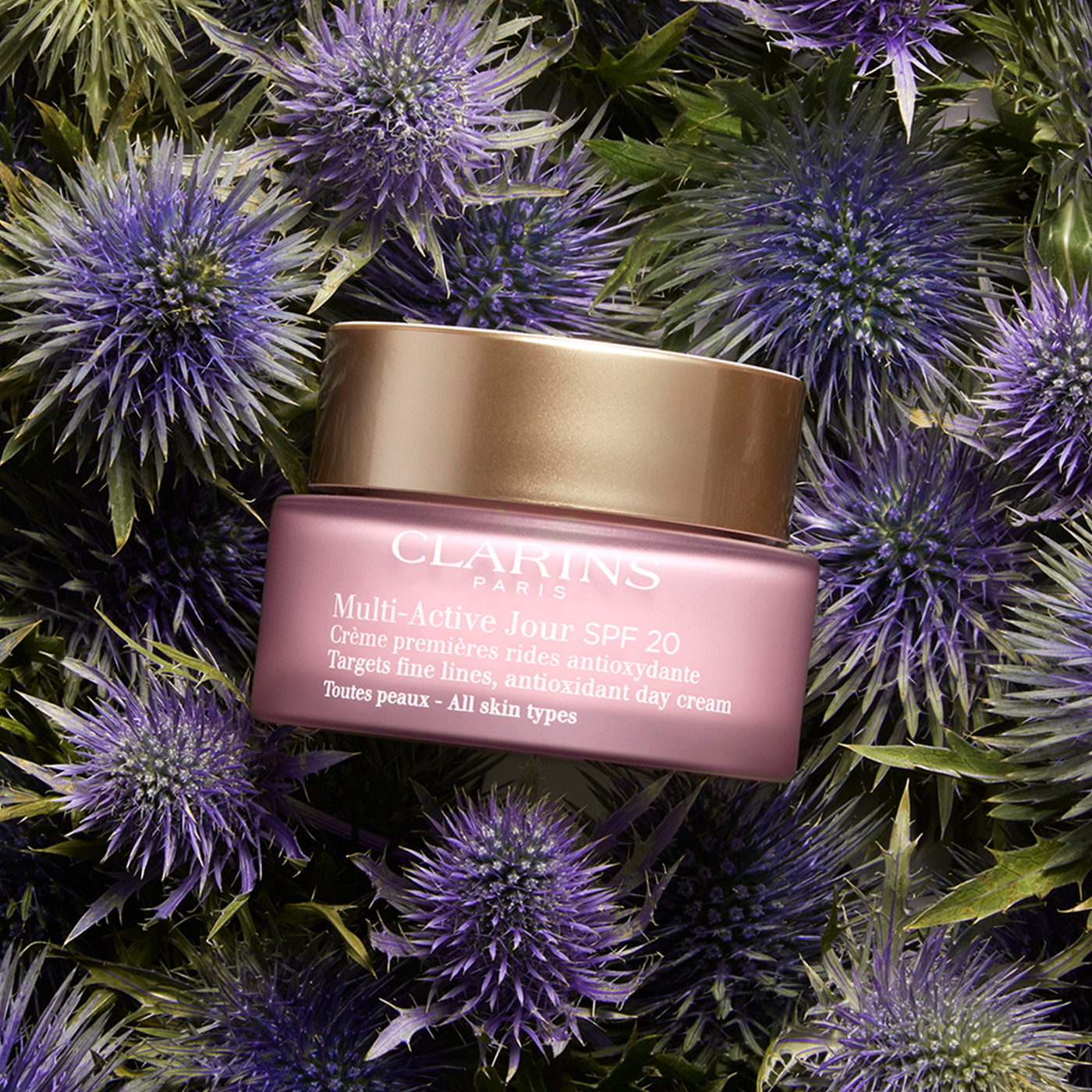 Your firming partner
Extra-Firming Day Cream reactivates the source of skin firmness. The extract of the kangaroo flower helps plump and firm the skin for a smoother, radiant, and visibly younger-looking complexion. Available in three textures including SPF, for all skin types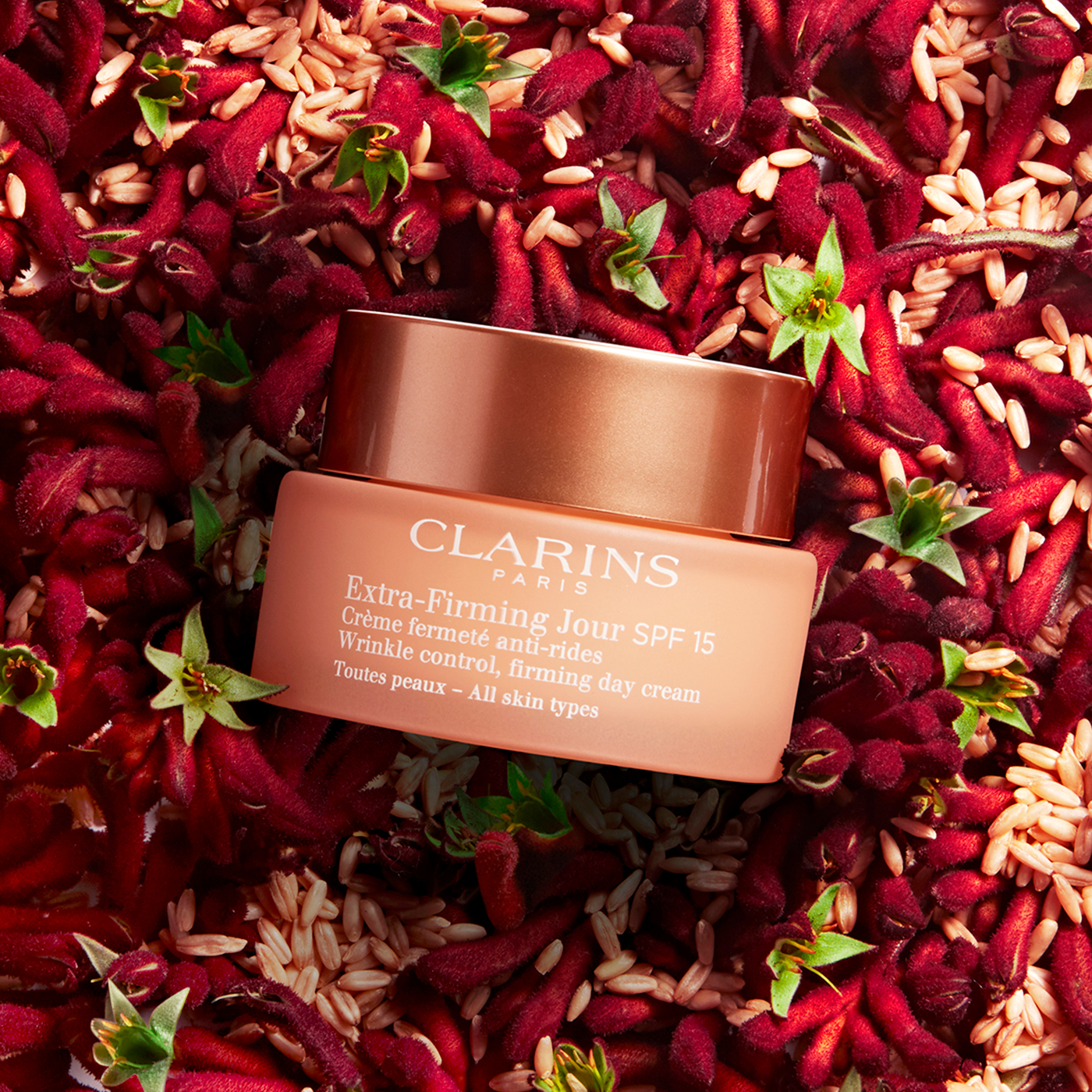 Your replumping partner
Super Restorative Day Cream replenishes, smooths lines, and revives skin's radiance. Enriched with organic harungana extract, a 'healing' tree from Madagascar, the anti-aging cream replenishes the skin and reduces wrinkles. Available in three textures including SPF, for all skin types.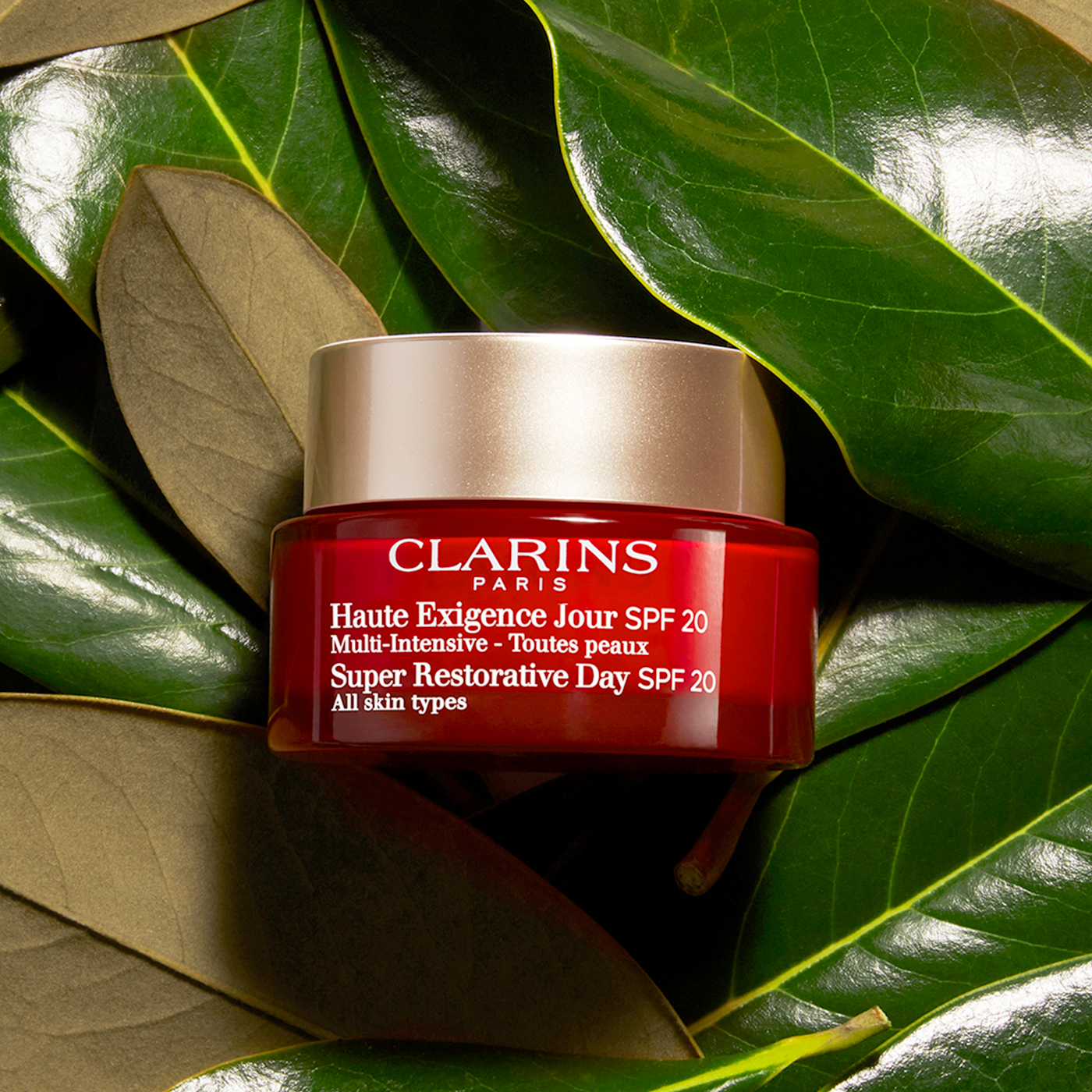 Your Illuminating Partner
Nutri-Lumière Day Cream provides nourishment and luminosity to the skin. Contains Clarins pro-aging skin nutrition, a vitality duo of organic horse chestnut flower extract and escin which helps to nourish, firm, and revitalize mature skin that has become dry, fragile, and dull. Available in 2 textures, for all skin types.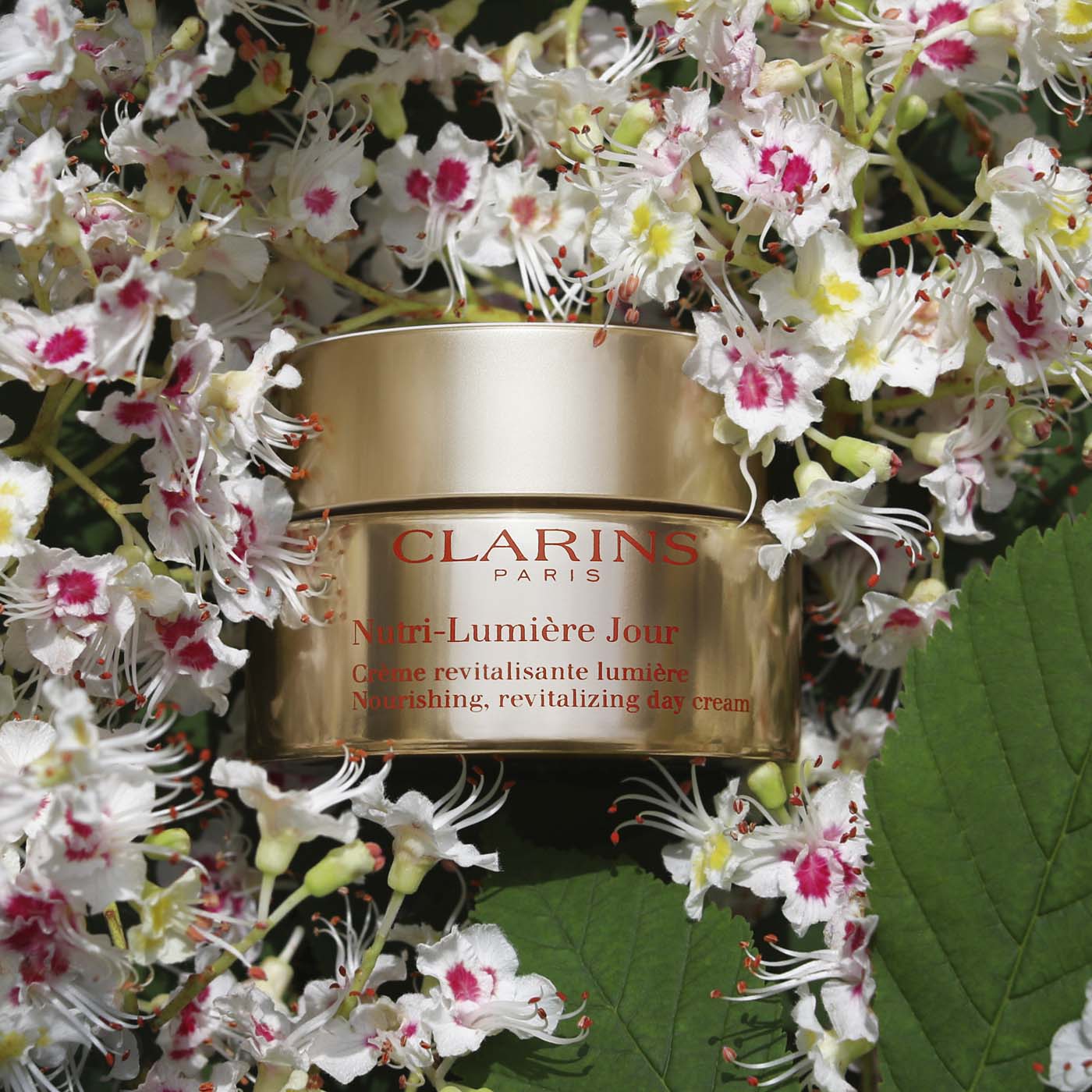 Do you want to discover more about Clarins and receive a complimentary beauty consultation?
Find your nearest Clarins counter below:
Lagos: Essenza ikeja city mall, Essenza MMA2 Departure, Essenza MMA2 Arrival, Essenza Festival Mall, Essenza Maryland Mall, Essenza Yaba Center, Essenza Leisure Mall, Essenza Ogudu Gra Mall, Essenza Surulere Mall, Essenza Isaac John, Essenza Palms Mall, Essenza Glover Mall, Essenza Greenville Lekki Plaza, Essenza Novare Lekki Mall, Essenza Eko Atlantic, Essenza, Silverbird Gallleria,, Essenza Greenville Ikoyi, Essenza Onikan Mall, Essenza Spa, Essenza Kingsway, Essenza Atlantic Center
Ibadan: Essenza Palms Ibadan Mall, Essenza Cocoa Mall, Essenza Akure Mall
Abuja: Essenza Jabi Mall, Essenza, Silverbird Center, Essenza, Apo Mall, Essenza Grand Square, Essenza Gateway Mall
Owerri: Essenza Owerri Mall
Enugu: Essenza Polo Park, Essenza Spar Mall
Port Harcourt: Essenza Port Harcourt Mall
Warri: Essenza, Delta Mall
Onitsha: Essenza Onitsha Mall
Calabar: Essenza Calabar Mall
*Satisfaction test, on the following ranges: 4 weeks using a day cream for all skin types + 2 weeks using a cream &  Double Serum duo; Multi-Active / Extra-Firming / Super Restorative / Nutri-Lumière 
**In vivo and ex vivo tests. 
---
Sponsored Content