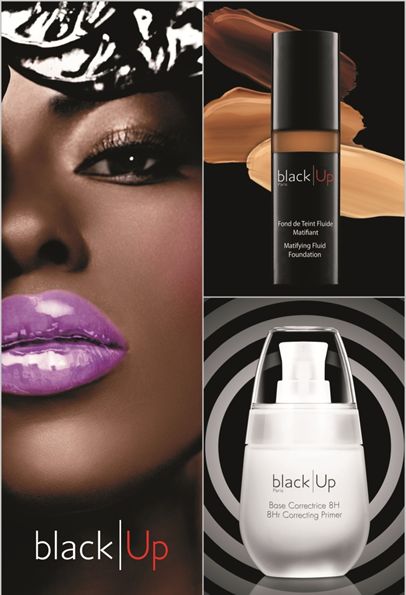 T'is the season to be jolly with the amazing new creations from black|Up. The first professional makeup artist brand for ethnic skins brings you good tidings this season with the launch of three exciting new products; New Matifying Fluid Foundation, New 8hr Correcting Primer and New Lip Lacquer.
Luxury, Innovation, Modernity and elegance are the signature of the professional makeup artist brand. From the chic and modern designed packaging to the ingeniously innovative formulas, you are bound to have a wonderful Christmas with black|Up.
The New Matifying Fluid Foundation is enriched with new active ingredients that rebalances the combination to oily skin and offers an 8 hour long lasting hold. The Oil free, Paraben free and Fragrance free foundation ensures an immediate matte effect upon application. Enriched with a sebum-regulating and astringent active ingredient, this new formula reduces excess sebum production and is a pore minimiser.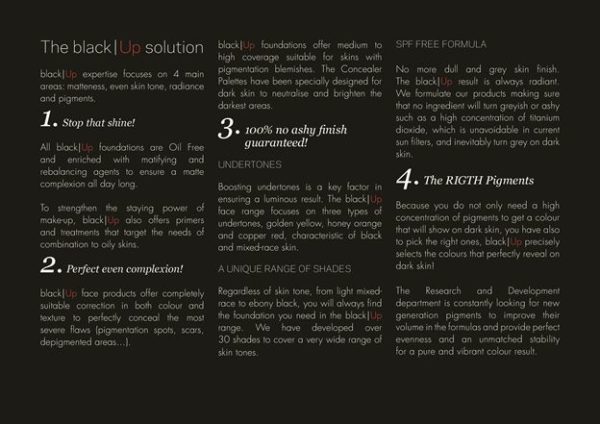 The new shiny black packaging has an airless pump to enable use the product to the very last drop.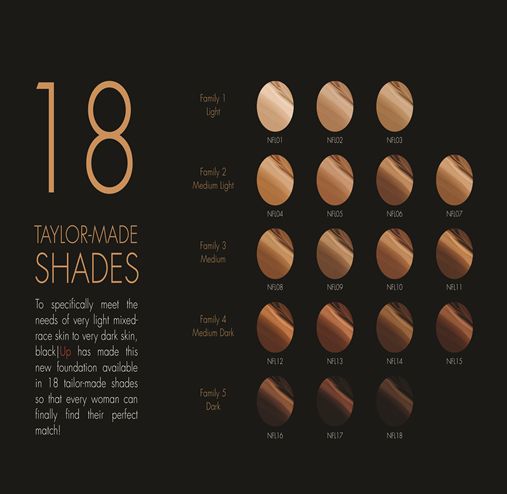 The water based foundations are "o-so" perfect for our climate and comes in 18 tailor made shades developed to meet every dark skin needs.
The New 8hr Correcting Primer innovates with a new high performance formula that provides optimum level of correction to oily skins needs. Formulated as a skincare, the New 8hr Correcting Primer prepares the skin for makeup while treating it to finally get rid of extreme shine, acne pimples and blemishes. The new primer prepares the skin for makeup and makes the skin matte upon application.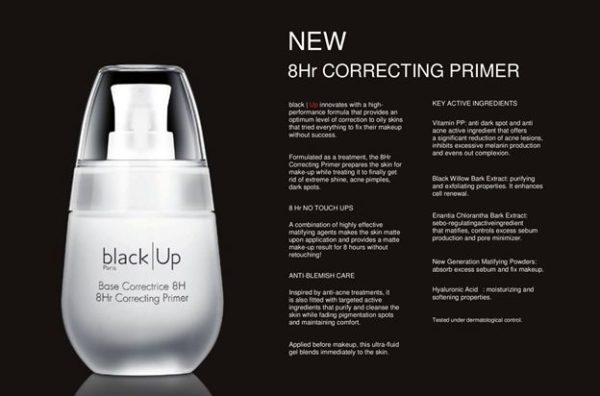 A combination of highly effective matifying agents absorb excess sebum and fix makeup for 8 hours without retouching.
Inspired by anti-acne treatment, the primer also conceals and treats blemishes characteristic of dark skins. Its purifying and cleansing active ingredients also offer a gentle exfoliation without irritation.
The New Lip Lacquer offers a coverage and colour of a lipstick and ultra vinyl shine of a lipgloss. Indeed, they are a hot trend in the lip category between lipgloss and lipstick. Its creamy texture offers a perfect coverage in just one stroke even on the darkest lips.

It comes in 12 highly pigmented colours, a slim and elegant tube, an ultra transparent packaging that emphazises the eye catching colour and a very precise tip that delivers the perfect amount of colour for an easy application with a brush, or applied directly. Oh yes, you will be ready for that mistletoe…
The non sticky formula gives exceptional wear as it glides on perfectly and has a long wear that lasts for hours.
Founded in Paris in 1999 by a professional makeup artist of African ancestry, the first premium brand to enhance the look women of colour is poised to make you stand out this season. black|Up has developed true beauty expertise to answer the specific needs of mixed skin beauties and offers a makeup line focused on elegance and glamour.
The upscale beauty brand answers your completions specific needs and proffers products that pair professional quality and pleasure of use: velvety effects, mat or powdery finishes, perfect coverage, ultra vibrant colours, and 100% non-ashy finish.
Montaigne Place, the Luxury cosmetics, Fragrance and Well-being Company are constantly breaking new grounds in Nigeria. The company is also the exclusive agents of, black|Up, Clarins, Dr Murad, Creed and Lalique fragrances in Nigeria.
Providing leading premium skincare, fragrances and luxury cosmetics for the unique and different needs of her customers, Montaigne Place is a clear leader in the luxury Well-being industry, making history for over a decade.
The Press Launch of the new products was sponsored by Lanson champagne. The Lanson taste has always stood out for its incomparable fruitiness, power and freshness, giving it a unique style. Lanson is "by appointment to Her Majesty the Queen the purveyors of Champagne".
Founded in 1760, Maison LANSON celebrated its 250th anniversary in 2010. Two and a half centuries of passion and know-how serving perfection, elegance and moments of shared happiness, celebrated in fine style at the heart of one of the most illustrious World Heritage monuments.
This season, become the black|Up woman: stylish and triumphant, modern and elegant by visiting any of the Montaigne Place Stores nationwide:
Black Up Boutique
Address: Ikeja City Mall, Shop L072, Obafemi Awolowo Road, Alausa, Ikeja, Lagos
Tel: 0708 068 0172
Montaigne Place The Palms Shopping Mall
Address: Shop 16, The Palms Shopping Mall, 1 Bis Way, Lekki Expressway, Victoria Island, Lagos.
Tel: 0704 606 6641
Montaigne Place The Spa
Address: 226B, Muri Okunola Street, Victoria Island, Lagos
Tel: 0704 606 6640| 0803 713 0408|01 8941717
Montaigne Place Surulere
Address: Shop B7, Adeniran Ogunsanya Shopping Mall, AdeniranOgunsanya Street, Surulere, Lagos.
Tel: 0704 533 4511
Montaigne Place MMA2 Domestic Airport Airside
Address: Shop 8, Air Side, Departure Level, New Murtala Mohammed, Local Airport, Lagos.
Tel: 0704 533 4513
Montaigne Place MMA2 Domestic Airport Landside
Address: Shop 10 Land Side, Departure Level, New Murtala Mohammed, Local Airport, Lagos.
Tel: 0704 533 4514
Montaigne Place Adebola Shopping Mall
Address: Shop 8, Adebola Shopping Mall, 53 Isaac John Street, GRA Ikeja, Lagos.
Tel: 0704 533 4512
Montaigne Place Tradefair
Address: Shop 13b & 14b, Delta Plaza, Balogun, Lagos International Tradefair Complex, Lagos- Badagry Expressway, Lagos.
Tel: 0704 606 6642
Montaigne Place Silverbird Entertainment Centre
Address: Silverbird Entertainment Centre, 1161 Memorial Drive, Cadastrial Zone, Central Business District, Abuja.
Tel: 0704 606 6644
Montaigne Place Grand Towers Abuja Mall
Address: Grand Towers Abuja Mall, Plot 232 Cadastal Zone B14, Dutse, Abuja.
Tel: 0704 533 4520
Montaigne Place Polo Park Mall
Address: Shop G39 7 G40, Polo Park Mall, GRA, Enugu
Tel: 0704 533 4519
Montaigne Place Cocoa Mall Ground Floor
Address: Ground Floor, Ibadan Cocoa Mall, Coca House Building, Dugbe Ibadan
Tel: 0704 623 6248
Montaigne Place Cocoa Mall First Floor
Address: Shop C36/C37 Ibadan Cocoa Mall, Coca House Building, Dugbe Ibadan
Tel: 0704 623 6247
Montaigne Place Genesis Center
Address: Genesis Center, Shop 2b1, Tombia Street, Gra Phase 2, Port Harcourt.
Tel: 0704 606 6647
Montaigne Place Worldway Plaza
Address: Ground Floor, Worldway Plaza, 129 Aba Road, Port Harcourt, Rivers State.
Tel: 0704 606 6645
Montaigne Place Happy Bite
Address: Happy Bite Plaza, 1 Stadium Road, Opposite Air Force Base, Aba Road, Port Harcourt, Rivers State.
Tel: 0704 606 6646
______________________________________________________________________________________
Advertorial – Sponsored Content