BN will be letting you know about all the fab events coming up this xmas. One that we are looking forward to is the 2008 Zebra Ball!!
I am really looking forward to the event, not only will it be fun but its also all for a great cause! See you there. Details below. Its this saturday so HURRY and grab your tickets and perhaps a fab Zebra outfit to rock on the night.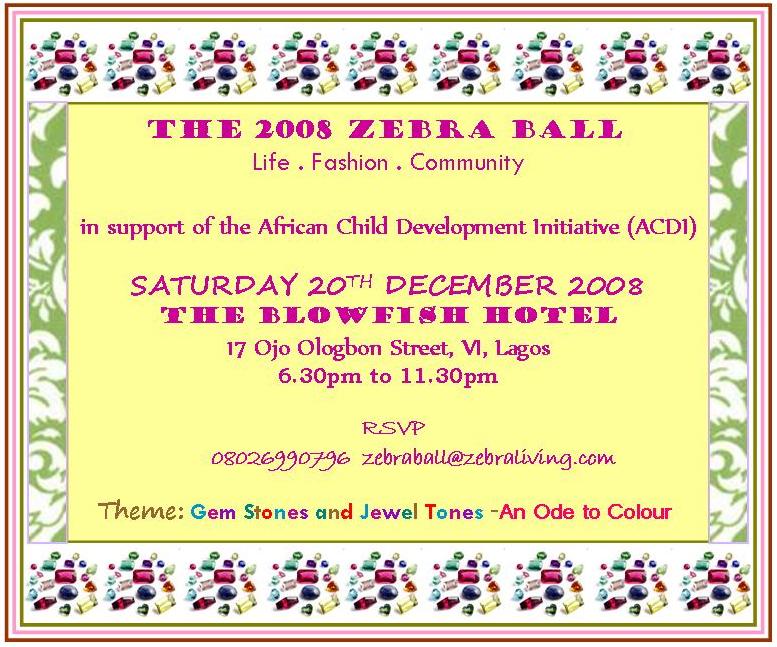 The Zebra Ball – A contemporary fashion-inspired event in support of charity
Zebra Living and the Zebra Community Initiative give you the 2008 Zebra Ball which will feature the African Children Development Initiative (ACDI), who will be beneficiaries of all excess ticket and sponsorship proceeds.
It is our hope that in fusing fun and fashion with a community cause, we can successfully sensitize diverse and dynamic groups of people to the ever-present social problems which abound today.
Zebra Living invites you to support this cause and will be honored by your presence at this fabulous event.
Details
Date: Saturday, the 20th of December 2008
Time: 6.30pm – 11.30pm
Place: The Blowfish Hotel, 17 Ojo Olobun Street, Off Bishop Oluwole Street, Victoria Island, Lagos
Zebra Ball Tickets
Individual tickets are N16,000 each.
Couples tickets are N30,000 each.
Please note all excess proceeds from the Zebra Ball go to the ACDI so please support us!
Why you absolutely MUST come to the 2008 Zebra Ball.
Charity and community: 2008 marks our 2nd Annual Zebra Ball and this year we are supporting the African Child Development Initiative (ACDI) ,who are working tirelessly with the government of Lagos State to revive education and education infrastructure to the benefit of our children.
Your contributions will go a long way to making a difference in someone's life this season.
The 2008 Zebra Ball ticket/invitation entitles guests to a sumptuous variety of canapés and a bevy of cocktails….not to mention the fantastic company and progressive networking opportunities.
Thanks to various Zebra Ball Friends and Sponsors – guests can win some wonderful lifestyle-related raffle prizes ranging from flights to exciting destinations and gourmet dining to spa treatments and subsidized gym memberships.
There will be also be a fabulous never-seen-before Fashion Installation showcasing Zebra's capsule Felicity Collection inspired by the 2008 Zebra Ball featuring a mélange of bold bright dresses and gowns made from the richest most luxurious fabrics – perfect for a fashion-inspired ball, your best friend's wedding or a classy cocktail party.
Guests can also look forward to live performances from a variety of eclectic local musical talents and an 'ab-fab' DJ.
To show our love and gratitude, Zebra will be ALSO be giving guests complimentary pre-Christmas goodies to start the season's merriments appropriately!
All these and more are on offer at the 2008 Zebra Ball… so get those purses, wallets and chequebooks out and let's countdown to the 20th of December 2008 and MAKING A SOCIAL IMPACT with Zebra – TOGETHER!
____
Please note that:-
The tickets are N 16,000 (per individual) and N30,000 (per couple).
You can pay via either of the following methods of payment-
1. Write a cheque to ' ZEBRA CREATIONS' and notify us to arrange a pick up or drop off.
Or preferably
2. Pay into GTB Account
Acount Name- Zebra Creations
Account number 215/784034/110
Kindly state the purpose and name of payee in the narration box to enable us cross-reference.
Once you have done so , kindly inform us and we'll arrange for a ticket to be hand delivered to an address of your choice.
Kindly remember that the tickets admit you into the event so you must try to hold on to your ticket(s)