My Style has been up and running for a few weeks now…and aren't we loving it or what?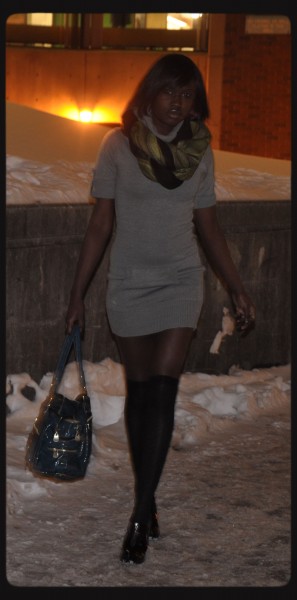 If you are, simply send two pictures of yourself or that of a friend depicting a typical Day and Night Look with a short summary of your style to my mail box: [email protected]
When your entry is approved, you will be required to send in more pictures and personal commentaries on your style or that of your friend as the case may be!
Thanks to those who have participated so far, keep the mails coming.  I'm hoping to get more readers participating…and some stylish men too!!!!
Lets remember that this feature is about appreciating an individulas expression through clothing!
Bellanaija reader Isabella style can't be pin pointed at a specific look, it's that of a wide range of varitey!!!
ISABELLA'S STYLE:
Fashion has been a part of me ever since I could remember. I wouldn't describe my looks under a particular style but if I were to categorize them, it would be comfortable, edgy and unique.
My everyday looks resonate with my personality which is very versatile. I'm going to let my pictures speak for themselves about my different looks. Like they say pictures are worth more than 1000 words. For some looks I might add tips on how I put the look together and changes you might want to make to suit your own style.
HAIR AND MAKE-UP:
For my make-up I try to keep it simple: eye liner and mascara. For my hair in the summer I have it naturally straight.
THE BOHEMIAN LOOK:
This day look has a mixture of bohemian and vintage with a modern twist portrayed in the ballerina shoes.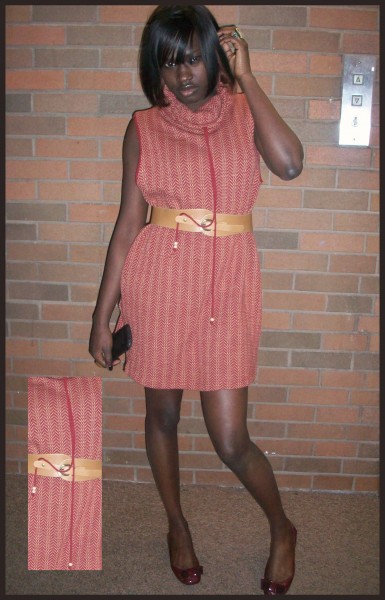 Dress: vintage store
Belt: second hand store
Ballerina shoes: Joe's Clothing Store
THE SEMI-FORMAL LOOK:
Tip: You can replace purple with another colour. E.g. the heels can be grey as this matches the grey stripes on the shirt. Instead of the jean vest, you can have a plain black cardigan/vest.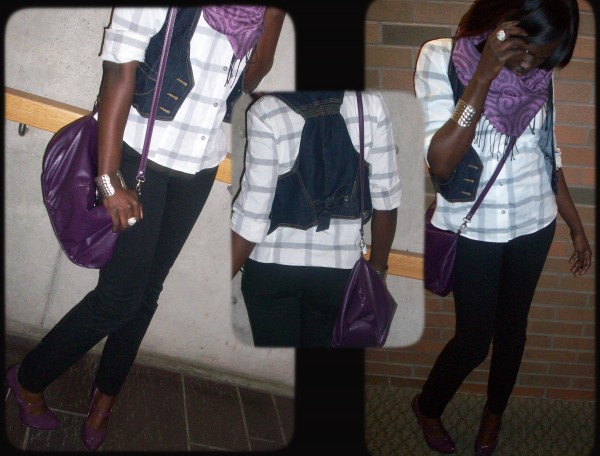 Black skinny pants: H&M
Checkered dress shirt: Gerry Weber clothing
Jean vest: Sirens
Scarf: Asian store
shoes: Aldo shoe store
Purse: Austrian store
THE SCHOOL LOOK:
Skinny pants: Forever 21
Leather Jacket: Zara clothing store
Scarf: Aldo accessories
Bag: Winners
THE PURSE AFFAIR LOOK:
Tip: The top gives you a variety of colours to work with. These looks show how you can use 3 different purses for one outfit.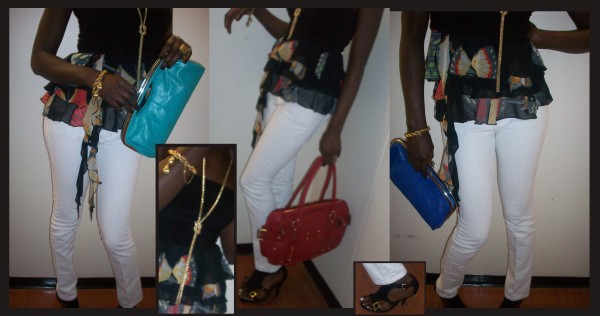 Skinny Jeans: Sirens
Top: Mixed Styles Clothing store
Shoes: Strata shoe store
Jewelry: Aldo accessories

THE RETRO LOOK:
Tip: There is a lot going on in the dress itself. Therefore you do not need any accessories, but if you had to carry a purse, I would suggest a tan or blue coloured clutch.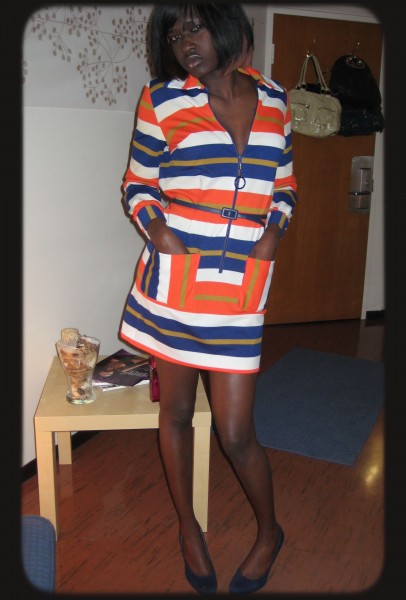 Dress: Vintage store
Shoes: Payless Shoe Store
THE MODERN AFRICAN LOOK:
Tip: There are two versions of this look. During the day you can carry the cream bag. For an evening look you can use the leopard clutch.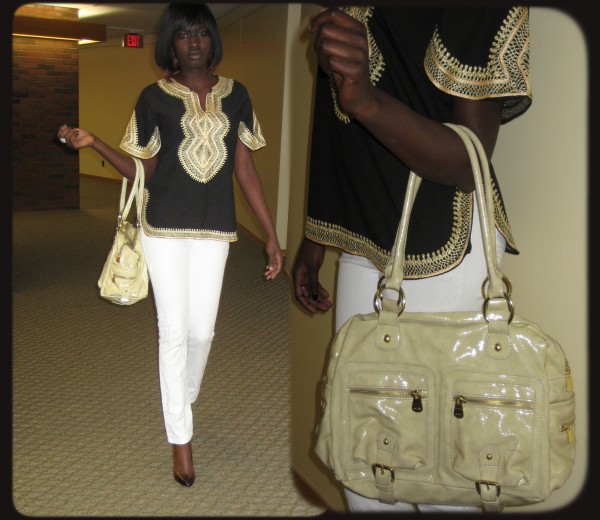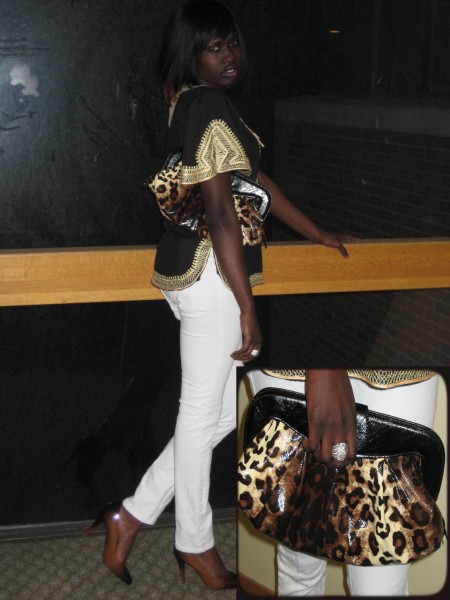 Top: Vintage store
Skinny Jeans: Sirens
Shoes: Aldo shoe store
Cream Purse: Aldo accessories
Leopard Clutch: Aldo accessories
THE EVENING LOOK:
Tip: This edgy evening look has several mini fashion tricks. From the intertwined black and green scarves to the zebra looking leggings and black jacket which can both be worn with or without the grey dress. The shoes, black zip-up pumps, one of my personal favourites completes this look.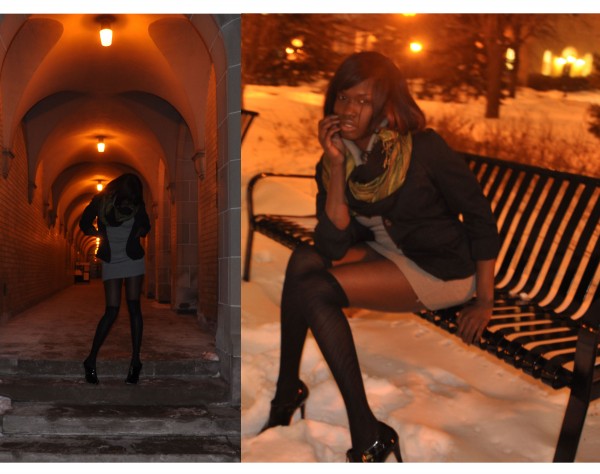 Dress: Costa Blanca
Jacket:H&M
Black scarf: H&M
Green scarf: Asian store
Leggings: Forever 21
Shoes: Aldo shoe store
THE ARABIAN LOOK:
Tip: This is an alternative to wearing a hat protecting you from the cold or wind.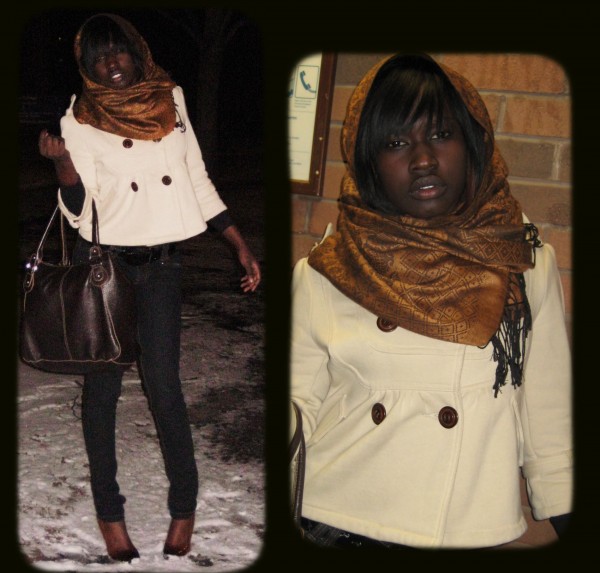 Skinny Jeans: Sirens
Jacket: Costa Blanca
Shoes: Aldo shoe store
Purse: Winners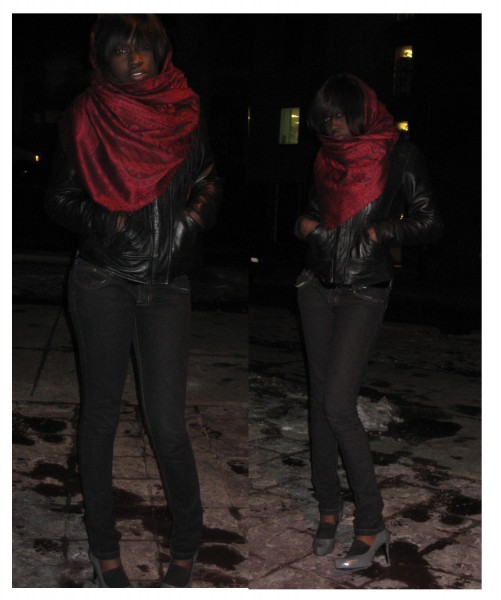 Scarf: Asian Store
Leather Jacket: Zara clothing store
Skinny Jeans: Sirens
Shoes: Nine West shoe store
THE NIGHT OUT LOOK:
High-Waisted Skirt: Sirens
Corset: Costa Blanca
Shoes: Strata shoe store
Clutch: Xcetera
THE SUMMER 09 LOOK:
Tip: The scarf can be either worn on your neck or as a bracelet. Summer 09 is all about bright colours and mixing them together. E.g. pink and green, red and orange, blue and purple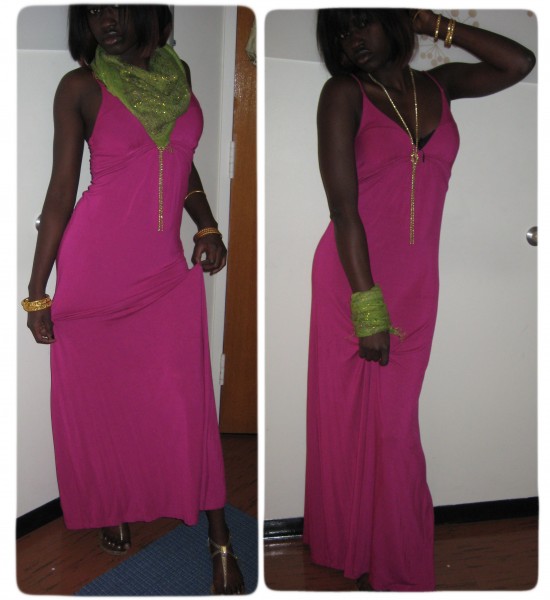 Dress: Costa Blanca
Scarf: Urban Outfitters
Gladiators: Winners
THE SUMMER 09 LOOK-PART 2:
Dress: Costa Blanca
Clutch: Aldo accessories
Gladiators: Spring Shoe Store
Jewelry: Sirens
THE PROM DRESS LOOK:
Dress: BCBG
THE VINTAGE LOOK:
Tip: This dress can be worn with or without stockings. You can also replace the stockings to jeans, and make is a day look.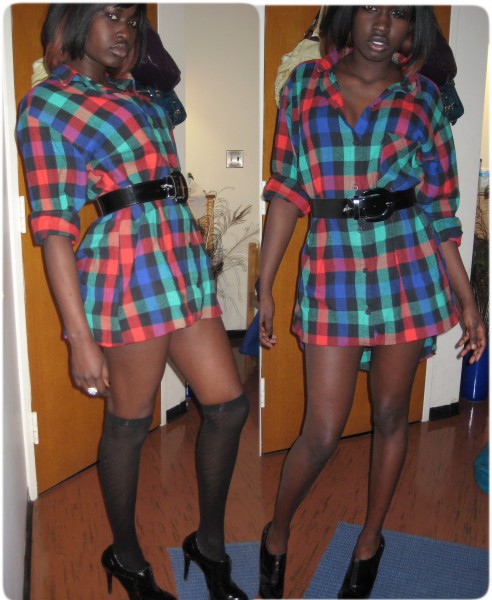 Dress: Vintage store
Leggings: Forever 21
Shoes: Aldo Shoe store
Finally…
This picture sums up the other items that make "my style" complete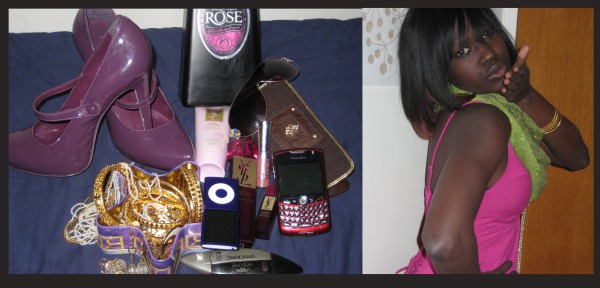 Isabella
xoxo