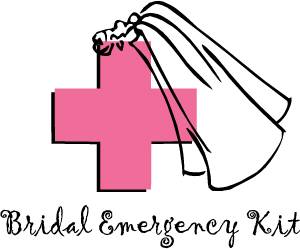 No bride should go through her wedding day without a bridal emergency kit. Having one will give you the peace of mind that all the imagined emergencies that you had thought of will be adequately taken care of.
The bridal emergency kit could be bought online or at a bridal store and you could make yours and streamline to your taste and perceived emergencies.
Getting Started
Obtain a large cosmetics case and put a reliable person in charge of the bag – your mother, chief bridesmaid or another member of the bridal train. Make sure there is a good spot to keep it.However at the same time make sure you have easy access to the kit.
Suggested Items
· Mini sewing kit (mini scissors,needles,thread that matches the colour of your wedding gown)
· Chalk that matches the colour of your gown, to quickly cover stains
· Fabric stain remover
· Safety pins and straight pins
· A lint brush
· Quick drying glue for a broken tiara or broken shoe heels
· Breath Mints or Chewing Gum
· Tampons or Pads
· Lipstick or lip gloss, and a mirrored compact
· Make-up blotting paper
· Extra hair pins
· Toothpicks or dental floss
· Nail file and nail polish in your wedding-day colour, for last-minute manicure fixes
· Sample-sized bottle of perfume,
· Straws to sip on drinks without ruining your lipstick
· Cotton swabs to fix eye make up
· Small bottle of hair spray to keep your hair or weave in place
· Any other hair and make-up product you can't live without
· Antacids
· Painkillers
· Band-aids, in case of blisters
· Moisturizing eye drops, especially if you wear contacts
· Any prescription medication you normally take.
Don't wait until the last minute to begin to build up your kit, everytime you think of a possible snag think of what you would require to fix it. Revise your list as it gets closer to your day and by the time it arrives you should be able to handle whatever it throws at you.