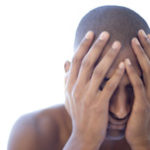 The Aunty Bella feature has been a part of Bella Naija since the early days of our existence. It is very special to us because we have actually learned a lot from the situations, responses and advice given. In most instances, we get people send in relationship dilemmas but in some instance, readers share situations that are almost heartbreaking. Today's Aunty Bella is from Mr. Man Down, do read and offer him any words of advice and encouragement.
Dear Aunty Bella,
My story starts 12 years ago when I moved to the USA. I was just rounding off my 400 level of university when I got the notification that I had won the US Visa Lottery. The climate then was very different from now, winning the US Visa Lottery was the ultimate prize because of the economic situation in the country then especially for young graduates. After all the processes and checks, I moved to the US. Luckily I already obtained my degree certificate before my trip. I arrived and stayed with an aunty and her family in one of the small east coast states. You know the ones that have very few foreigners. I had been warned by my relatives not to expect too much in the beginning because most companies did not recognize the Nigerian degree certificate, I agreed when they said I would have to get a menial job to start off but within me, I knew that I would do better.
My aunty gave me some weeks 'grace' to relax and get acquainted with the American environment. During that time, she also found me a job as a cleaner in a hospital and told me that I should start saving towards enrolling in a local college to study nursing. I didn't want to see ungrateful but knew that was not for me.
During my grace period, I used that time to scout around and apply for job in my field – of study. Contrary to what my relatives had said about my Nigerian degree, I got a job with a computer firm with a very good package. Imagine my aunt's surprise when within 1 month of being in the US, I told her I was moving out, I had already gotten my own apartment and new job. She had expected me to be a dependent for much longer like others than had come before me.
Maybe my early success is now the cause of my downfall.
I spent the next few years rising in my job- bought my own house, car etc… You know the excitement of a local Nigerian boy moving to the US. All those oyinbo babes I had seen on TV, I was so excited to sample them. Then I clocked 30 and decided it was a good time to settle down. I started corresponding with one of my younger sister's friends in Nigeria, I remembered her as quiet, pretty and smart so after a while I proposed over the phone. After a year of form filling, she finally got her visa and moved over to the US to join me. She was so shy and we were basically strangers but that made me feel more protective of her. I made sure she was comfortable, provided for her etc…We had our first child within her first year in the US and then I paid her way through nursing school. Life was good – we had our 2nd child and moved to a bigger house in a nicer neighborhood.
Life completely changed last year when I was made redundant, It was really a shock but I was not phased as I was confident that due to my experience, I would get another job before the redundancy check ran-out (my redundancy payment was high due to my position and then fact that I had spent over a decade with my employer). Now I spent months and months applying for jobs to no avail, suddenly the few employers that were hiring didn't recognize my Nigerian certificate/degree. Now, this is where I believe my early success destroyed me. If I didn't get my job so soon after my arrival then I would have obtained some US qualifications but I did not. Apart from the in-house work training programs that my company sponsored, I did not get any other qualification.
Now my dilemma, I have been home for over 16 months, my once shy wife who I nurtured and brought to this country now comes home and asks me if I have done the laundry. If I have done the dishes, If I tucked the children into bed and did their homework with them. I feel like less of a man, I have tried to get even the most menial of jobs (something I never even did in my early days in the US) but I have been told that I am over-qualified. I cannot move state because my wife refuses due to her jobs and the children – also due to the housing market, we cant even sell our house here. To be fair to her, she is carrying a very heavy burden as she is now solely reponsible for the mortgageand car payments – we even had to remove our children from private school. I did not make any investments in Nigeria apart from a house in my village and some shares in the stock market so I am not reaping anything from there. The joblessness is one thing but the feeling in my home is worse. I feel like my children look down on me (especially after they changed schools) and my wife see me as less of a man. I am not sure what to do.