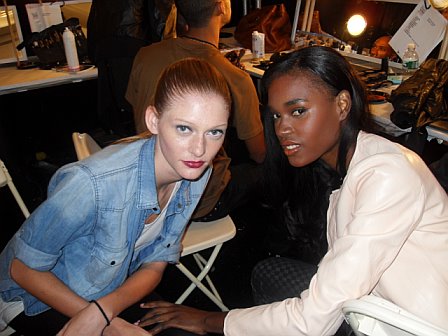 Louisa Kinoshi, International Scene Editor and Cornelia O'Dwyer, BN New York Correspondent were at the African Promise Collective and spoke to the designers, models and celebrities.
Here is the detailed scoop from the African Fashion Collective by Louisa:
___________________________________________________________________________
Timeline of Events
August 31
Official invite arrives in the mail and it looks much better than last year.  We have to RSVP with the press team by that evening. However, getting seats this year was an easier and much streamlined process.
Day of Show
4:00
Getting ready and it's still pouring heavily. Cornelia and I decided on black dresses with tuxedo jackets. Scraped the heels–boots and flats it is!
6:00pm
Arrive at the tents. The tents feel even much more different this year it's obvious there are less fashionistas attending the shows. Due to the economy, many designers have decided either not to show at NY Fashion Week or to present  at a separate venue.
6:15
Got our backstage passes and we are immediately greeted by beautiful people. The make-up team from MAC was in full force and the models were looking amazing. We quickly chatted with Tyson Beckford who is being his usual jovial self. Cornelia spots him changing for the show…he is so HAWT!
6:20-6:55
We chatted with Folake Coker (Tiffany Amber) and Lisa Folawiyo (Jewel By Lisa) backstage. Lets say first and foremost these designers themselves looked so good.
Click to see our interview with Folake
Folake Coker made her own fabrics this year and was influenced by the designs of Nigerian fine artist, Kolade Oshinowo.
Click to see our interview with Lisa
Lisa's collection was inspired by the edge and the urbanity of New York women.
6:55
Moved to front of house and immediately saw Damon Dash in the front row. Melody Thornton of Pussycat Dolls, Amerie, Sean Paul and Betty Irabor and Korto Momolu were also in attendance.
7:10
Editors from the top magazines were also in attendance including VOGUE, Essence, Oprah, Fader and more.
And of course our BN Fab Girl of the night, Chalya Shagaya was definitely representing at the show.
It's really a strong statement for African designers to be able to show consistently. African fashion is not a fluke but is here to STAY. The ARISE team had a major challenge this year. How do you maintain the momentum the show built up from last season  and engage an even more diverse audience? The sophomore show for ARISE, the African Promise Collective was able to still maintain excitement and exhibit creativity in these challenging times. Check BN again soon for the official review of the actual show.
Cornelia's Review
I had been looking forward to the ARISE show for the last couple of week so it was great when the day finally came. It was a rainy and messy day in New York and my hair was a frizzy mess so the first stop for me was backstage "hair and makeup". The show was fun packed and everyone around seemed to know exactly what they were doing and even those who didn't, did a good job acting. It was chaotic but I was immediately calmed by the smile of gorgeous Tyson Beckford who happened to be the first person I saw. I said hi and quickly got into "work mode". Chanel Iman who is just effortlessly fab was across the room getting her make up done whilst chatting with a gorgeous male friend – I think it was her boyfriend Tyga. She has a great personality and even told me to take another photo once she had finished her make up which she gladly posed for. After bobbing and weaving through the mad house I couldn't help but notice Lisa Folawiyo's attractive humility as she posed for the cameras (she was the only designer who had gift bags by the way) unfortunately only "front row" got to go home with that. Folake of Tiffany Amber was also very down to earth and willingly struck some top model poses for the Bella Cam 🙂 Melody Thornton of the Pussycat Dolls was super friendly and gave me a quick back rub – I met her assistant later who apparently thought he "secured" her front row seat and asked if I was the one he had to speak to about that (I wish!) Amerie was spotted looking gorgeous and very engaging. She was super impressed with the Tiffany Amber collection and David Thale pieces and I witnessed her taking photos. I spoke with her after the show and she was "very excited to be at the event and wanted almost all the clothes she saw". Lola Ogunnaike was there with her hubby Deen Solebo, Dr. Doyin Abiola, Betty Irabor along with the Genevieve Magazine team and representatives from most of the major media power houses were also in attendance. It was a fabulous show and I loved it but I was way too tired to hit the after-party at the Plaza which was extremely crowded I hear. See you next season!
All Photos Above Shot Exclusively for Bella Naija
Press Shots
[nggallery id=137]

Press Video