It's Friday! We at BN do not want you to spend your weekend all huddled up at home!
There are loads of fabulous events in Lagos this weekend.
Check on it below
______________________________________________________________
Lagos' premier night out for discerning socialites is back for its September installment. The Machu Picchu night is the popular hangout for repatriates, professionals, the expatriate community and avid music enthusiasts. The event is scheduled to hold on the 25th of September 2009 at the Bambuddha Bar at 9.00pm.
The Machu Picchu Night is in its tenth consecutive month since its November 2008 inception. The format of the night is straight forward; each night is themed and anchored by a guest host. Previous guest hosts have included celebrated PR-consultant Ifeoma Williams, UBA Capital Markets' Muyi Kazim and ThisDay Creative Director, Fauzi Fahm.
The night is the brain child of Bambuddha owner, Tokunbo Alalade and resident DJ, blogger & Guardian columnist, The Renaissance Man, Bobo Omotayo.
Join us for what will be a very unique night full of music, colour and life.

______________________________________________________________
Obiwon is launching his new album this weekend!
The event is taking place at the Genesis Deluxe Cinemas at The Palms in Lagos.
See details below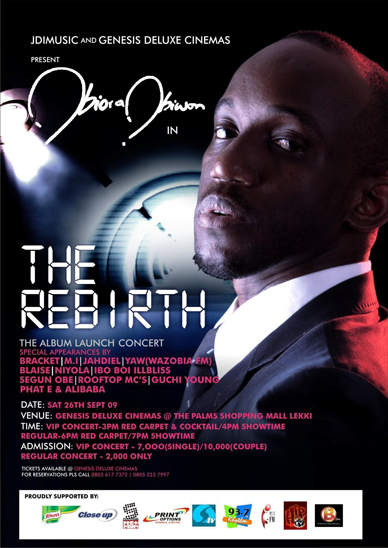 ______________________________________________________________